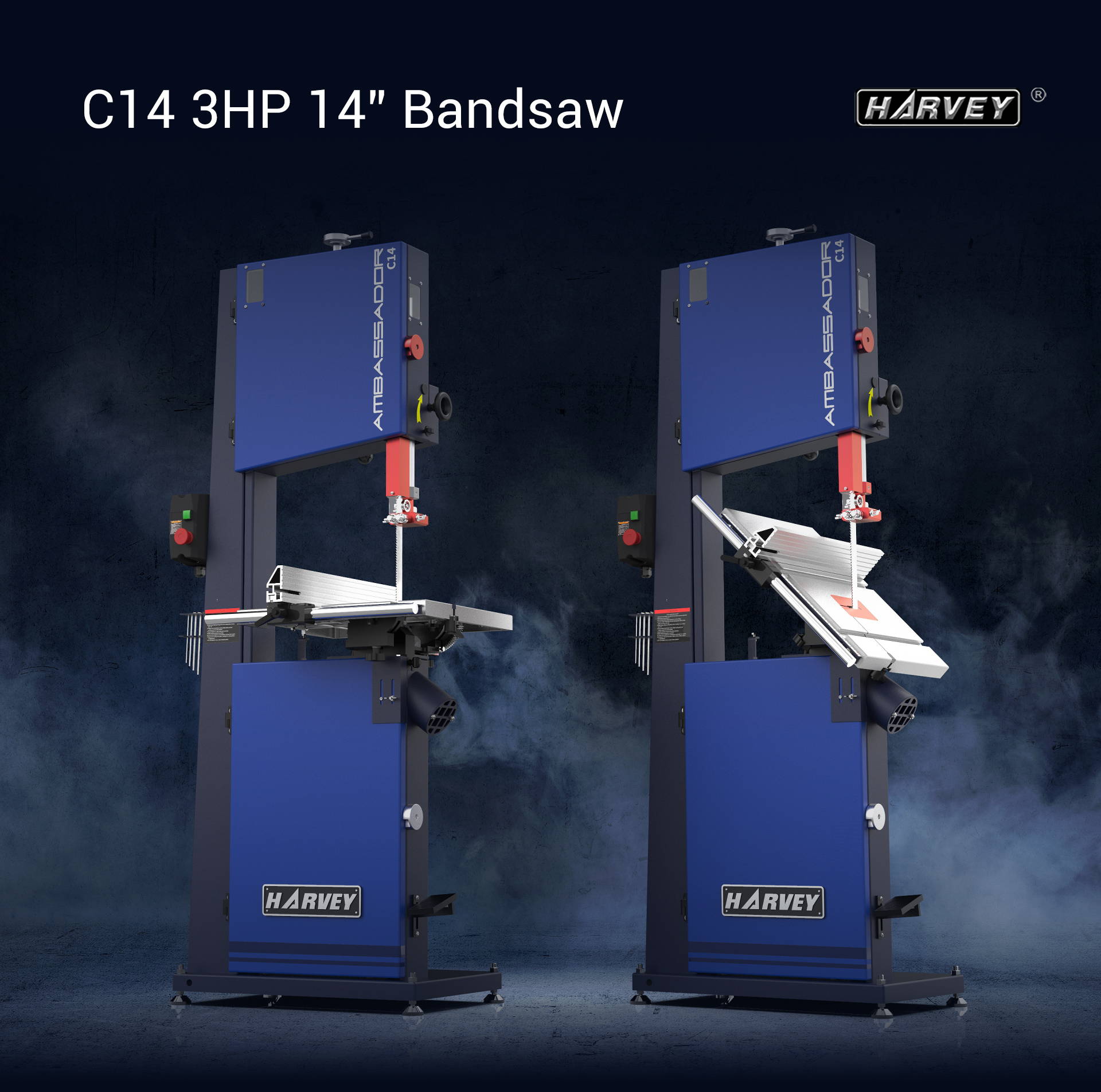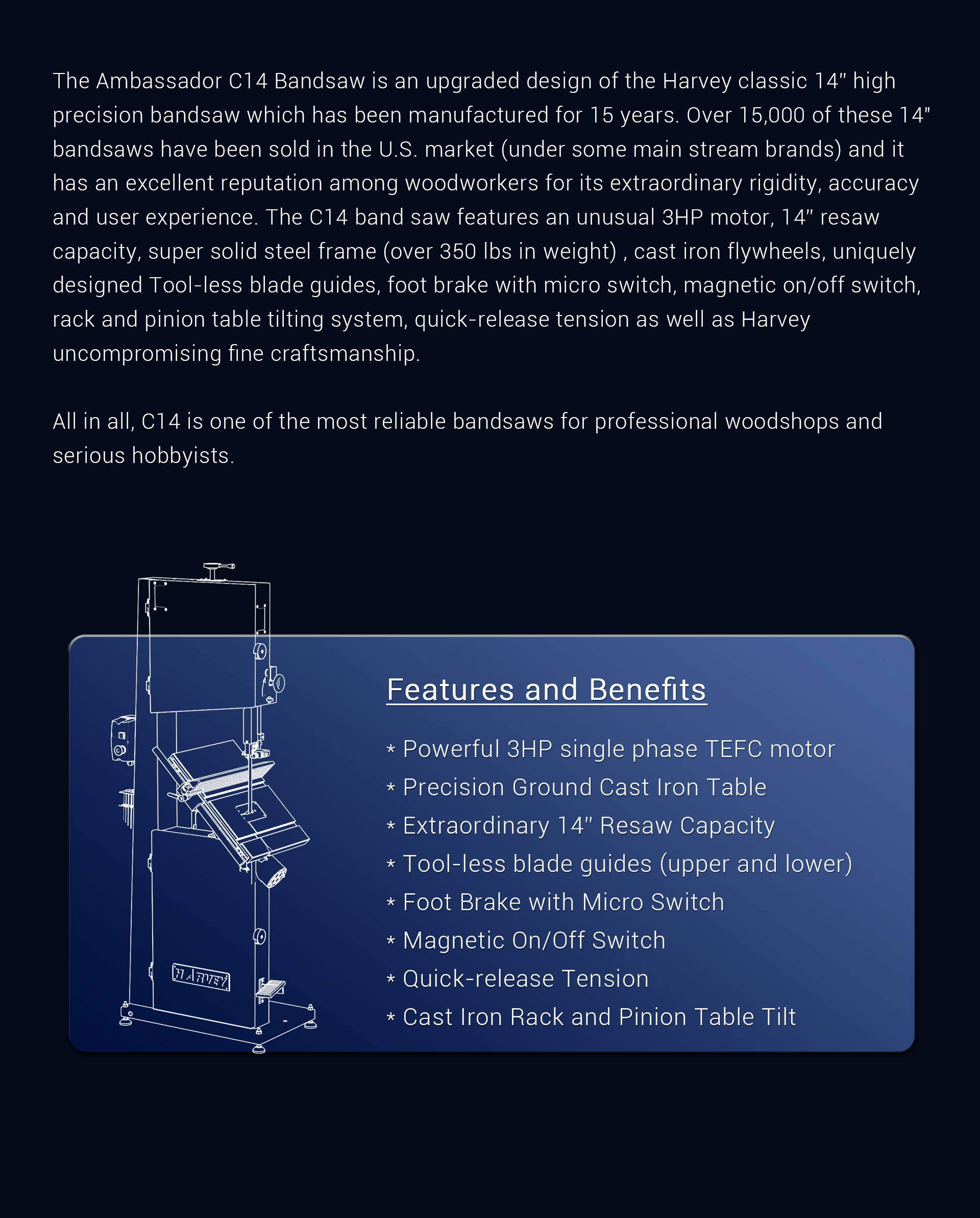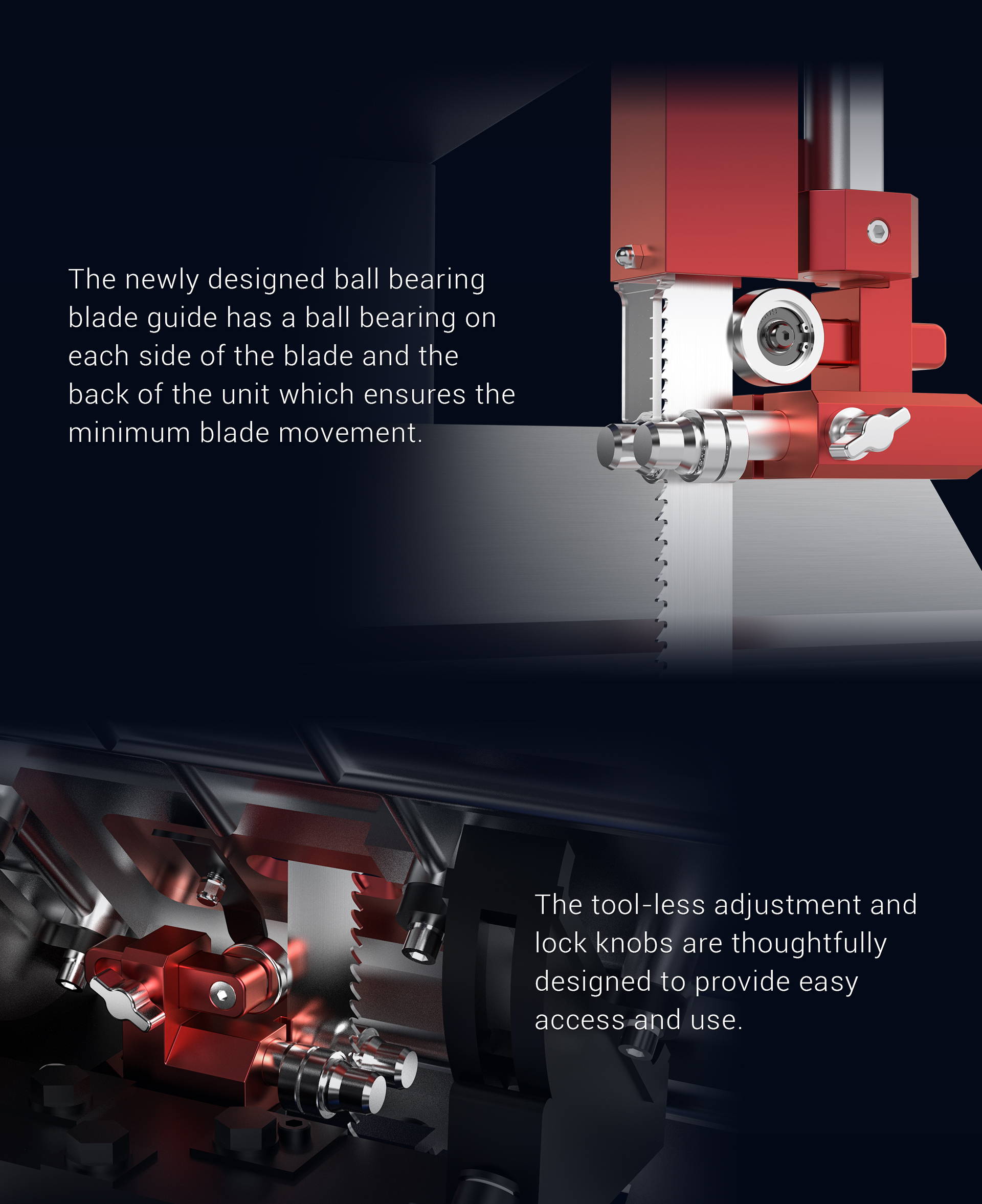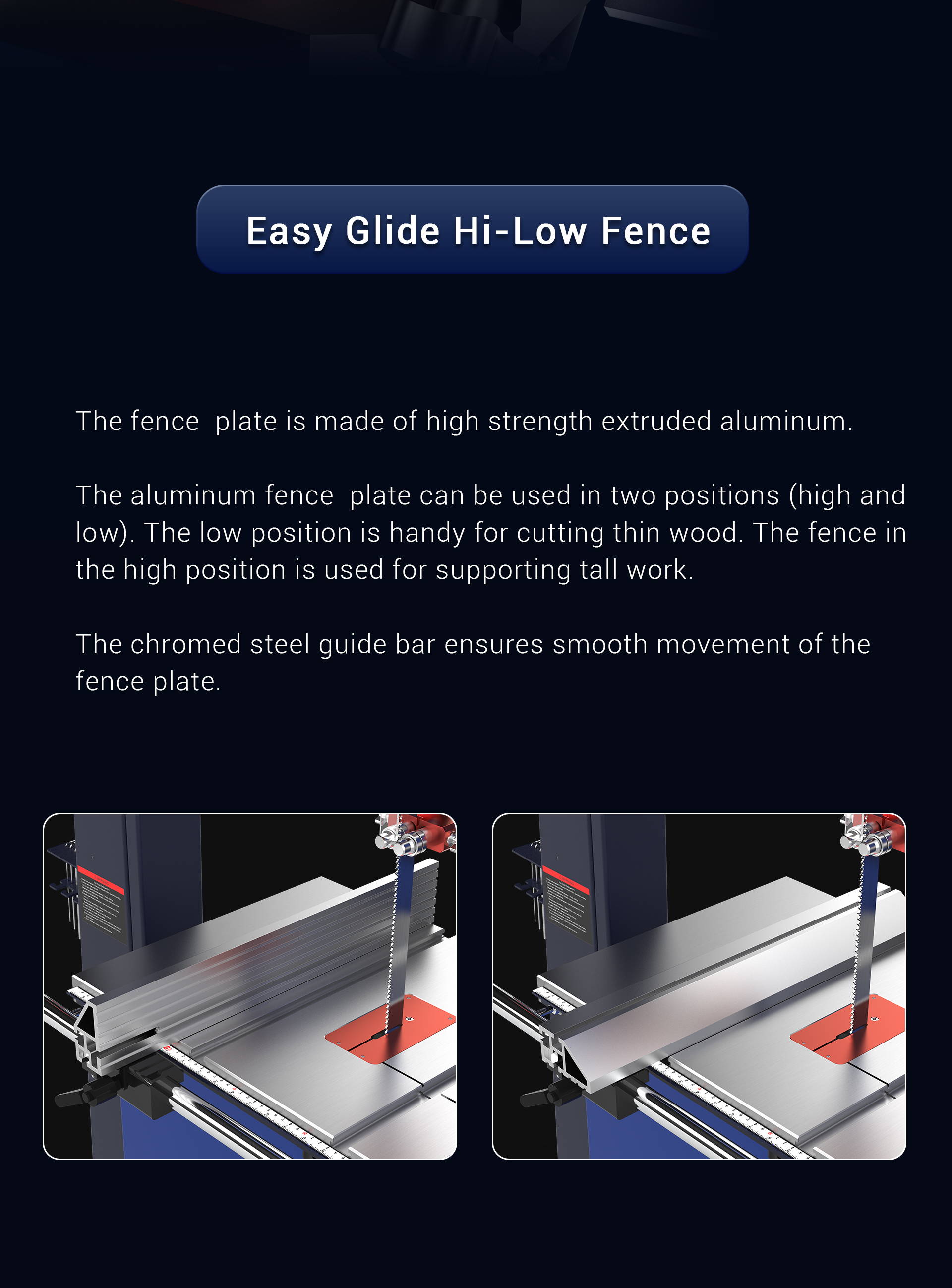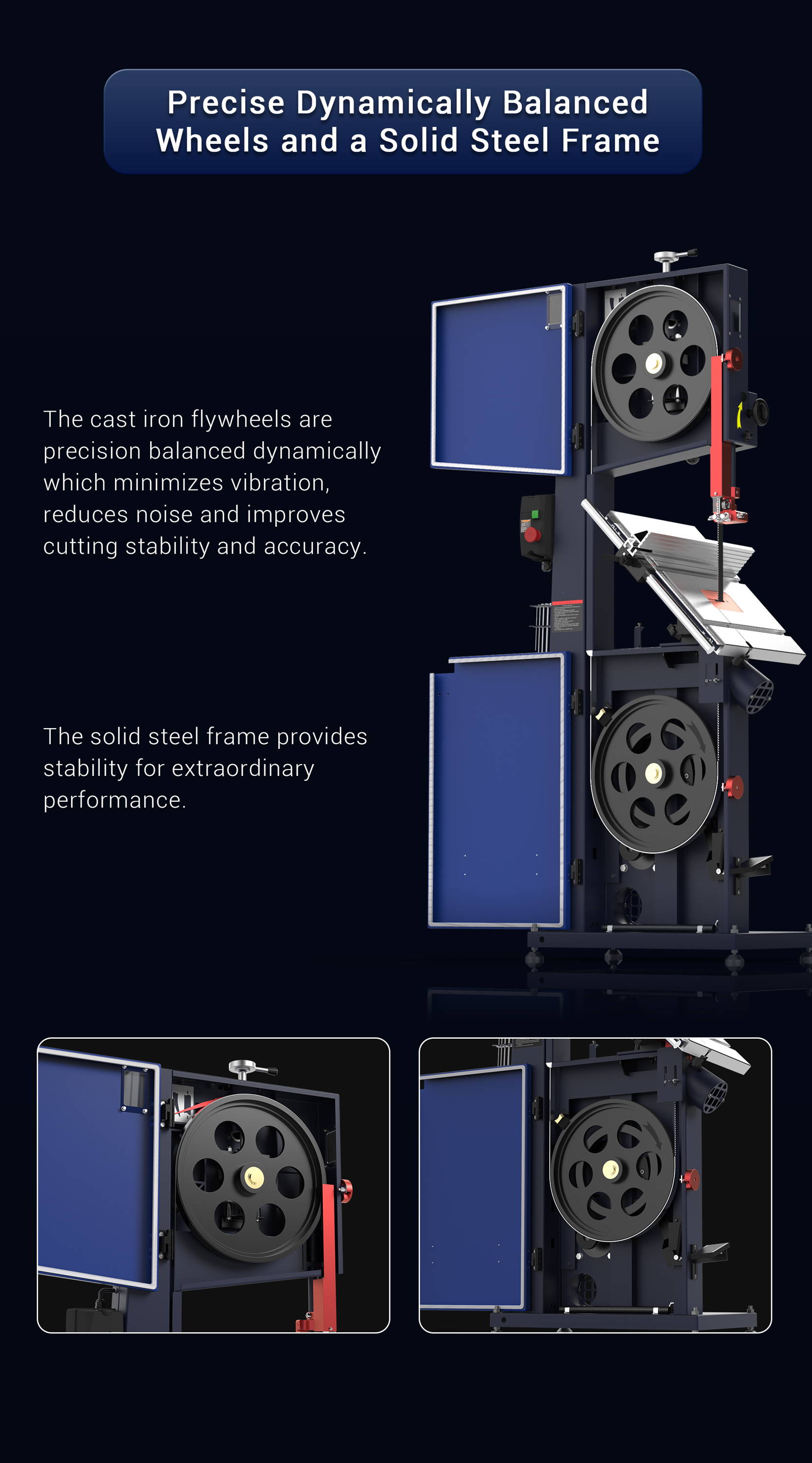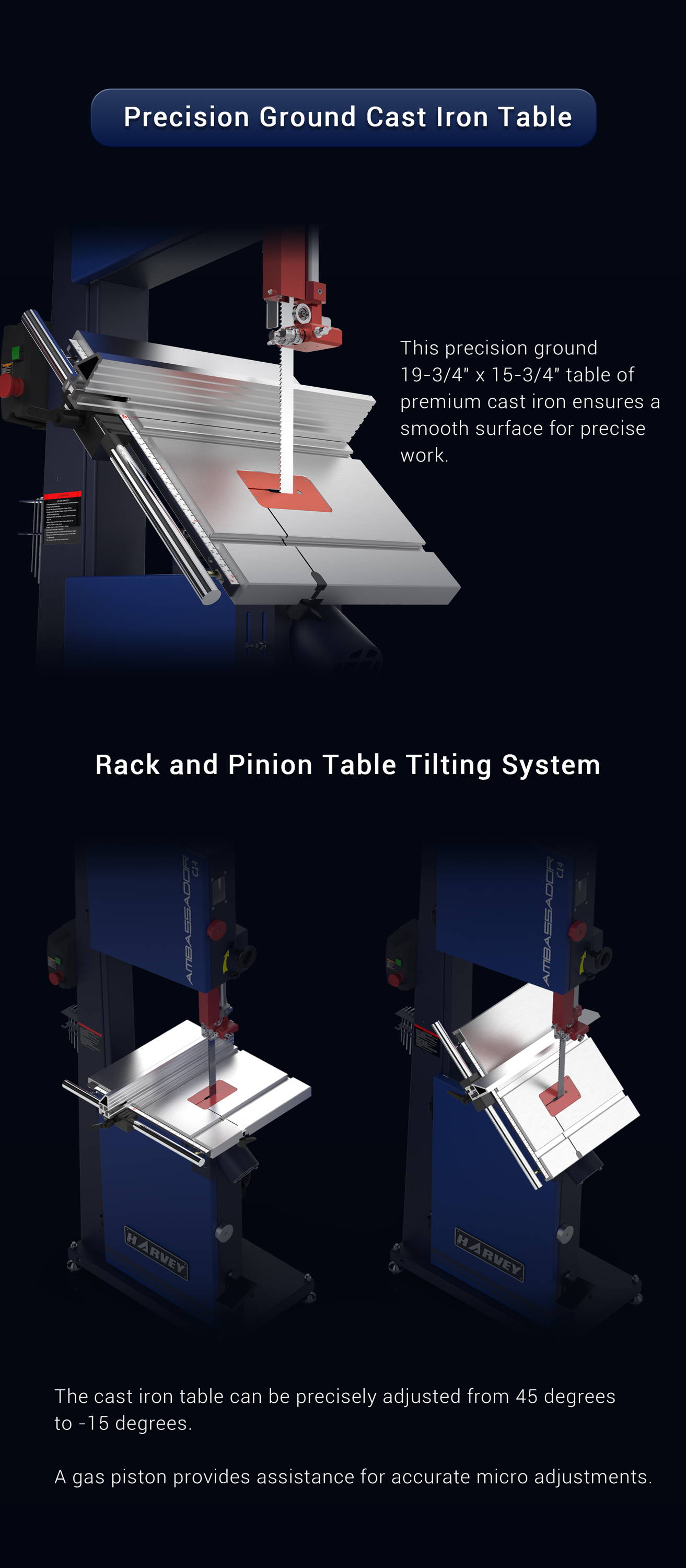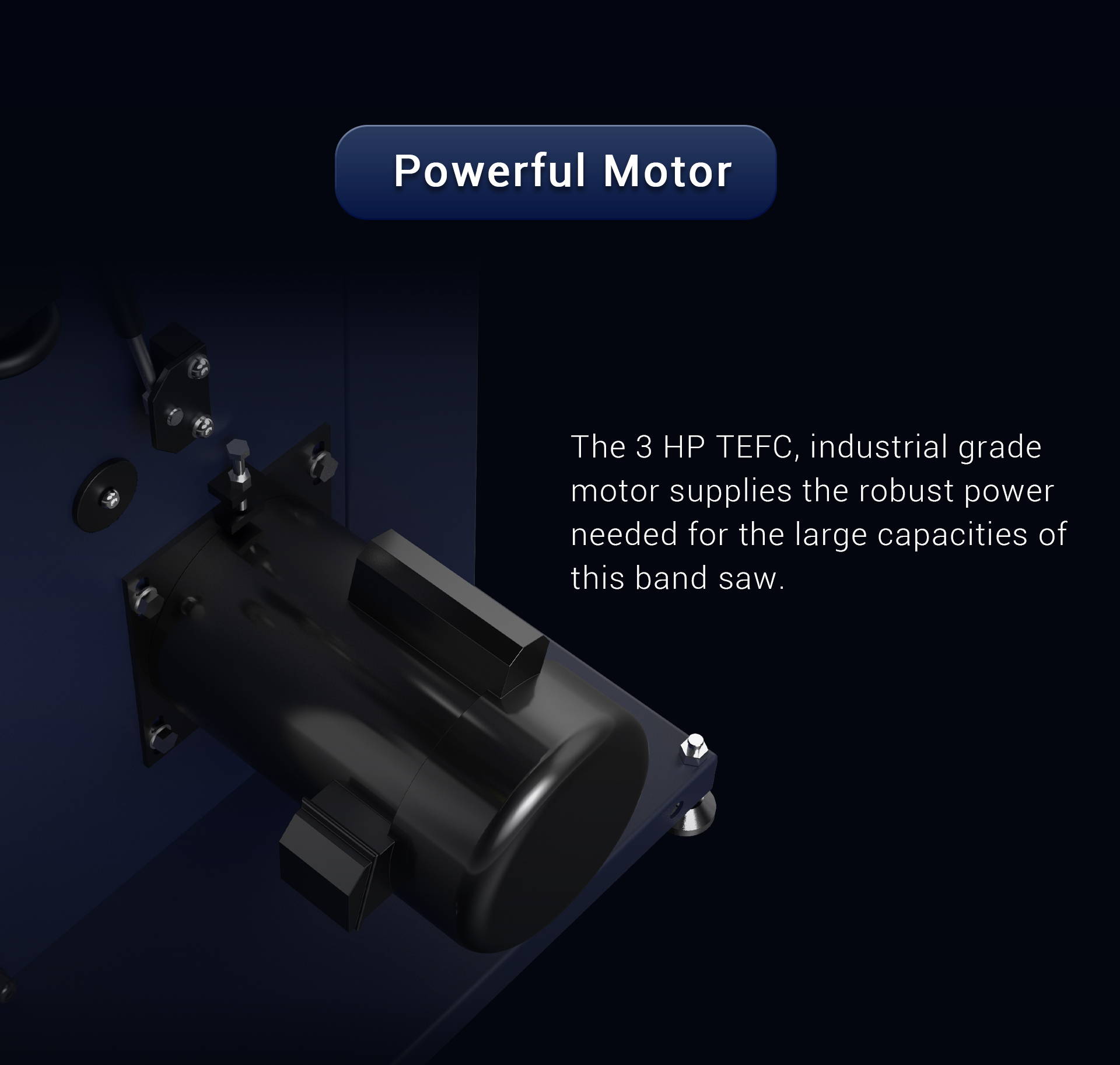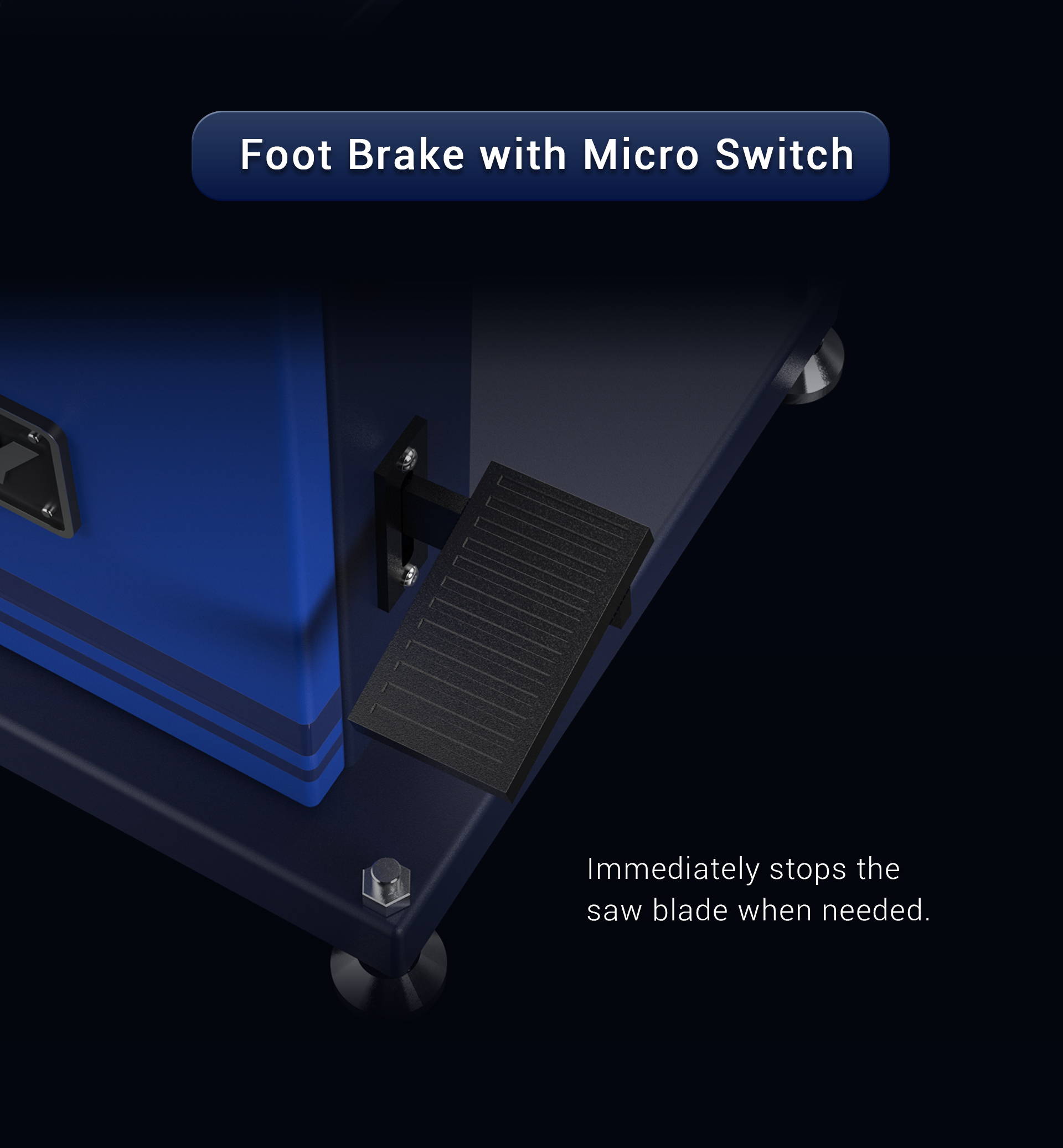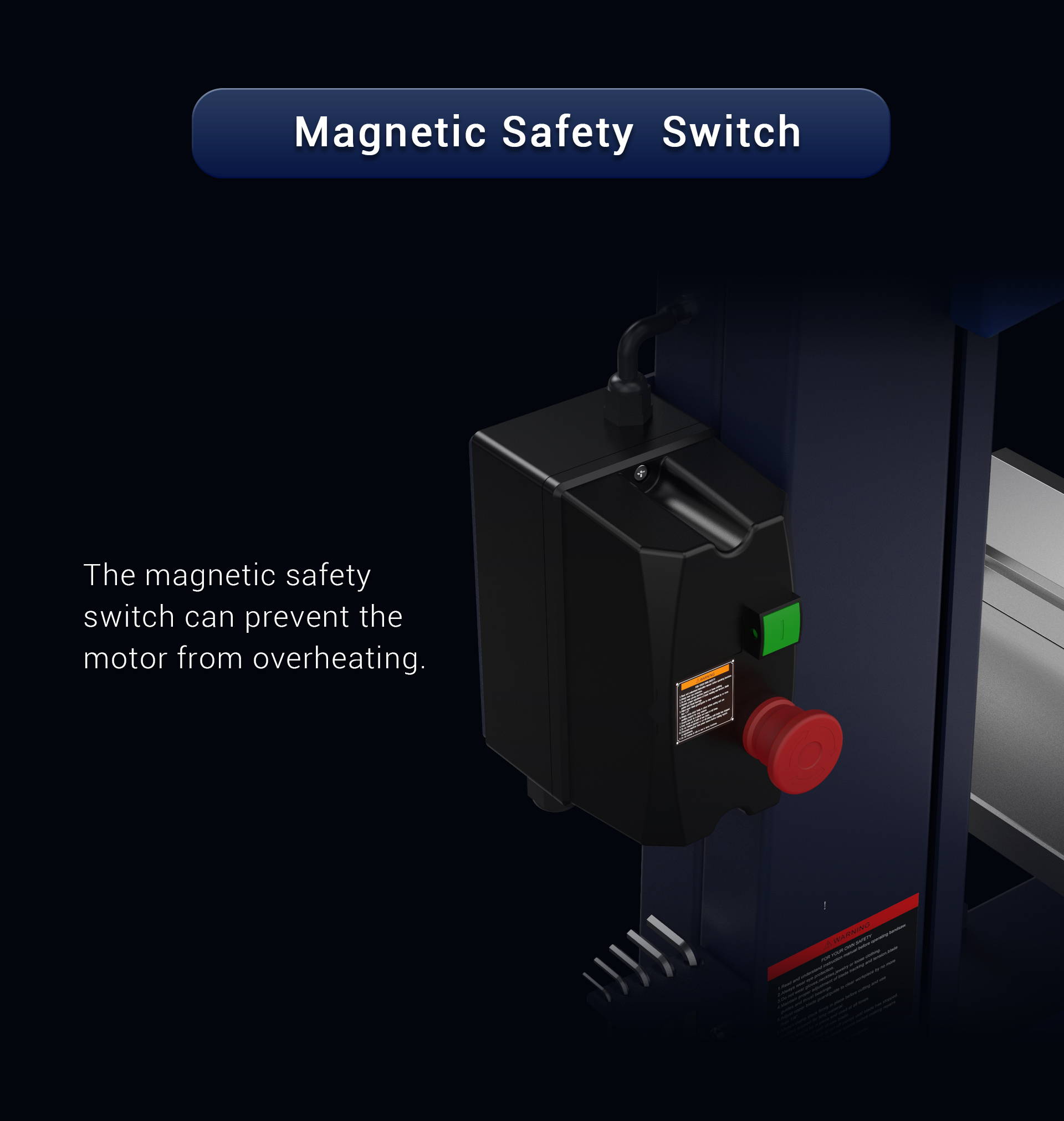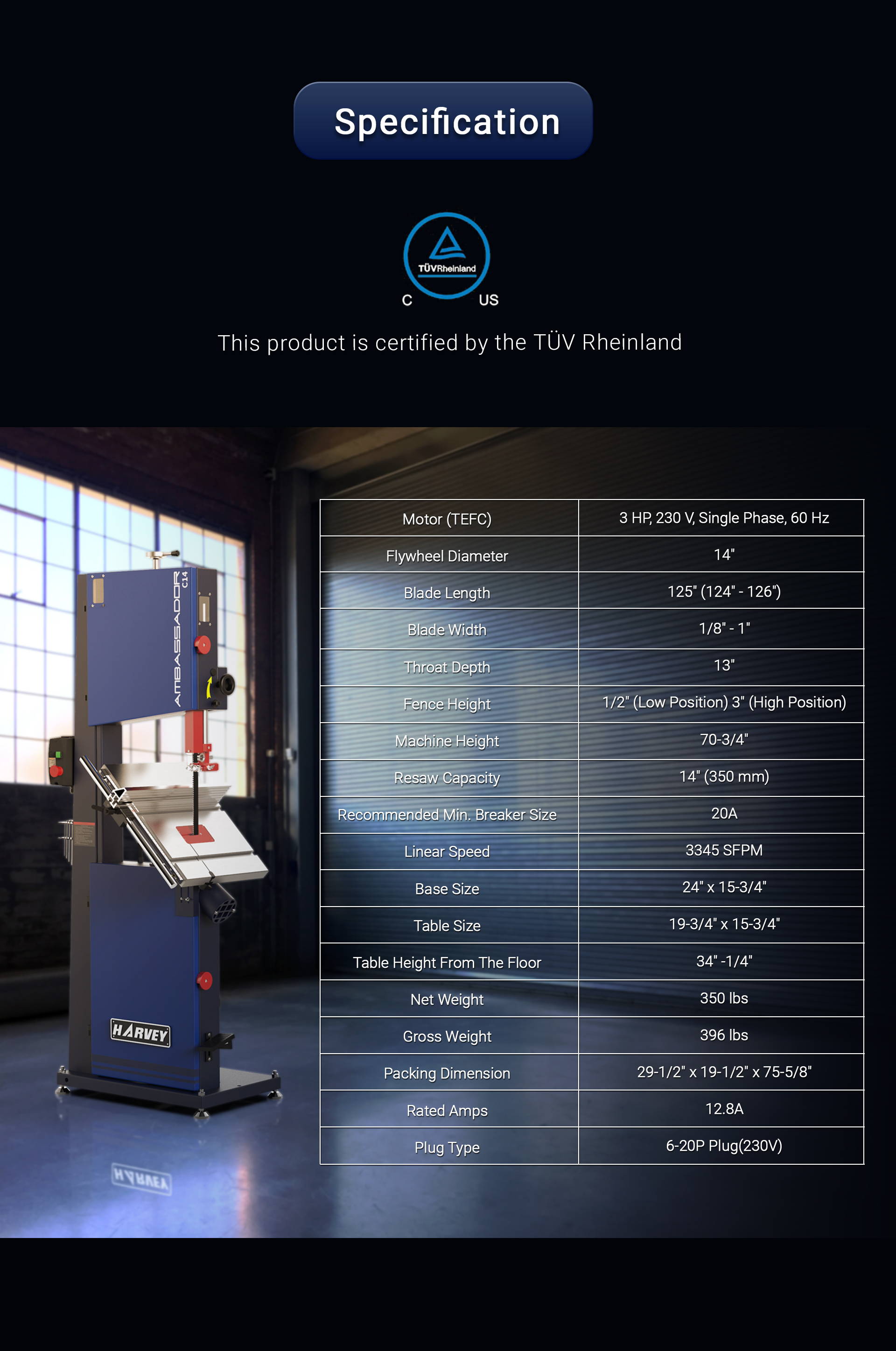 "Some images on this page are computer-generated representations of the product and may differ from the actual product. Colors, textures, and other details may not be accurately represented in the images. Please refer to the product description and specifications for more information."
AMBASSADOR C14 3HP 14" Band Saw
Very solid machine and very well packaged. This is my first bandsaw purchase so I was a bit apprehensive about adjusting, and setting up the machine. As I went through the operating manual, some steps were a bit vague. For example, the blade installation/removal steps made no mention about removing the upper and lower blade guards. Perhaps they assumed the purchaser would have already know this. In the end, no worries!! I figured it out and got it installed and adjusted just right.
Sometimes you just have to roll up your sleeves and jump in! I'd definitely recommend this machine.
Awesome machine
After doing a lot of research and saving, I decided to go with Harvey. I waited for a sale and have no regrets. This saw has power, is accurate, and has a great fence. Super easy to set up. Thanks for a great product!
AMBASSADOR C14 BANDSAW
Great machine. Delivered well packaged and protected. Set up was very easy and quick. Cuts are accurate and the saw has plenty of power. The feature I like the best is the power off switch on the foot pedal, as well as the blade stop brake on continued pressure of the pedal. Great safety feature! Only negative I can see so far is that the dust collection is marginal.
High Quality
Found out about Harvey through Youtube and I am very satisfied with the quality of this bandsaw.
At first, I was concerned about the delivery, but I am happy to say that everything went well. Communication with freight and Harvey was excellent.
I've had this saw for about 6 months so far, and it works great. I think what made this saw stand out for me was the ease of setting up the blade. The bearings are easy to access and intuitive to adjust. There are viewing windows conveniently placed to make blade tracking adjustments very quick.
Overall, this is a bandsaw that will do what you need and last over a lifetime.
Exceeded expectations
The Ambassador C14 bandsaw is a great bandsaw at a good price. The tool-less blade guides are simple and reliable. Excellent power. Nice size table. The fit and finish is much better than the Rikon, Jet and Laguna bandsaws that I was considering. I wish the fence was taller for ripping, but everything else is top notch.
Bandsaw Beast
Love this saw! The 3 HP motor provides excess power to breeze through any resale project you may dream up. I upgraded the small hand wheel that controls the upper bearing shaft. It is much better. Really like the stiffness of the frame, the heavy flywheels, and the power. I feel like the saw can handle any project. Would definitely buy again! Thanks Harvey Woodworking.
Love it
This was my 2nd bandsaw but first from Harvey and there's absolutely nothing bad to say about the Ambassador. Love it
Great Buy !!
The saw is unmatched in its class. Features power and price make it the king. Many of the other big names purchase their parts from Harvey and rebrand. Shipping was reasonable arrived on time undamaged and mostly assembled. Was cutting and creating within an hour or so. Very happy with it. You will be as well.
A Gamble Paid Off!
Brick and mortar woodworking machinery retailers are now few and far between. As such, buying machinery can be an uncomfortable gamble. We can comb the internet for information, specifications, and user reviews. Our woodworking cohorts are also a good research resource. In the end though, and absent the ability to touch and feel machines, a purchase can still be an expensive gamble.
Once a purchase decision is made, one certainly hopes the choice was correct and waits for delivery. In this instance, the delivery was/is a Harvey Ambassador C14 Bandsaw.
The shipment arrived promptly with the liftgate service I requested. The (ABF) driver kindly wheeled the pallet down my long driveway and into my garage. There were no signs of transit damage. With the top cap removed, the robust side panels fall away easily.
Unbolt the saw from the pallet, clean the numerous greased-covered surfaces, attach the fence, reposition the switch (from the shipping position) and the machine is ready for fine-tuning, table squaring and so forth.
Readying the C14, handling things from top to bottom, I was continually impressed A highly accurate straight edge, and feeler gauge confirmed flatness of a smooth cast iron table surface. Underneath, those typical nasty casting edges were properly refined. First rate hardware and fasteners contribute to a quality build. Even the quality of the paint deserves mention and praise.
Blade changes take a bit longer than I am accustomed to because two guards must be removed entirely. The upper guard that is more conveniently hinged on many similar machines is (on the C14) secured by one hex cap screw. A lower guard is held by a thumbscrew. Blade changing on the Harvey Alpha series bandsaws appears to be easier—a difference that I feel could and should be made clearer on the Harvey website. With more differentiating information, I might have upgraded. So far though, I'm comfortable and happy with the C-14.
I'm happy too with the C-14's ball bearing blade guides and adjusting mechanisms. I volunteer in a non-profit's shop where a Rikon 10-326 is the resident bandsaw. Rikon's toolless spring loaded pushbutton guide controls seem ideal. Ideal that is until put to the test. Those snazzy pushbuttons can be maddening. I submit that the Ambassador C14's straightforward guides and adjusting mechanisms are effective, sensible and simply better.
The arguably low 34" table height might be a concern to taller users. At just over 5' 6", I rather welcome the lower work surface. A rectangular blade throat opening makes it easy to fabricate 5mm thick zero-clearance throat plates—a plus in my view. A simple, sturdy high-low rip fence glides smoothly and locks securely on a stout, chromed steel rail. The fences' high option is disappointingly low, but not a deal-breaker. There are no meaningful markings on the blade tension scale. While these scales on competing machines are notoriously inaccurate, having reference points of some sort would still be helpful.
Running, the C-14 is nearly vibration-free and relatively quiet. The two dust collection ports are effective. It's hard to imagine being able to bog down the 3hp motor. Lastly, the blade tension release functions smoothly and easily.
I should mention too that the few questions I've had have been addressed by Harvey's Customer Service quickly and effectively.
E. Fasano
North Carolina
Great Saw at a Great Price
Saw works great.
Three upgrades. Added a light. Changed crank wheels on blade guide and table for ones with a handle.
Replaced 8mm screw on blade guard with a knob.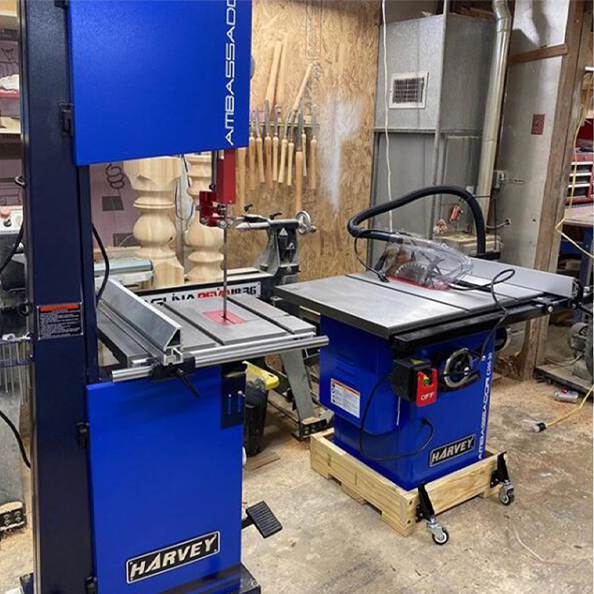 New tools in the shop. @harveywoodworking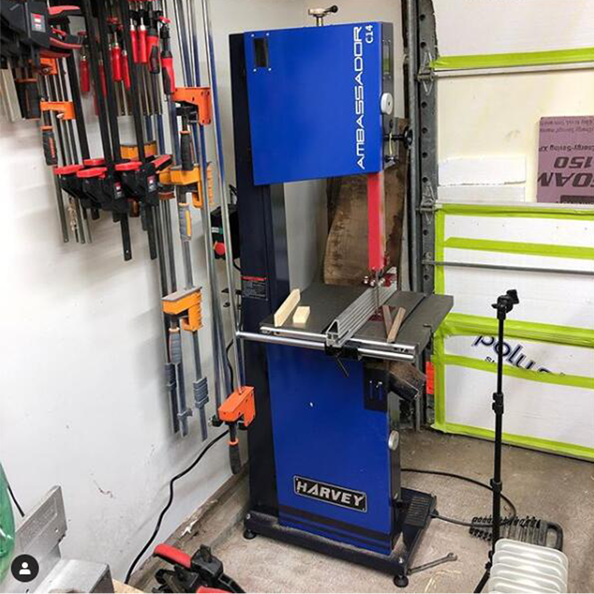 If you haven't seen my stories recently I upgraded and picked up a bandsaw from @harveywoodworking and man is it nice!.Pumped to add a bandsaw to my workflow!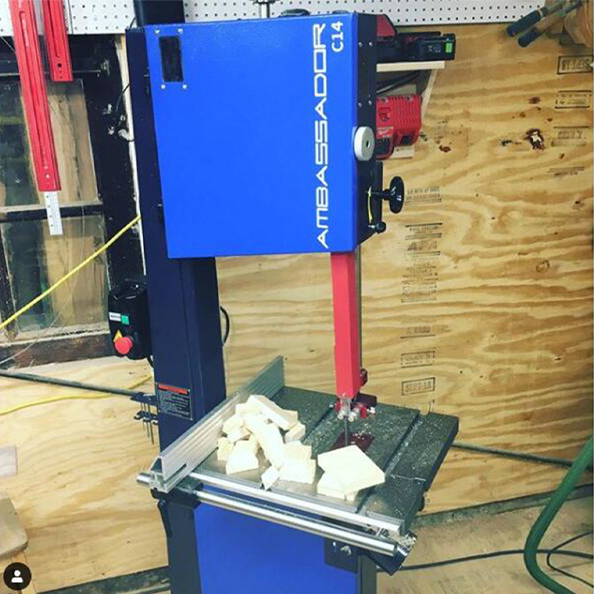 New year, new bandsaw. Got it all dialed in so I can really test it. Impressed so far.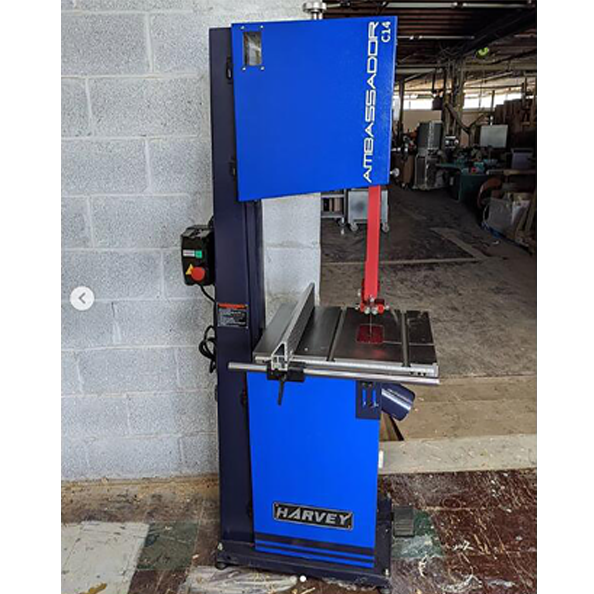 Alright check out who finally made it to the shop, it's @harveywoodworking bandsaw. We just have to run power to it inorder to find out if I assembled it right.
I recently purchased the Harvey C14 Bandsaw. The first delivery had fallen over on its side before arrival and I refused to accept it. Harvey shipped a new unit out promptly. Their customer service is superior to many companies I've dealt with. I had some questions and suggestions regarding the set-up of this saw and they responded quickly, clearly, and with respect for my opinions (and a couple of oversights on my part). The saw itself is high quality construction, easy to set up (make sure you have someone to help with assembly), and easy to adjust/maintain. I'm glad I purchased a 3HP model for re-sawing hardwoods. I will definitely do business with Harvey Industries again (dreaming of the 2 stage dust collection system) and will recommend Harvey products to my friends.