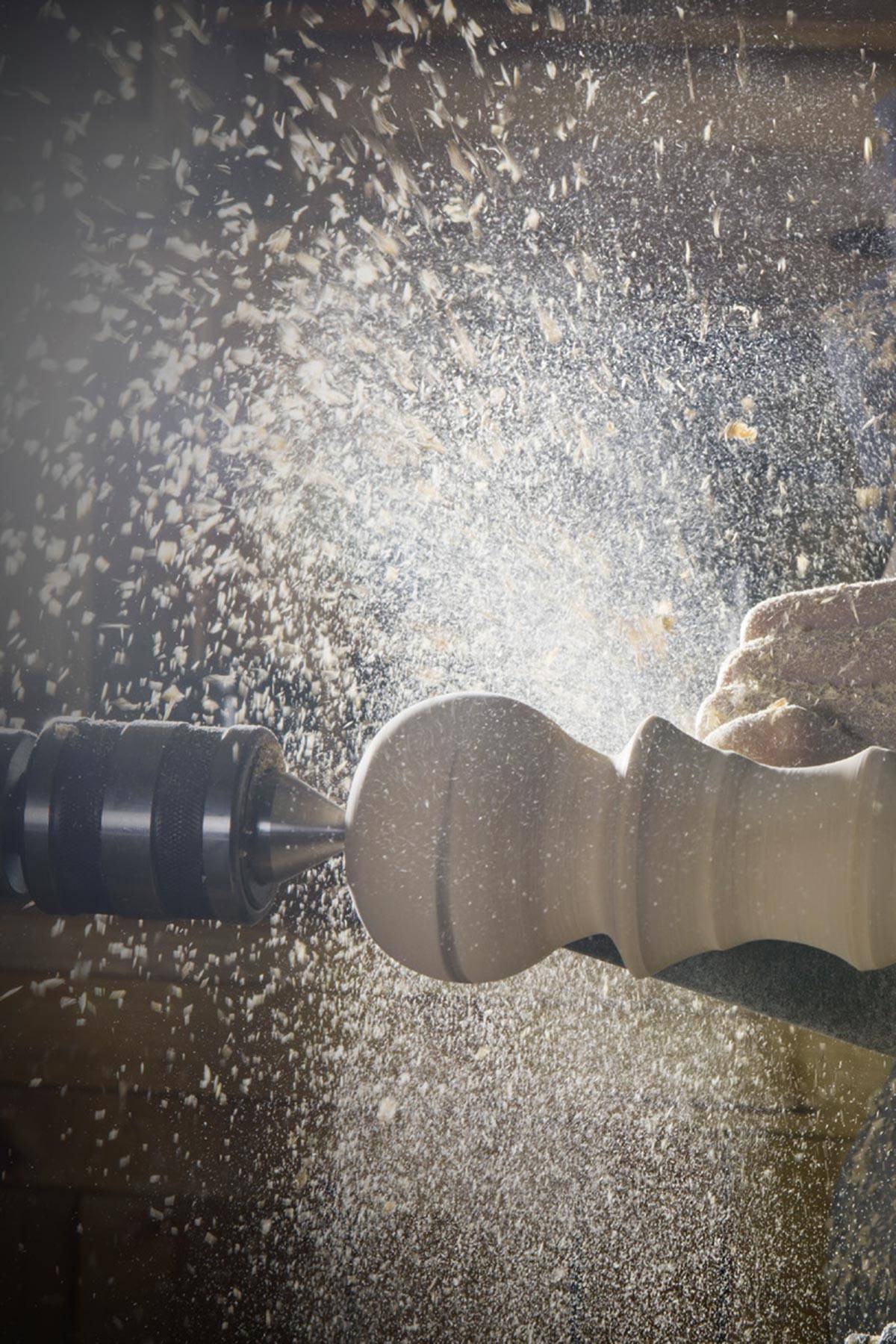 Problems That Have Never Been Solved
In a woodworking shop, wood dust is always a big problem for woodworkers. Flying dust particles can severely harm not only the health of operators but also the environment. In past decades, woodworkers mostly used traditional dust collectors, such as bag collectors, or cyclone collectors.

However, all of these existing collectors have never really solved the problems, instead, they created more issues:
- Very High Noise Levels (95-100dbA) – constantly damages operators' ears
- Difficult Maintenance – filters are easily clogged by dust and need be cleaned frequently
- Bulky Structure – it occupies a very large space in a woodworking shop
- Large Power Consumption – normally requires 3 - 5HP with expensive operating costs
Traditional Cyclone Dust Collectors
Cyclone dust collectors separate dusts by gravity (see diagram below). As gravity is not strong enough to push down small particles, only heavy dusts drop to dust tank. Up to 40% small dust particles are pushed up to filters which will be easily blocked, causing that the sucking static pressure drops rapidly. In addition, the dusty air flows in the cyclone and creates very large noise/vibration and energy consumption. All these problems have never been solved until now.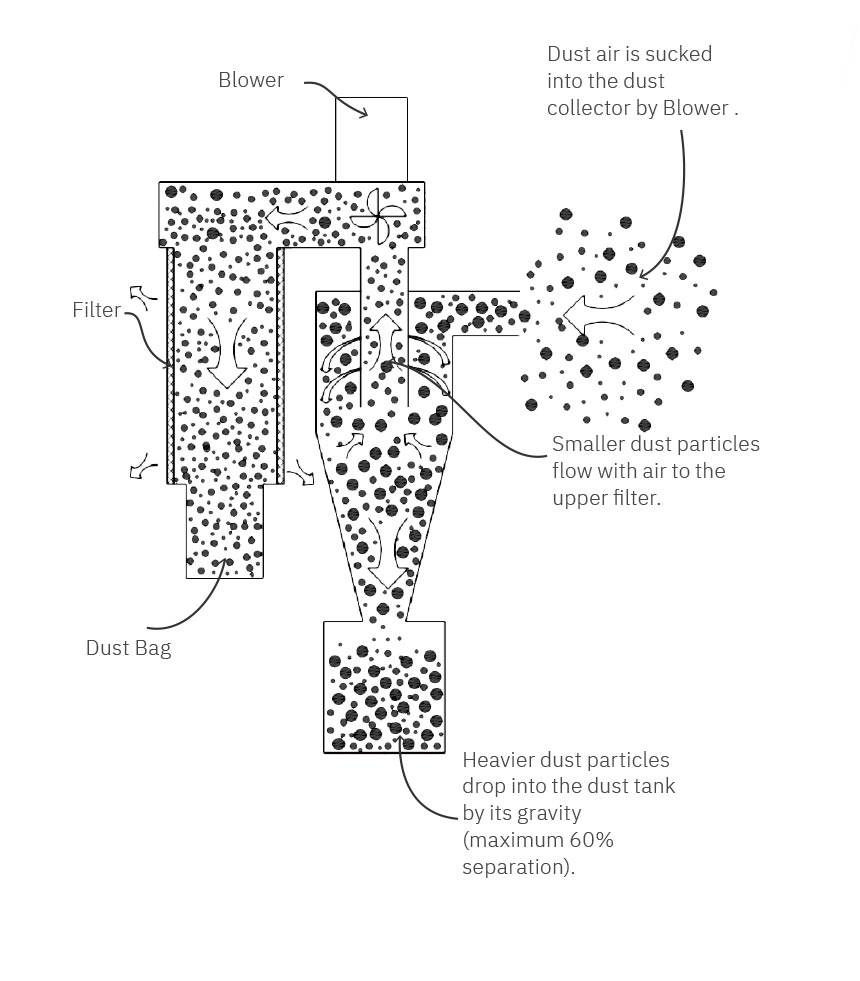 The Gyro Air® Dust Processor technology has revolutionized dust collecting. It was designed with Harvey's invention of Axial Centrifugation Technology (or called Gyro Air® Technology) which is completely different than any existing dust collector on the market. The Gyro Air® Technology spins the flowing dust stream at high speeds (over 4000 rpm), which generates a significant centrifugal force on dust particles (over 70g) causing them to be pushed away from the air flow center and depositing them into dust tanks. The clean air remains in the chambers and any remaining fine particles are collected in the air filters. This process can successfully separate 99.7% of the dust particles from the air, which greatly increases the life of the filters. Due to the efficiency of the air separation technology and coupled with the unique horizontal structure, the operation noise is minimized to a pleasant level of 61 dba and the power consumption is minimized to 1.5kw.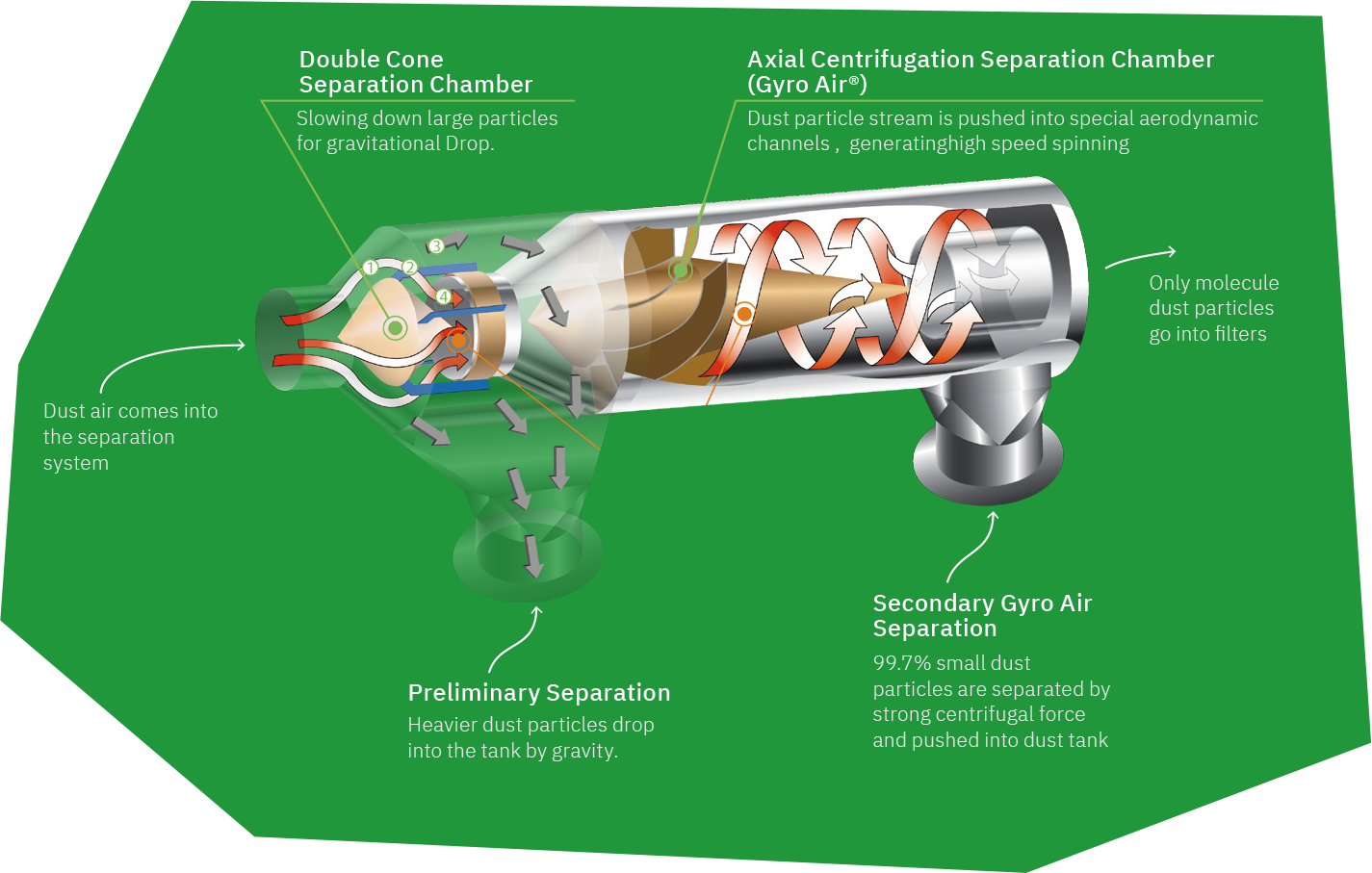 A Revolutionary Dust Processor

Because of the principal contradiction between dusty air flow and filtration, traditional dust collectors are struggling with filter clogging or bad air quality. Most of the dust collectors are very loud, bulky and difficult to maintain. This has been a long-standing pain for woodworkers.
To solve this problem, the Harvey team of engineers spent over 7 years of research and study, to develop an unprecedented Dust Collector, the Gyro Air® G-700 Wood Dust Processor. The G-700 Gyro Air® Wood Dust Processor incorporates a unique, patented technology to separate dust particles from the air and capture them before they enter the filters.The G-700 uses the new Axial Centrifugation Technology (called Gyro Air® Technology), to spin the air/dust stream up to 4,000 RPM and generate a super strong centrifugal force (over 100 times gravity) to separate the dust from the air and collect it in two dust bins hidden internally in the unit.

The G-700 collects 99.7% of the dust particles before the air reaches its HEPA filters. This not only means much less cleaning of the filters, but that the airflow and static pressure will remain much more constant during operation. In addition, the air emission cleanliness level from the filters can reach an unbeatable 0.05 mg/cubic meter (50% better than the European Standard of 0.1 mg/cubic meter). The entire extraction system is aerodynamically optimized with extraordinary running efficiency, so it can save up to 50% in energy costs.

The Gyro Air® technology and its unique aerodynamic design allow the G-700 Gyro Air® to run at an incredibly low noise level of 61 to 72 dBA, depending on which speed you run the Gyro Air ... yes, it is a variable-speed machine that allows you to adjust the airflow to suit your needs. The G-700 is powered and controlled by a SIEMENS industrial 2HP motor and SIEMENS V20 Variable Frequency Driver for 24/7 applications. In addition, the Gyro Air® G-700 is equipped with a built-in Dust-Bin monitor and a Remote Control Key. Its fully enclosed housing is short enough to fit under most benches, and it has heavy-duty casters to allow it to move as needed. The two dust bins are sealed when in use but are then easily accessed through a panel on the side of the unit, and they roll out for easy emptying (and you can use disposal bags to take out wood chips).

State of Art Engineering for Life Time Reliability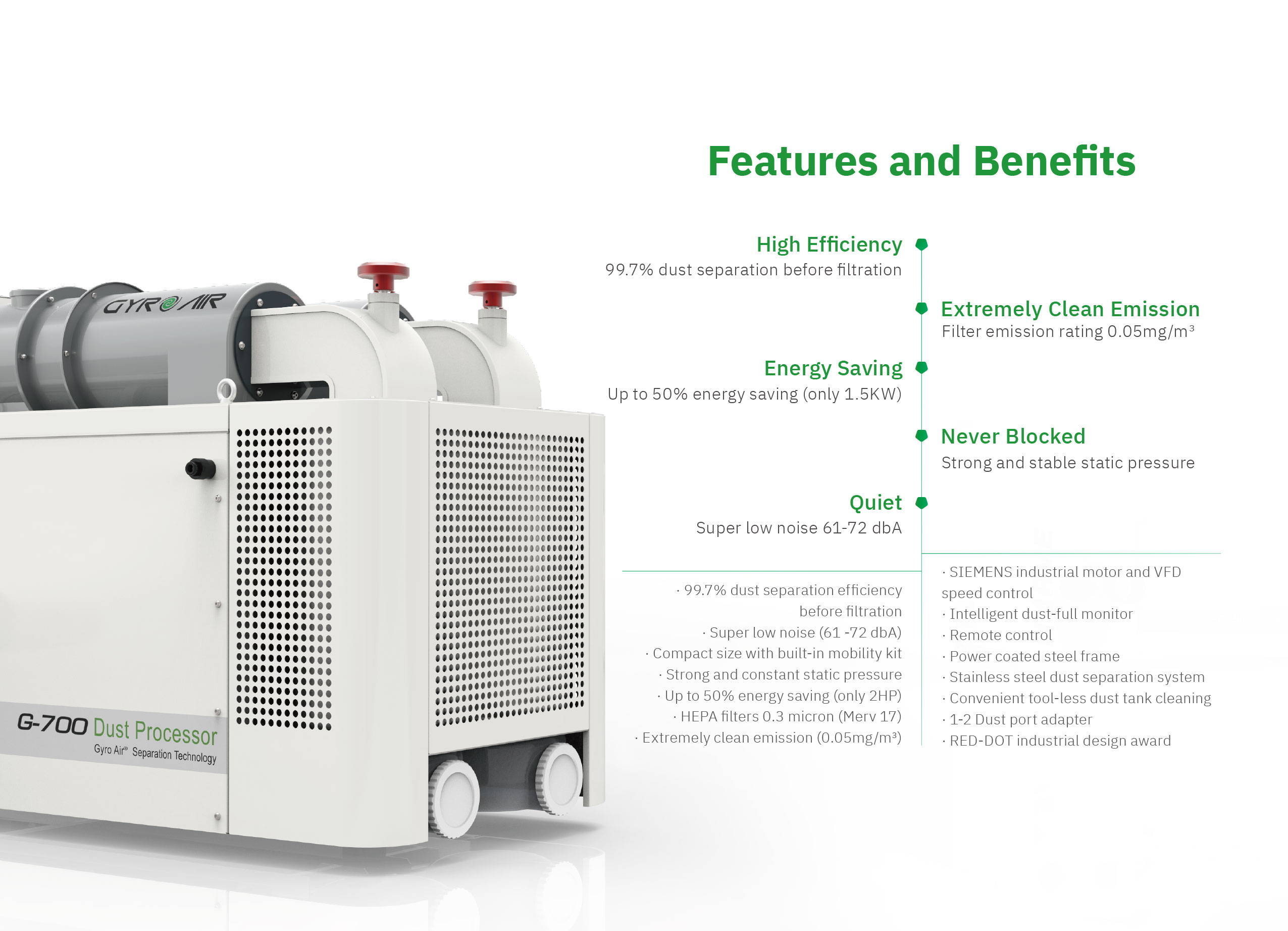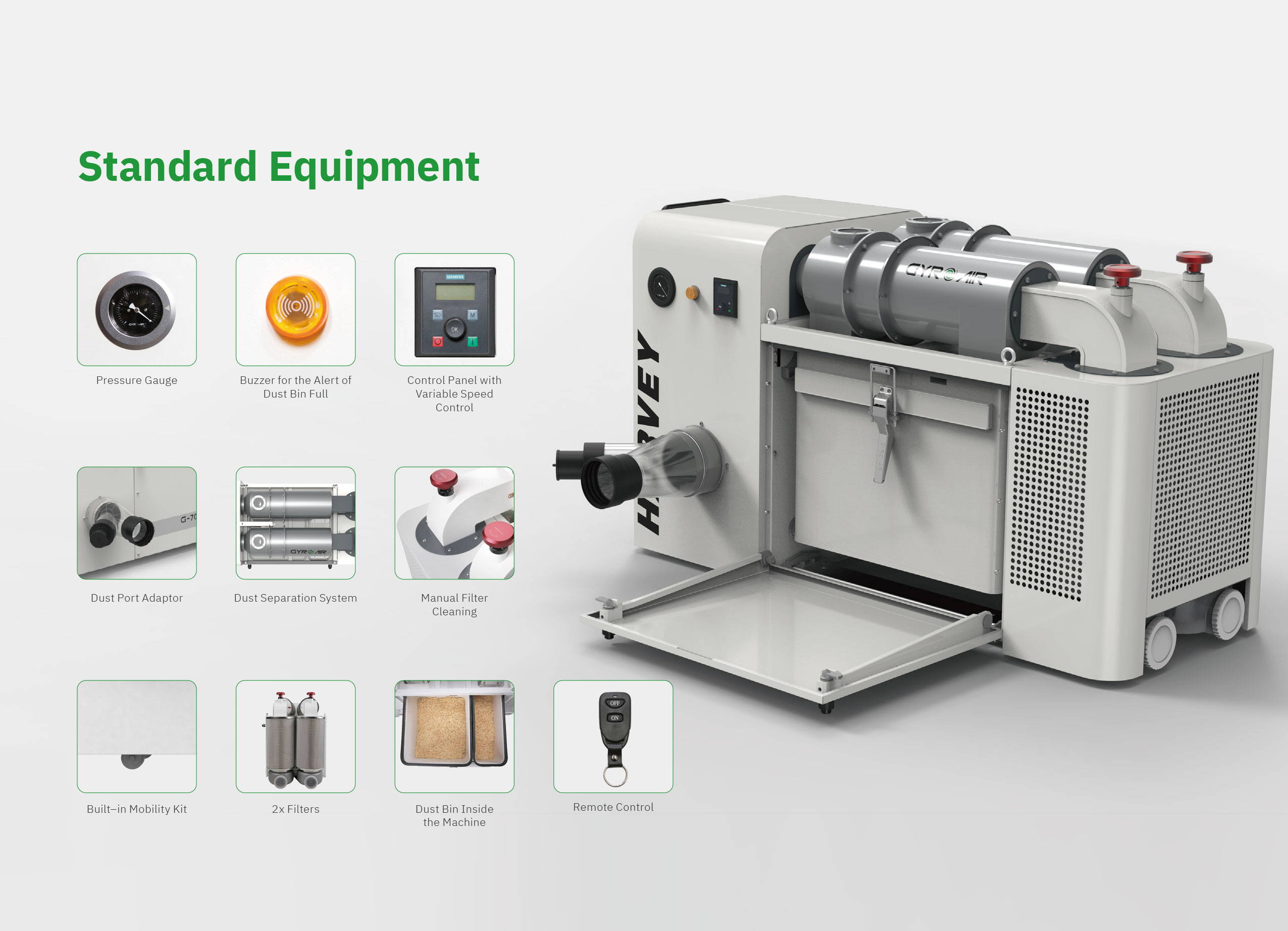 G-700 is used to collect the dust in the process of turning for keeping the good quality of air in the workshop.

If dust collection is on your Christmas list, give me a call to discuss the Harvey G700. Love this beast! I can save you a few bucks, which is always helpful this time a year.
This is my new dust collector for my shop. I may need some plutonium to generate the 1.21 gigawatts to get it started. Love it!
Ask any machine woodworker what the absolute least favorite aspect of their shop time is and no doubt it relates to dealing with dust collection. Not anymore!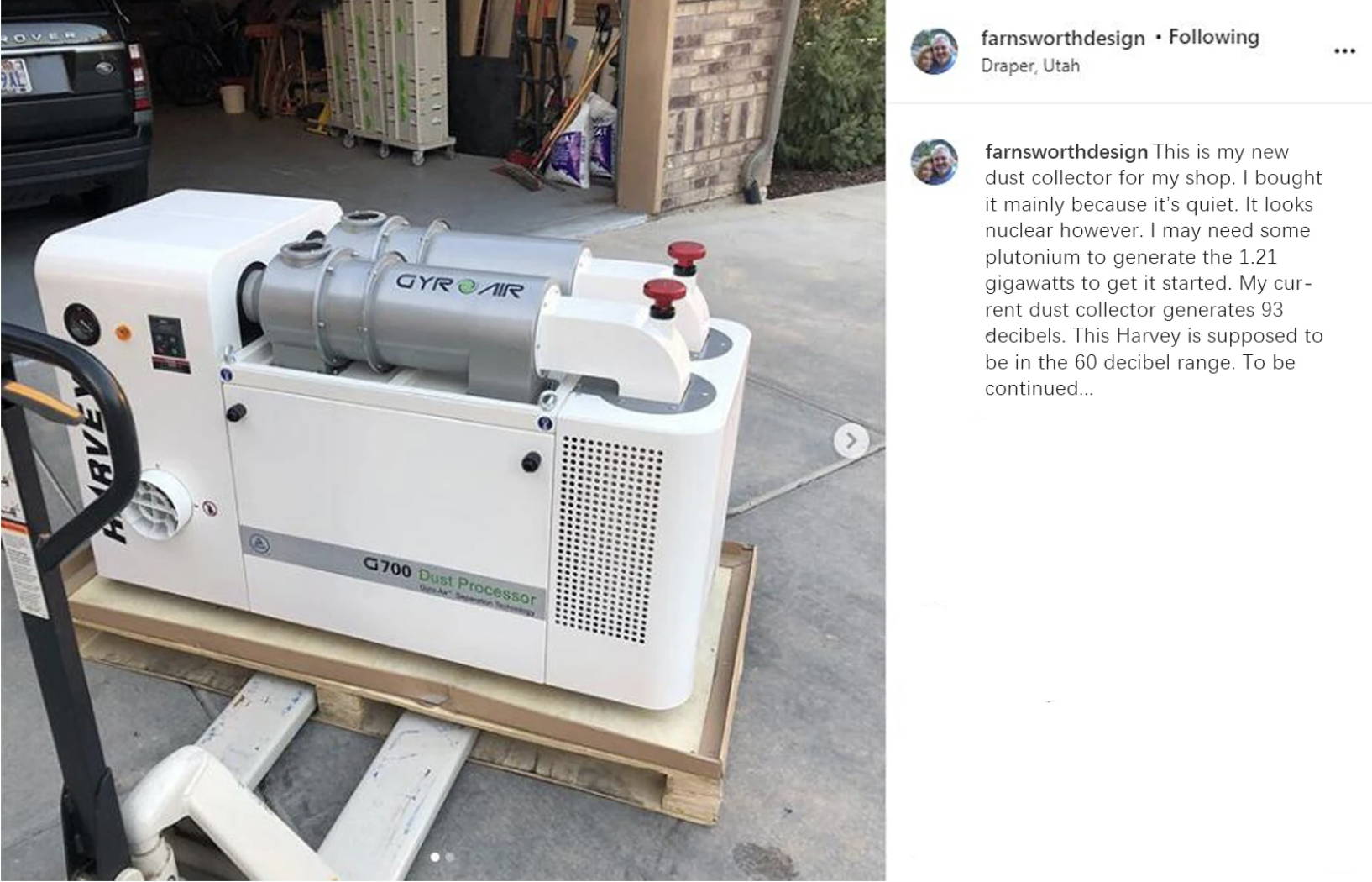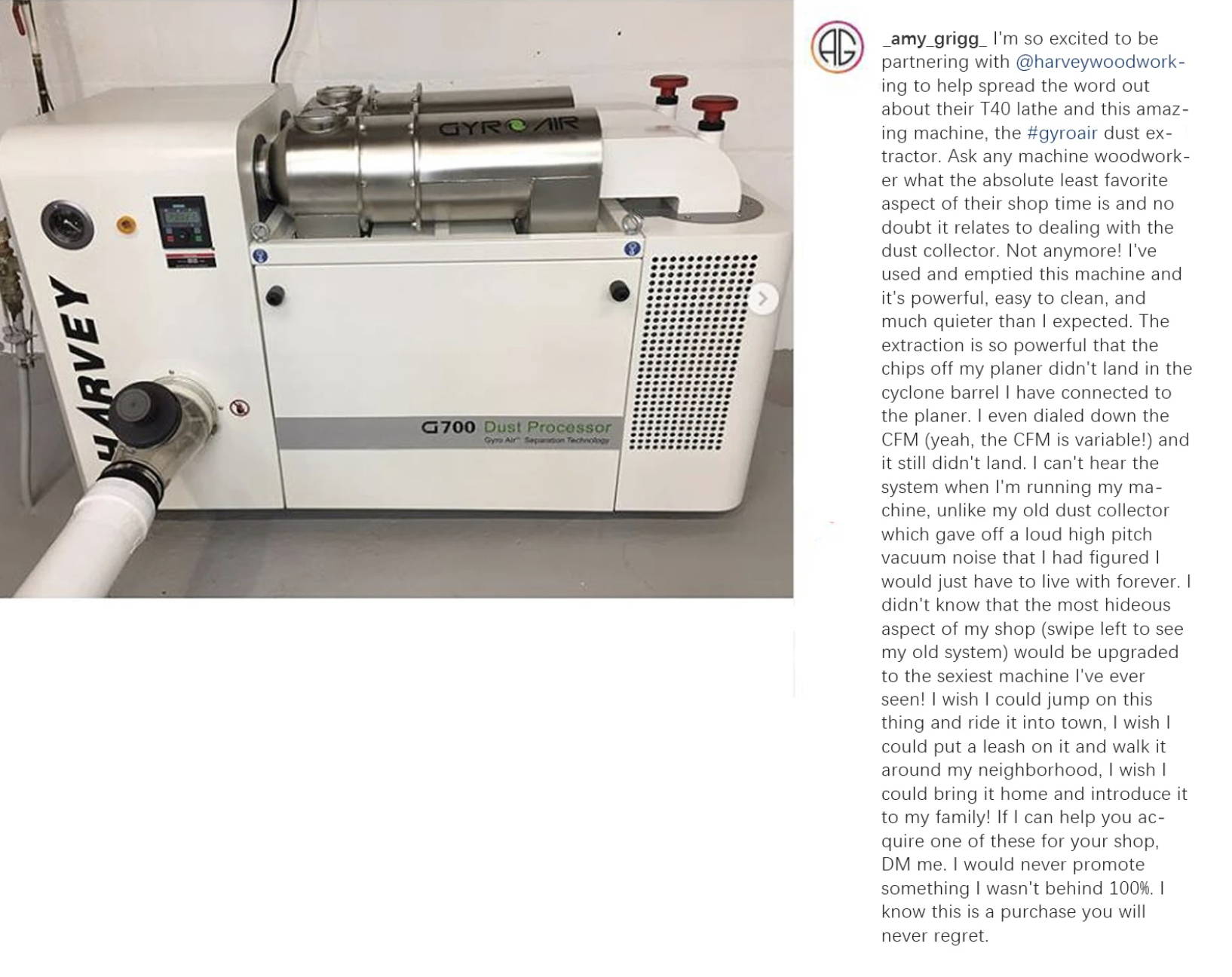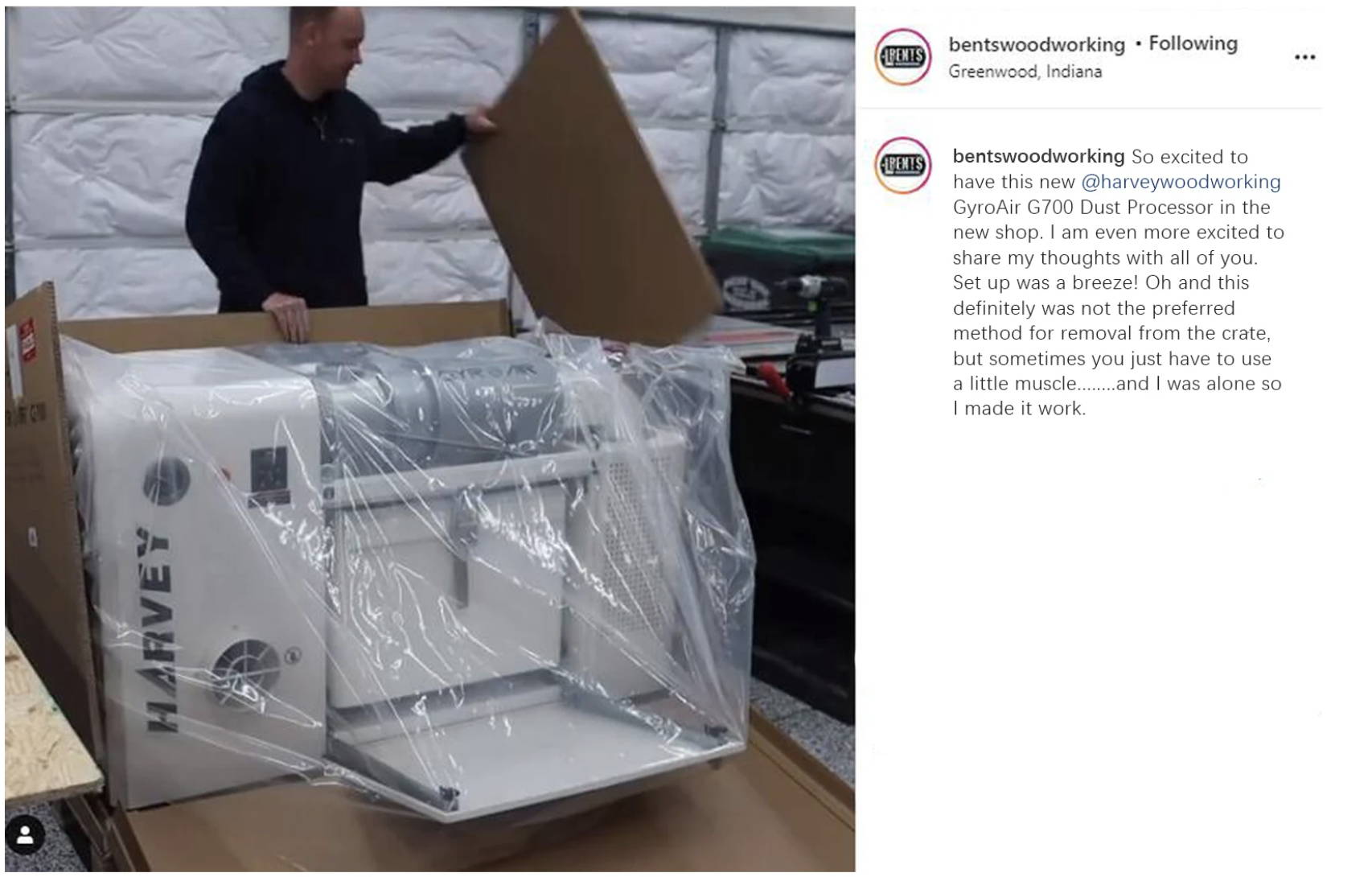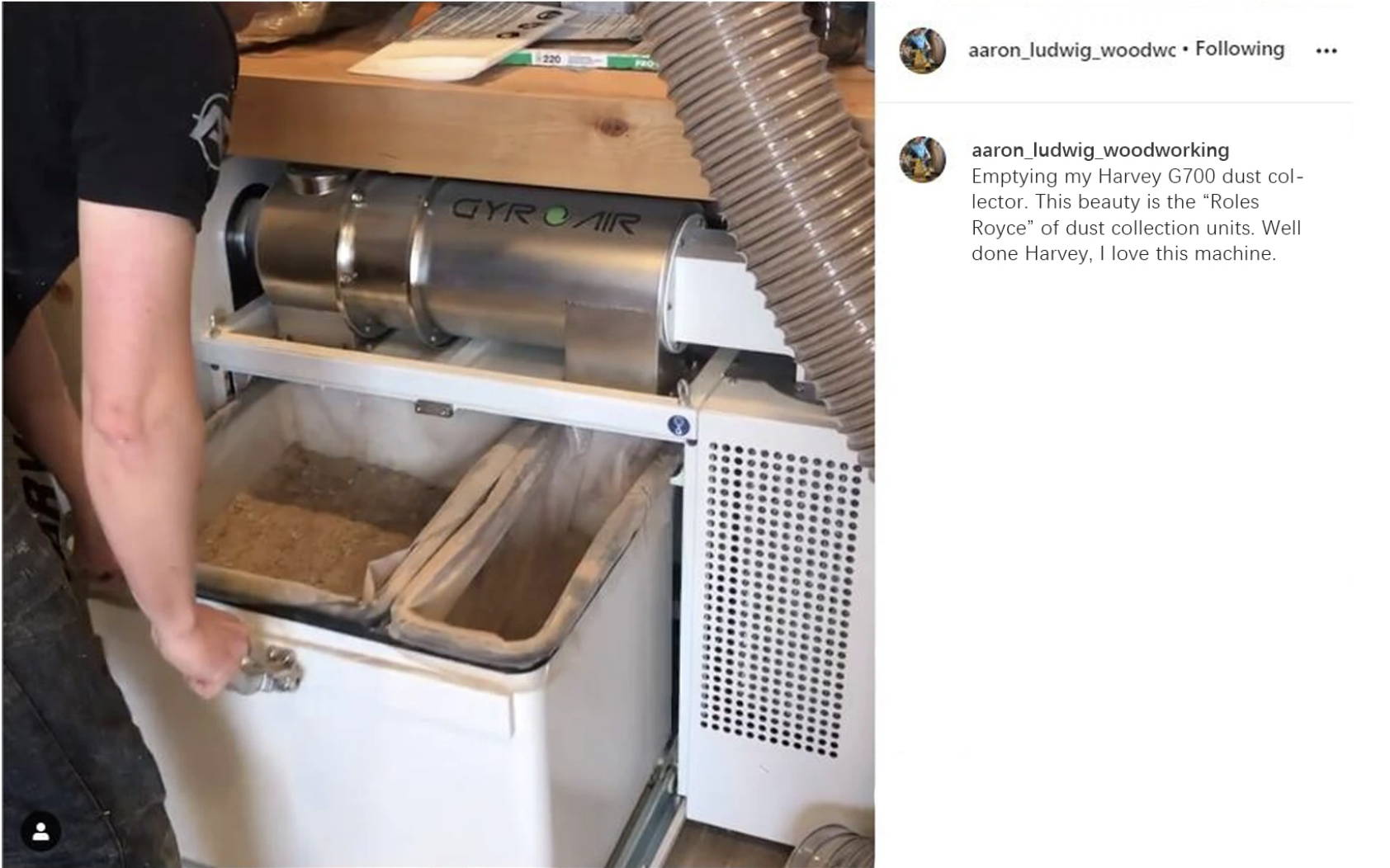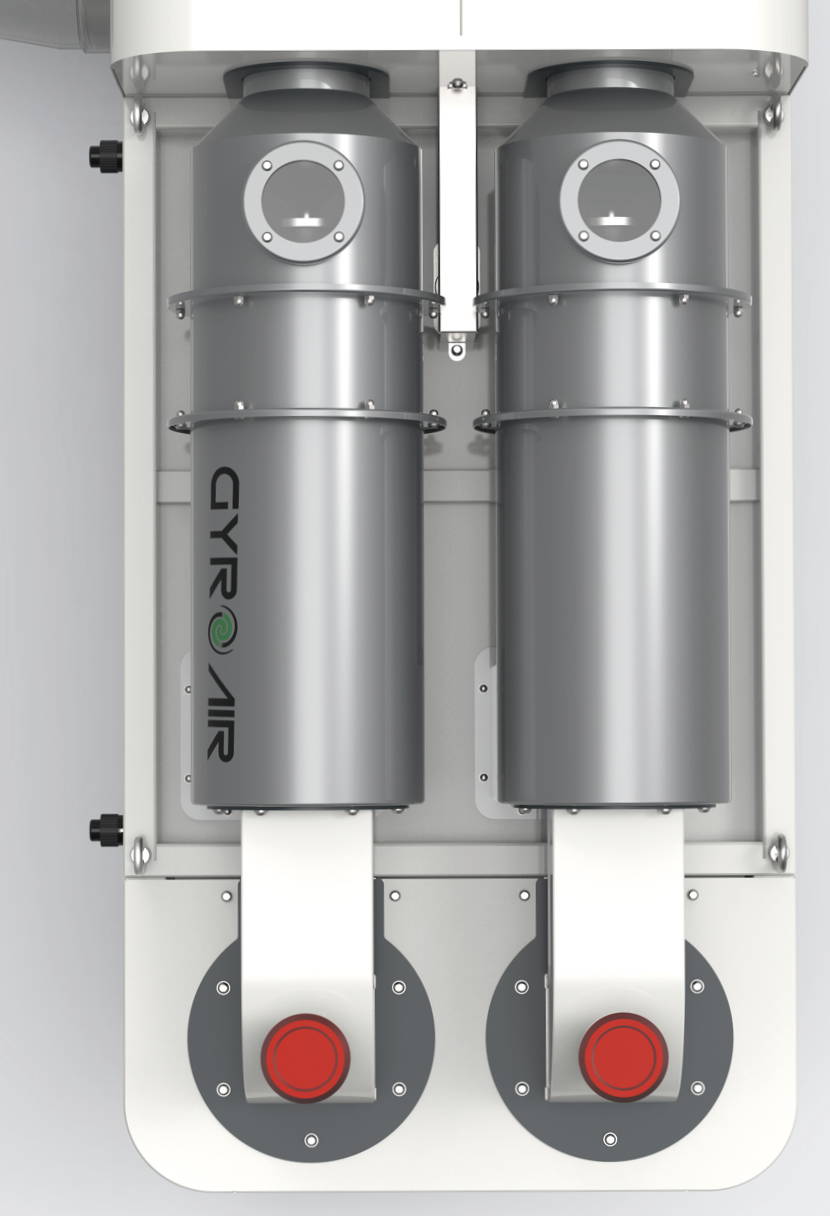 DID YOU BUY A G700? WE WANT TO HEAR FROM YOU! LET US KNOW HOW YOU LIKE THE SAW, AND IF YOU NEED ANY ASSISTANCE WITH IT.