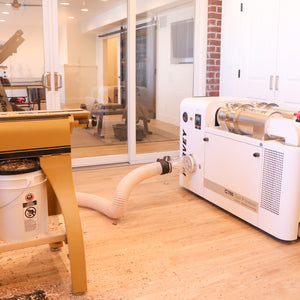 The Harvey G700 Gyro Air, Not Your Average Dust Collector
Written by: Nikola Muckajev
As any hard-wrought woodworking enthusiast will tell you, the mess made is half the fun – but the cleanup is none at all. All projects that see us pouring countless hours into exquisitely-crafted projects will transform our cozy shops into dens filled to the brim with shavings. There's no getting around the detritus that arises from removing all but the necessary elements of a piece – but thankfully there is a way to getting around the hassle that comes with scooping handful after handful of sawdust into the bin for hours on end: The Harvey Industries G700 Gyro Air Dust collector.
The G700 bears the hallmark build quality and functionality that is found in all Harvey Industries products. With a sound level of only 72Db, the Gyro Air manages a comfortable noise level equal to a quiet conversation. With such a low decibel ceiling, the Harvey Dust Collector is tailor-made to be the most effective dust collector out on the market.
With a variable speed setting ranging from 2280rpm to 4275rpm, the G700 is more than capable of tackling the most demanding clean-up jobs that your workshop could shake its sawdust at. Coupled with a dustbin with a maximum capacity of 32GAL, a manual filter cleaning system as well as an intelligent dust-full monitoring display, the G700 is a powerhouse of a machine in a compact package.
Sacrificing nothing for its size, the G700 ensures that any workshop that fields it significantly reduces the amount of dust that is circulated through the air – providing not only a more efficient cleaning machine, but also significantly reducing the impact on the respiratory systems of the shop works. Placing machine effectiveness, worker health, and longevity at the forefront, Harvey Industries are committed to be the first brand that woodworkers turn to.
Masterclass build quality featuring zero-toxicity paint, high strength aluminum for spark resistance, and 100% stainless steel for a lifetime of strength and reliability, Harvey Industries leaves out nothing in what is a no-brainer package for any committed woodworking workshop. With a significantly lowered overhead and effectiveness that extends far beyond the competition, the G700 extends its effectiveness not just to wood, but to plastic, food, and stone dust as well.
If you find yourself in the market for a top-of-the-line collector and cleaner that will increase your in-shop productivity while minimizing cleanup, look no more than Harvey Industries' G700 – you'll be glad that you did.
---