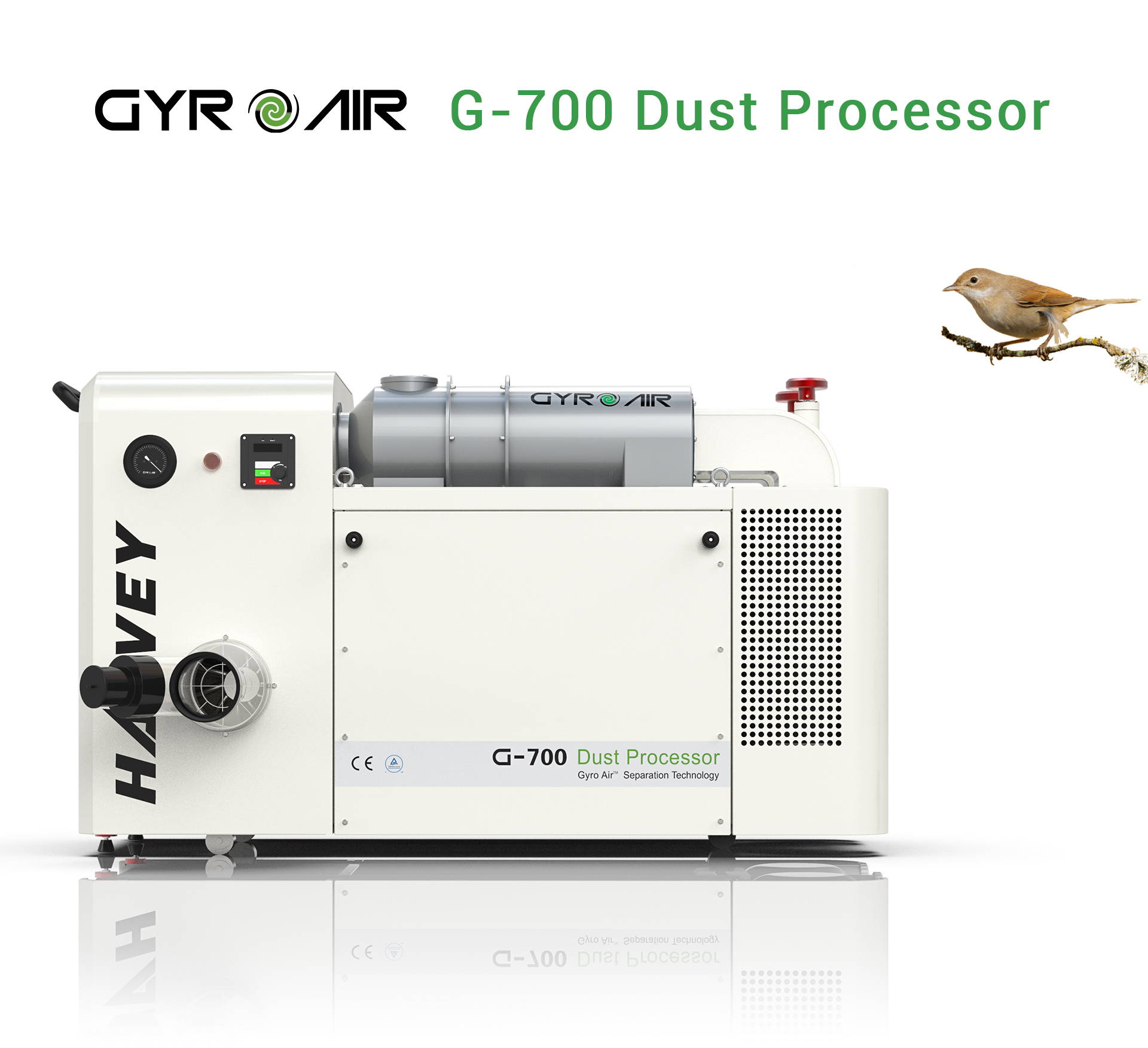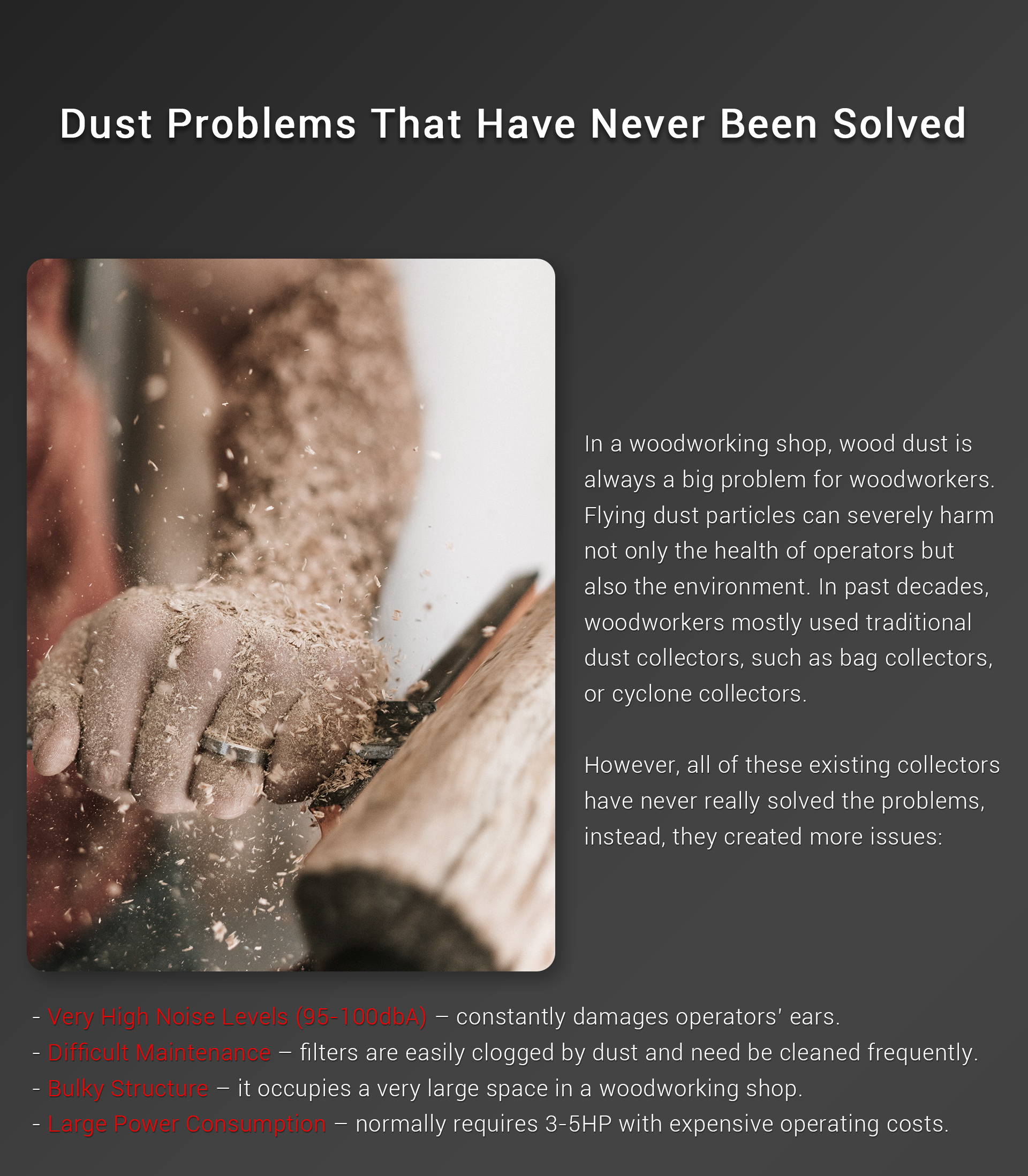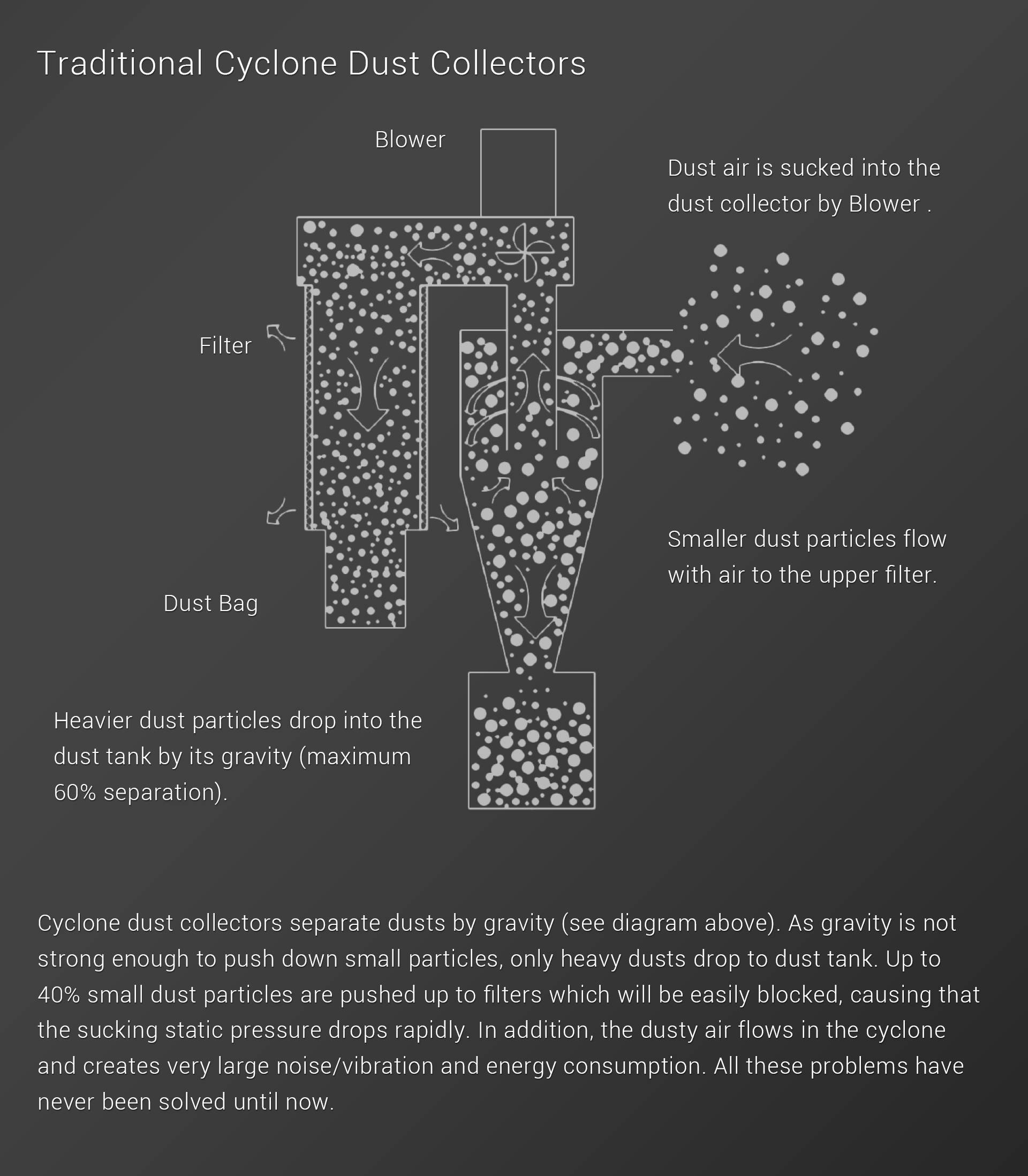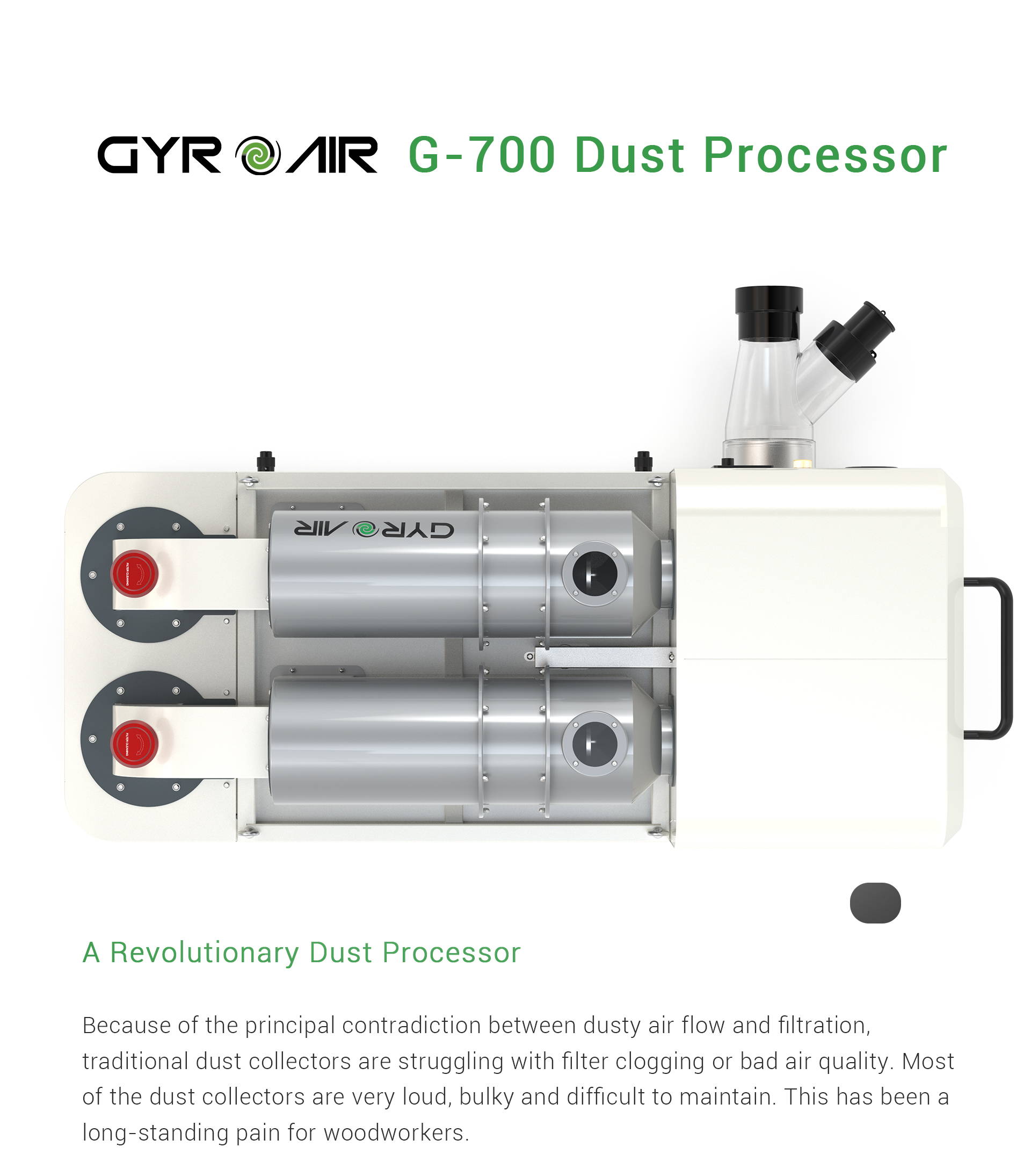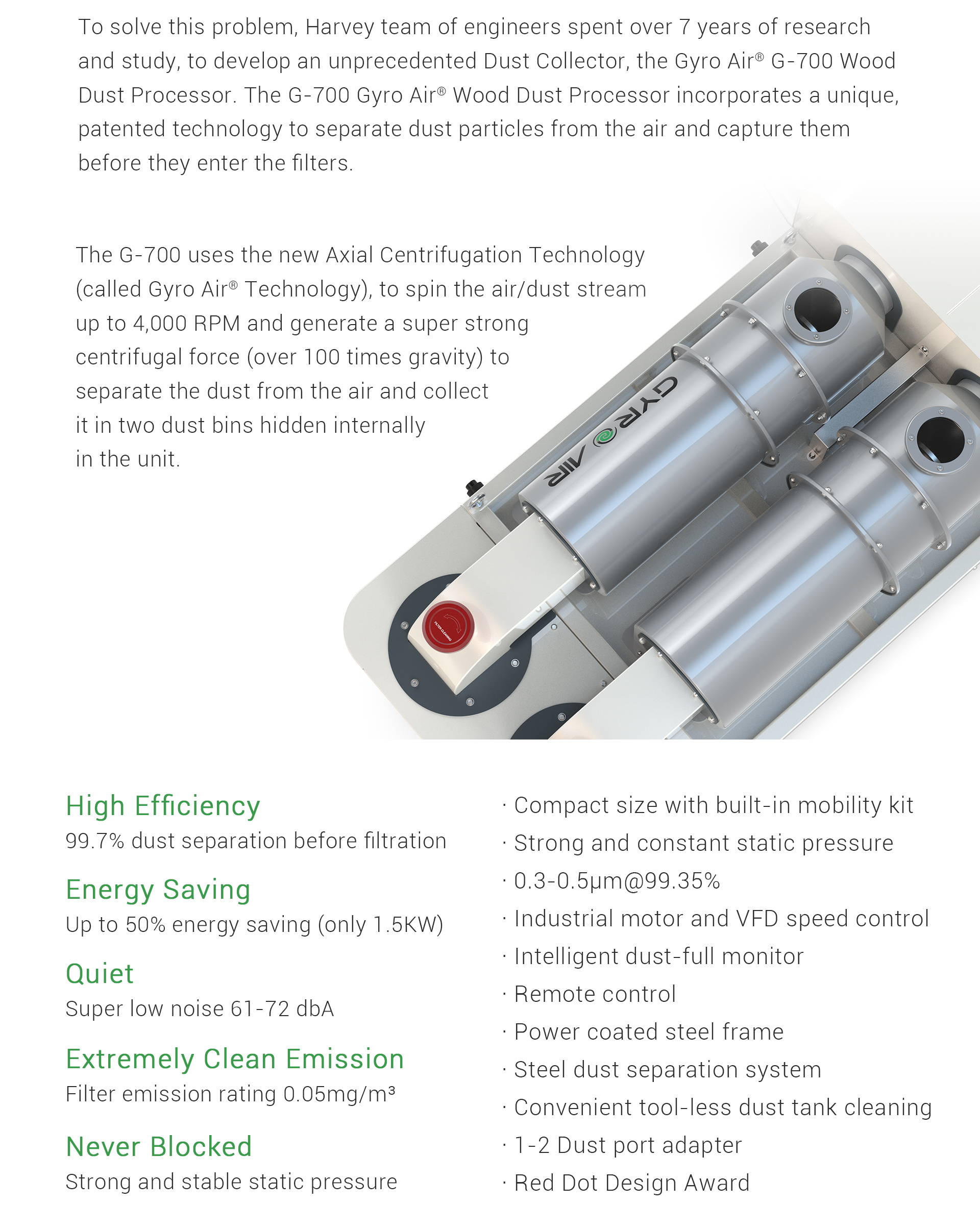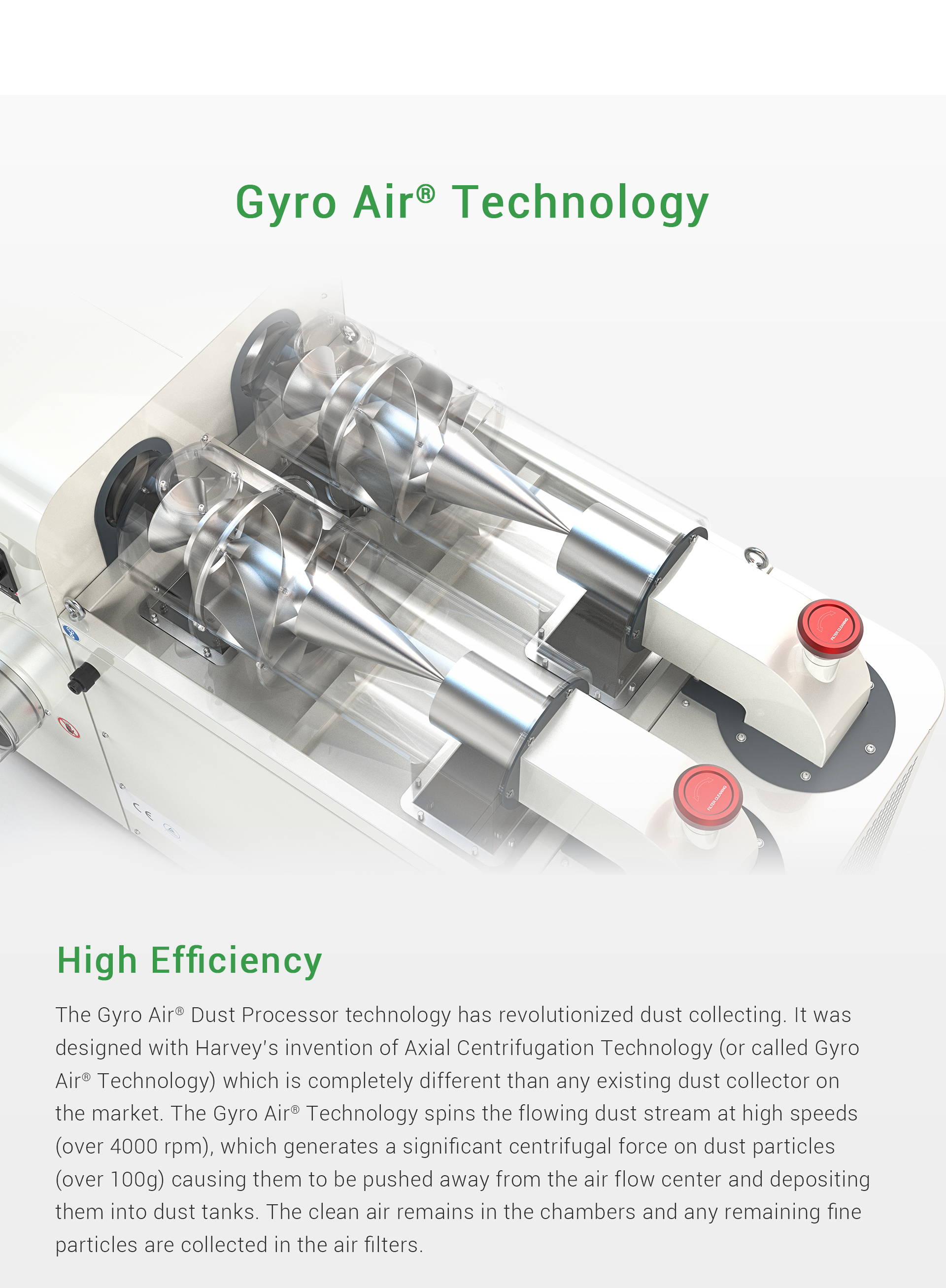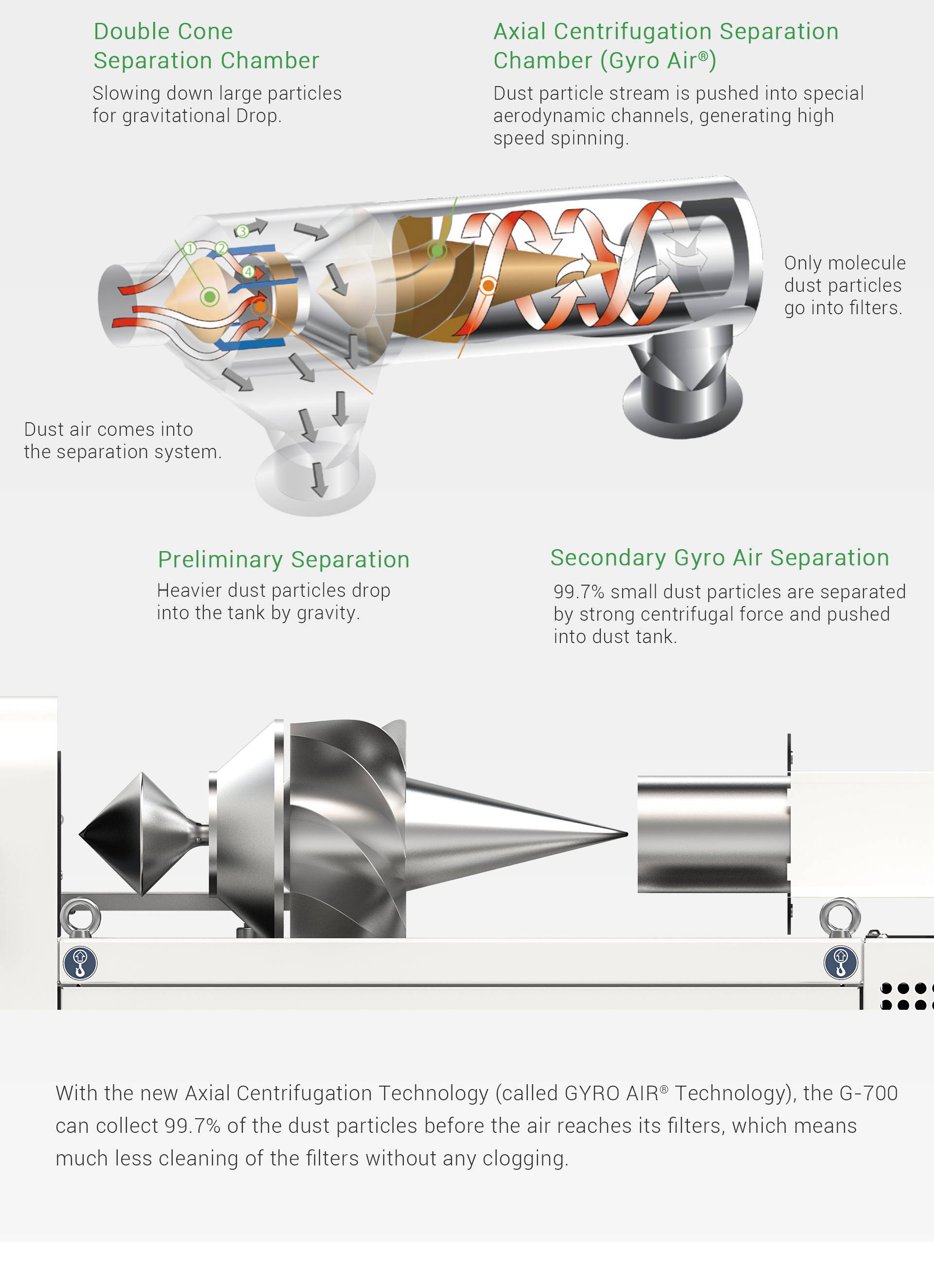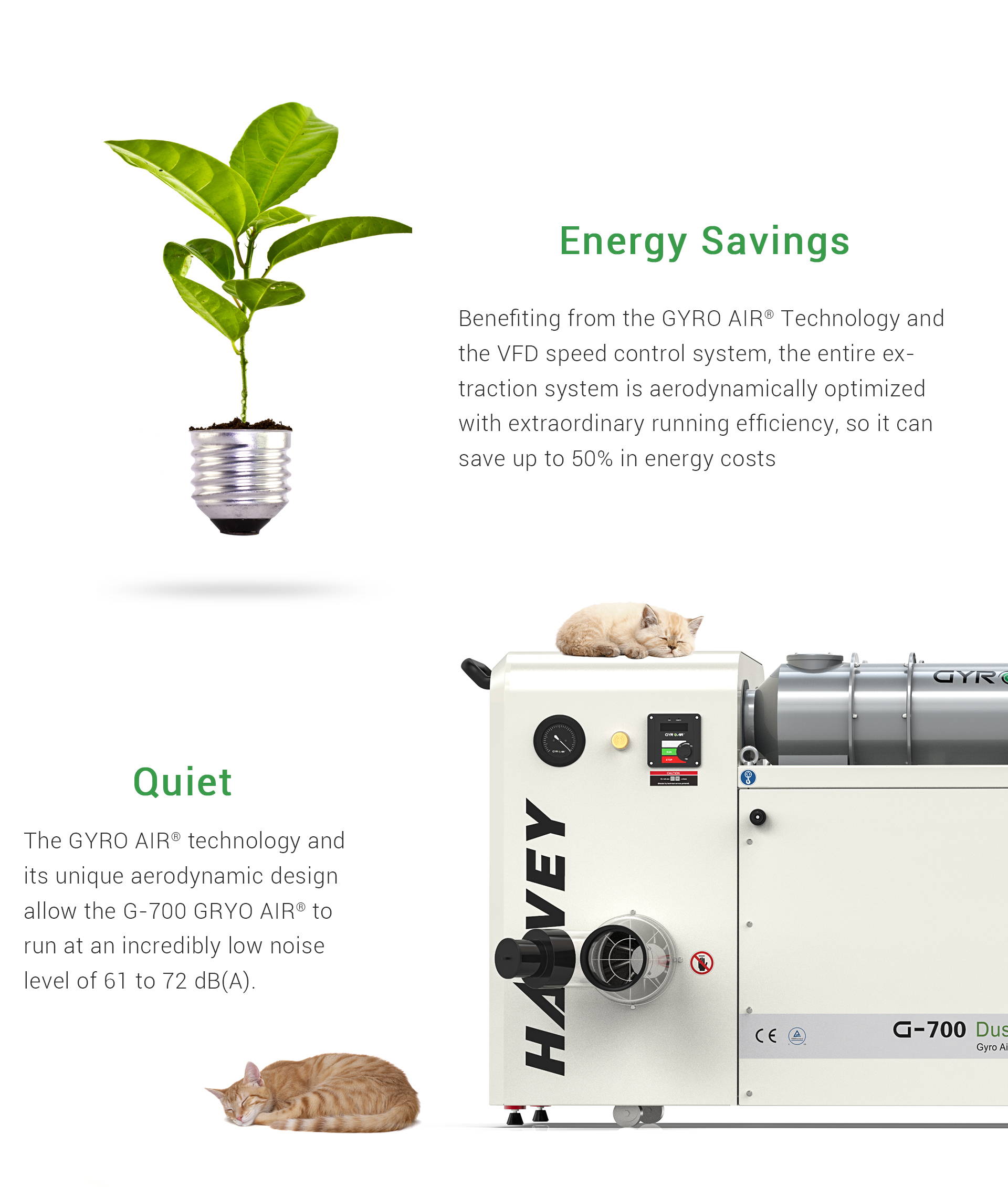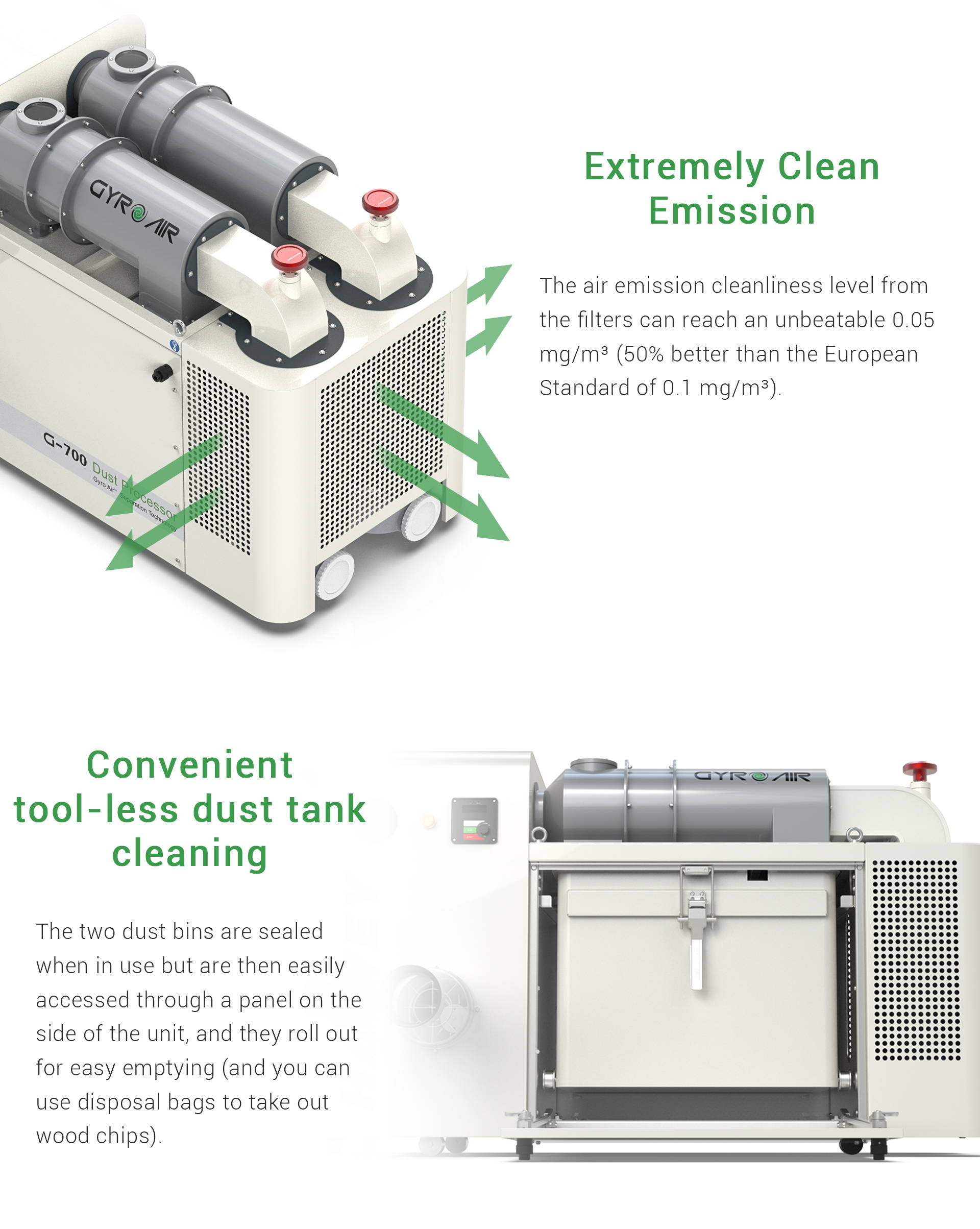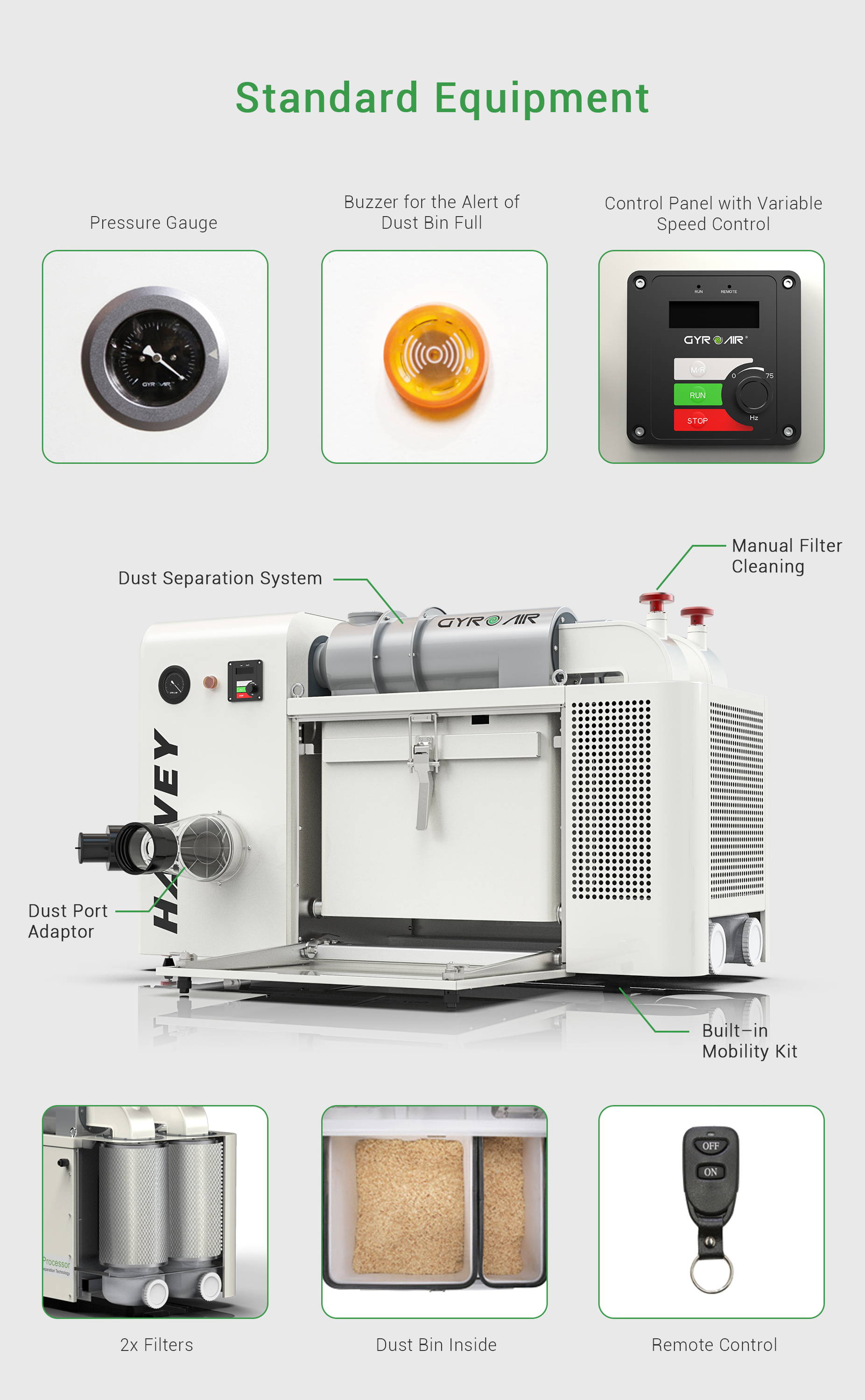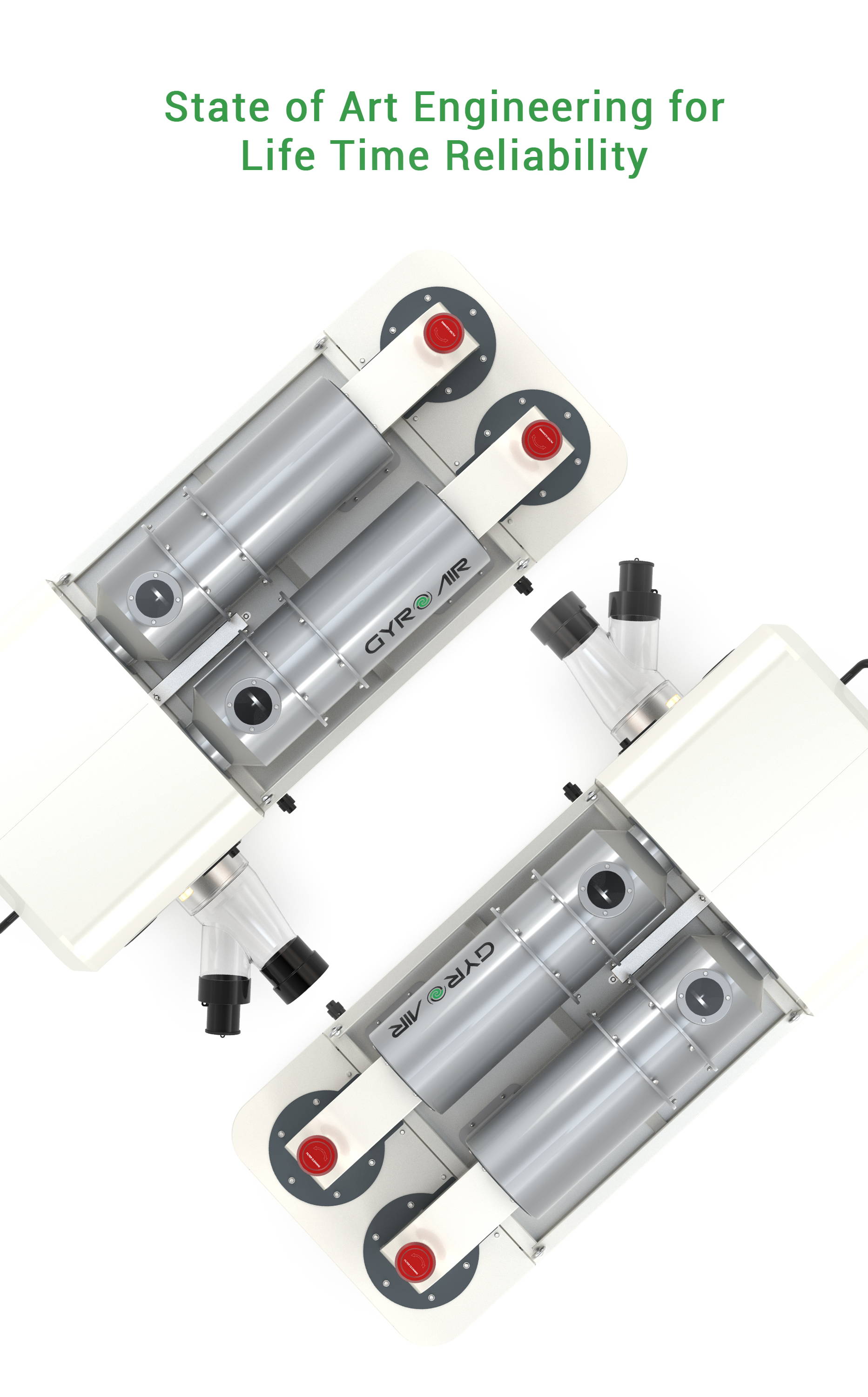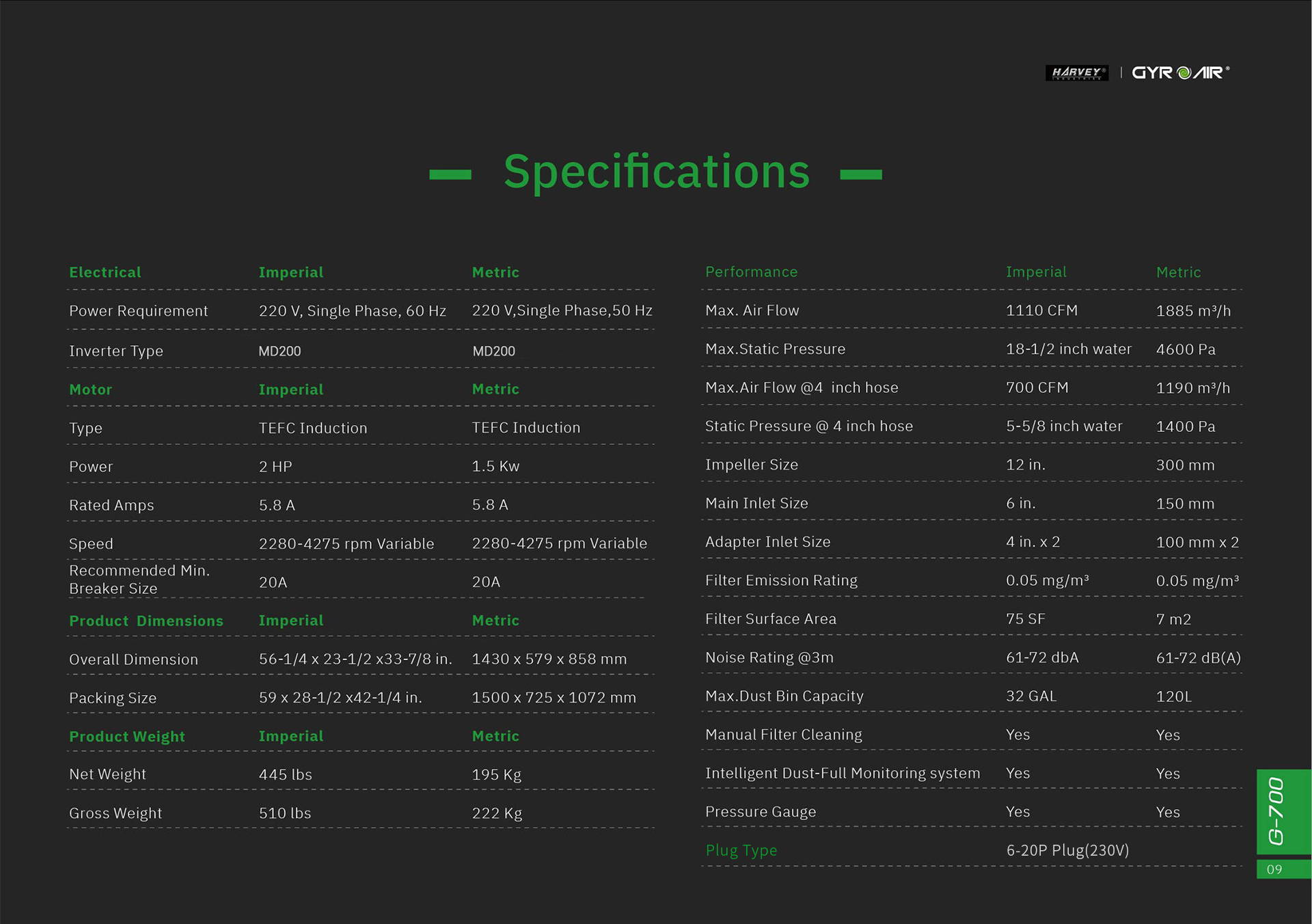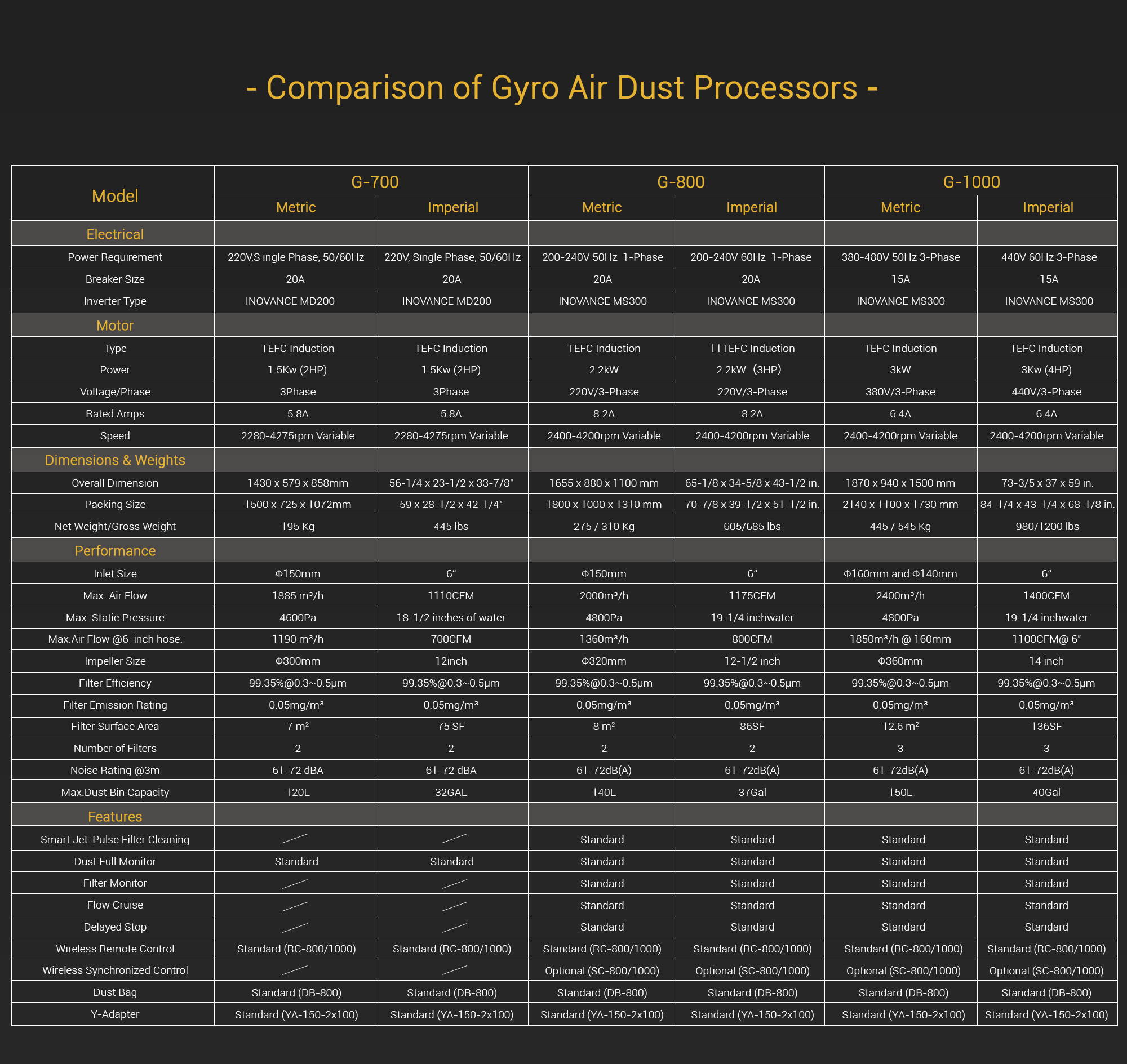 "Some images on this page are computer-generated representations of the product and may differ from the actual product. Colors, textures, and other details may not be accurately represented in the images. Please refer to the product description and specifications for more information."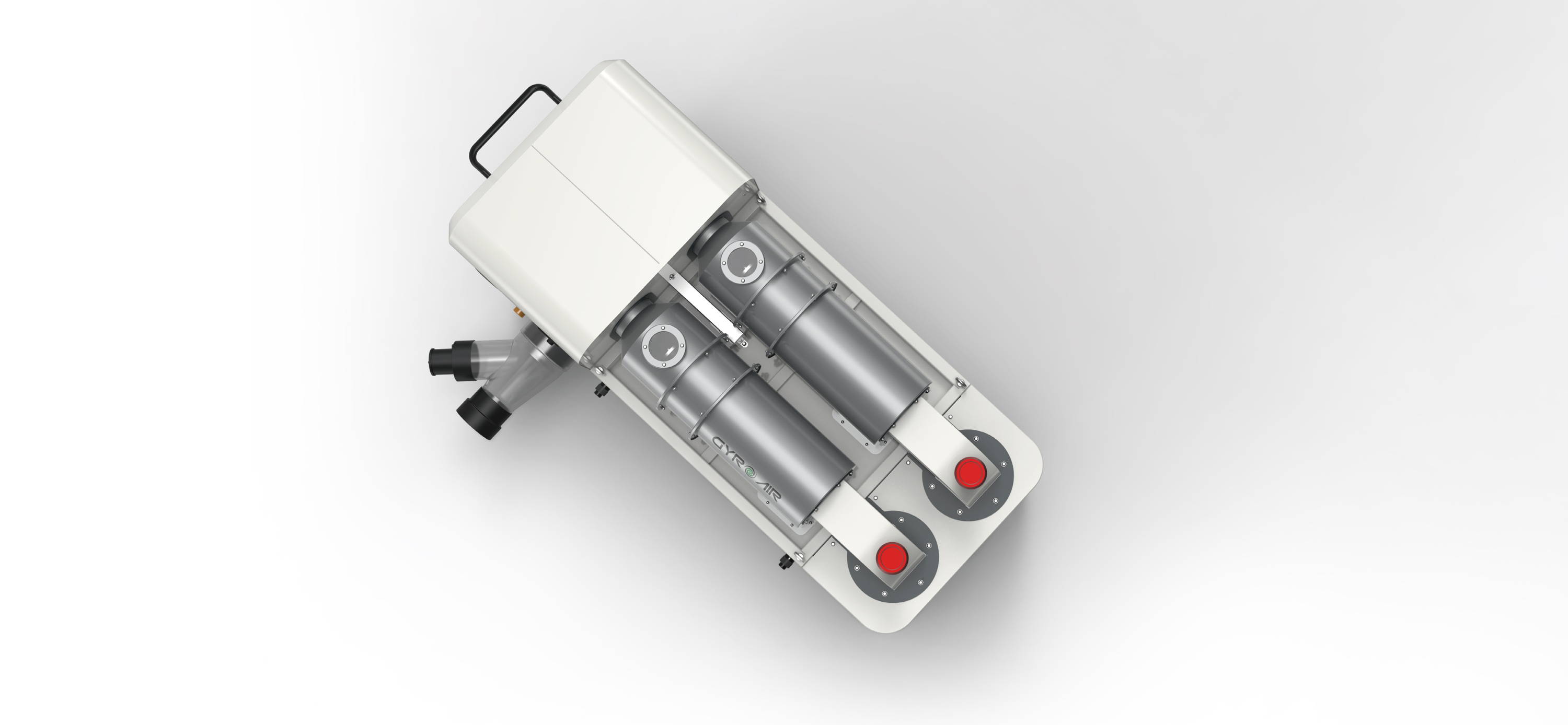 A Revolutionary Dust Processor

Because of the principal contradiction between dusty air flow and filtration, traditional dust collectors are struggling with filter clogging or bad air quality. Most of the dust collectors are very loud, bulky and difficult to maintain. This has been a long-standing pain for woodworkers.
To solve this problem, the Harvey team of engineers spent

over 7 years of research and study, to develop an unprecedented Dust Collector, the Gyro Air® G-700 Wood Dust Processor. The G-700 Gyro Air® Wood Dust Processor incorporates a unique, patented technology to separate dust particles from the air and capture them before they enter the filters.The G-700 uses the new Axial Centrifugation Technology (called Gyro Air® Technology), to spin the air/dust stream up to 4,000 RPM and generate a super strong centrifugal force (over 100 times gravity) to separate the dust from the air and collect it in two dust bins hidden internally in the unit.

The G-700 collects 99.7% of the dust particles before the air reaches its HEPA filters. This not only means much less cleaning of the filters, but that the airflow and static pressure will remain much more constant during operation. In addition, the air emission cleanliness level from the filters can reach an unbeatable 0.05 mg/cubic meter (50% better than the European Standard of 0.1 mg/cubic meter). The entire extraction system is aerodynamically optimized with extraordinary running efficiency, so it can save up to 50% in energy costs.

The Gyro Air® technology and its unique aerodynamic design allow the G-700 Gyro Air® to run at an incredibly low noise level of 61 to 72 dBA, depending on which speed you run the Gyro Air ... yes, it is a variable-speed machine that allows you to adjust the airflow to suit your needs. The G-700 is powered and controlled by a SIEMENS industrial 2HP motor and SIEMENS V20 Variable Frequency Driver for 24/7 applications. In addition, the Gyro Air® G-700 is equipped with a built-in Dust-Bin monitor and a Remote Control Key. Its fully enclosed housing is short enough to fit under most benches, and it has heavy-duty casters to allow it to move as needed. The two dust bins are sealed when in use but are then easily accessed through a panel on the side of the unit, and they roll out for easy emptying (and you can use disposal bags to take out wood chips).

G-700 review
this is an excellent dust system! Much better fit and finish than expected.
I'm very satisfied with the performance. Two improvements would make this outstanding. Put the power switch on the same side as the controls and make the remote able to adjust the fan speed.
Thanks for a fine product.
Wayne
In my opinion the Gyro Air dust processor has been a top performer in my shop. I have had two cyclone processors prior. The variable speed is key, I can run one machine or multiple. Very quiet. I would trade my other dust collectors for another Gyro processor in a heartbeat. Nice build, extremely easy to use and maintain.
Strong suction and super quiet
Strong suction and super quiet
Great decision
Exactly what I needed!
I run a full-time cabinet shop and was in the market for a new dust processor. I work out of a 1k sq ft shop though so space is at a premuim. I was looking for something capable but with a small footprint. After doing extensive research I landed on the G-700 and I could not be more pleased. This thing is packed with features and works exceptionally well. Quite, POWERFUL, great separation of the chips and collecting fine dust, easy to move and all packed into a footprint that can go under a workbench. I spend 50 plus hours a week in my shop and I can honestly say this machine has made that time more enjoyable and my lungs will thank me!
Absolutely LOVE it
I've worked with several dust collectors, both big names and "house" brands. I am very please with my G-700. Great suction, and so much quieter than other units of similar capacity. One thing I would like to see is having a 90 elbow included or as an option at purchase. Proper 6" duct parts are a little hard to come by in my area and I under-appreciated exactly how far the included reducer/wye would stick out. It's not a deal breaker by any regard, but it would take the setup of a new product from great to perfect for a lot of folks, myself included.
Unpacking is a 2 person job
gryo 700, alpha 4Hp table saw, amb. 14" bandsaw
love them all, dust collector is awesome, two things, I wish it could be supended from the ceiling, even 24" it would be nice just to get more storage under it and it would be right at waist height to empty. It is very powerful and a great filter. the table saw is what they saw GREAT, 2.5" aged hickory with no problems. Band saw I have not used much but I can say the set up is easy. John , Blacksburg VA
Best Duct Collection Ever!
The power of this machine is insane!! The size of the G700 fits my shop perfectly. It'd fits right under my work bench so I don't loose any space in my shop. It easily rolls out when it is full and it super easy to empty. The Remote control feature makes it easy to turn on when I need it at any tool I'm working on.
Cool Machine
I have been blown away by its performance. The device is incredibly powerful and versatile, allowing me to connect and control multiple devices and systems with ease.
The setup process was very straightforward and the user interface is intuitive and user-friendly. I was able to configure the integrator to suit my specific needs and preferences, and the integration with my existing systems was seamless.
What I appreciate most about the G-700 Integrator is its reliability and stability. It has been running flawlessly since I installed it, and I have not experienced any downtime or issues. The device is also very well-built and feels solid and durable.
Overall, I would highly recommend the G-700 Integrator to anyone looking for a powerful and reliable device to integrate their systems and devices. It has exceeded my expectations and has become an essential part of my setup.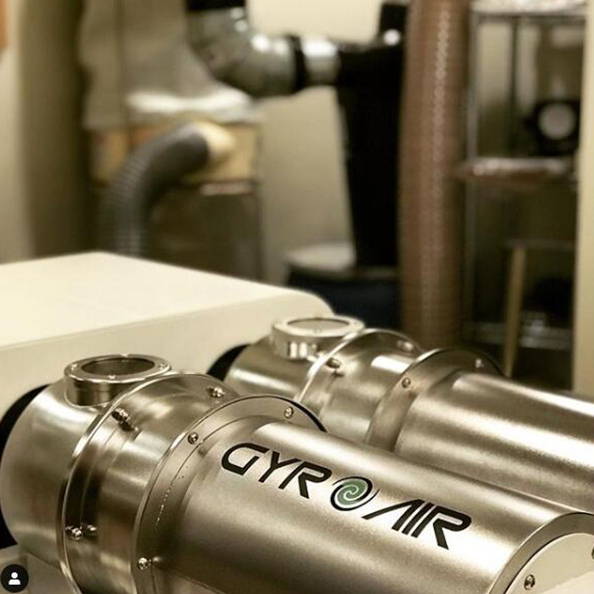 @aaron_ludwig_woodworking
My dust collection game is about to go next level.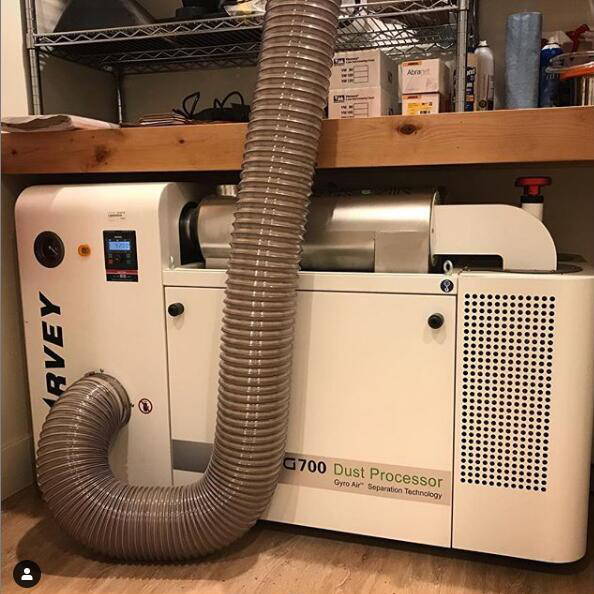 @aaron_ludwig_woodworking
If dust collection is on your Christmas list, give me a call to discuss the Harvey G700. I love this beast! I can save you a few bucks, which is always helpful this time of year.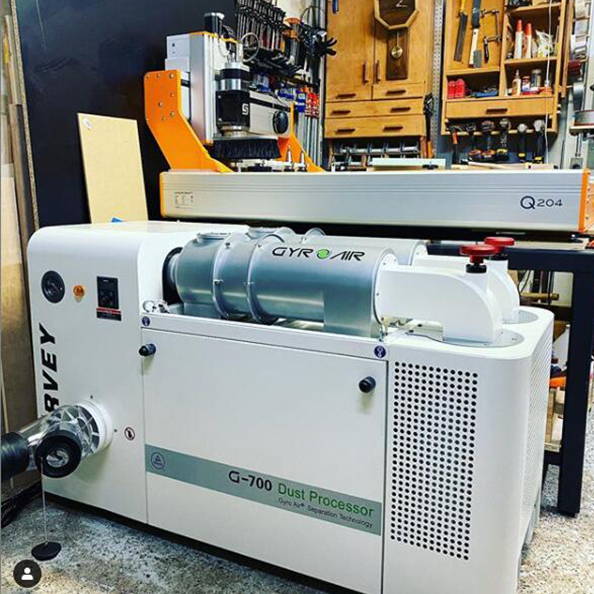 If this little beast performs half as good as it looks I'll be a happy camper lol... Big thanks to my buddy @pj_fetscher for coming down last night and helping me out with it (and with Zacapa XO.. there still some left)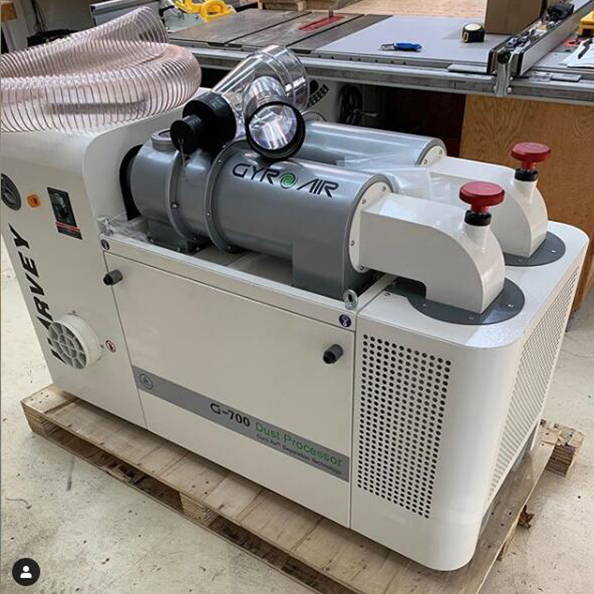 Unboxing complete and the new G700 is in its new home!
•This unique dust processor is state of the art and boasts a 0.05 micron capture rate. Basically once dust enters this machine, it never leaves, all while operating at around 70 decibels, the noise of a normal conversation
•Stay tuned for more setup, special features, piping setup videos and more highlights to come!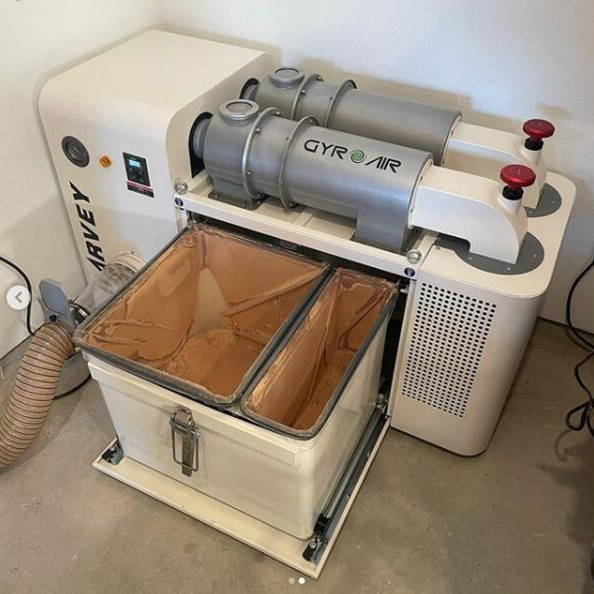 Couldn't be happier with my decision to upgrade the shop dust collection system with the G700 Dust Processor by @harveyindustriesintl . It's everything it's marketed to be - quite, compact, well made and most all - powerful. I am very impressed with this machine.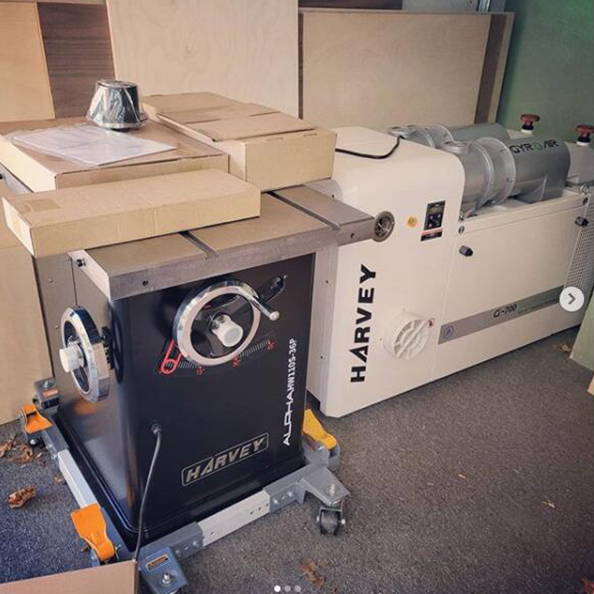 Got these two monsters delivered today from @harveywoodworking . Only had time to unbox and move into the corner, but I can't wait till I start putting everything together and get to making some sawdust.
I recently purchased the G700. It was damaged in transit, and Danny at Harvey was very responsive and promptly shipped out a replacement part. The machine makes a huge difference for dust collection in my garage shop, especially at the bandsaw, which went from very poor dust collection to nearly zero dust escaping the collector. Where to place the unit in the garage took some pondering due to the placement of its hose connection, but the thing fortunately rolls easily on casters. I ultimately decided to rearrange the garage and put the G700 underneath an assembly table, leaving me with a much improved woodworking setup.
Customer service is fantastic. Danny and Sam spent what felt like all day helping me set up shipping receiving of my G700. They did a great job!
Harvey has been a wonderful company to deal with. I purchased a G700 and it ended up not being the right product for me, this was completely on my part of not doing my full research. I contacted Harvey with a full understanding I would need to pay shipping and a restocking fee. I had used the machine some in testing it out, they were still willing to work with me on a return. Knowing the large hit of return financially I would take I turned to sell local. Harvey was very helpful in letting the buyer transfer warranty. All phone calls and emails with Harvey were very prompt courteous and top notch. I have started to recommend them as a company to check out when people are researching woodworking equipment and dust collection. I was sad to see the G700 go, I loved its design, it just didn't fit my specifications.
I saw a review of Harveys table saw and got curious. I went to their site and ended up not only buying the table saw but I also got the dust processor. I worked with Samantha in customer service and she was very helpful. She was able to get me reduced shipping and a further discount because of the large order. Thanks Samantha. I am looking forward to receiving my machines and will post again after some sawdust therapy hours.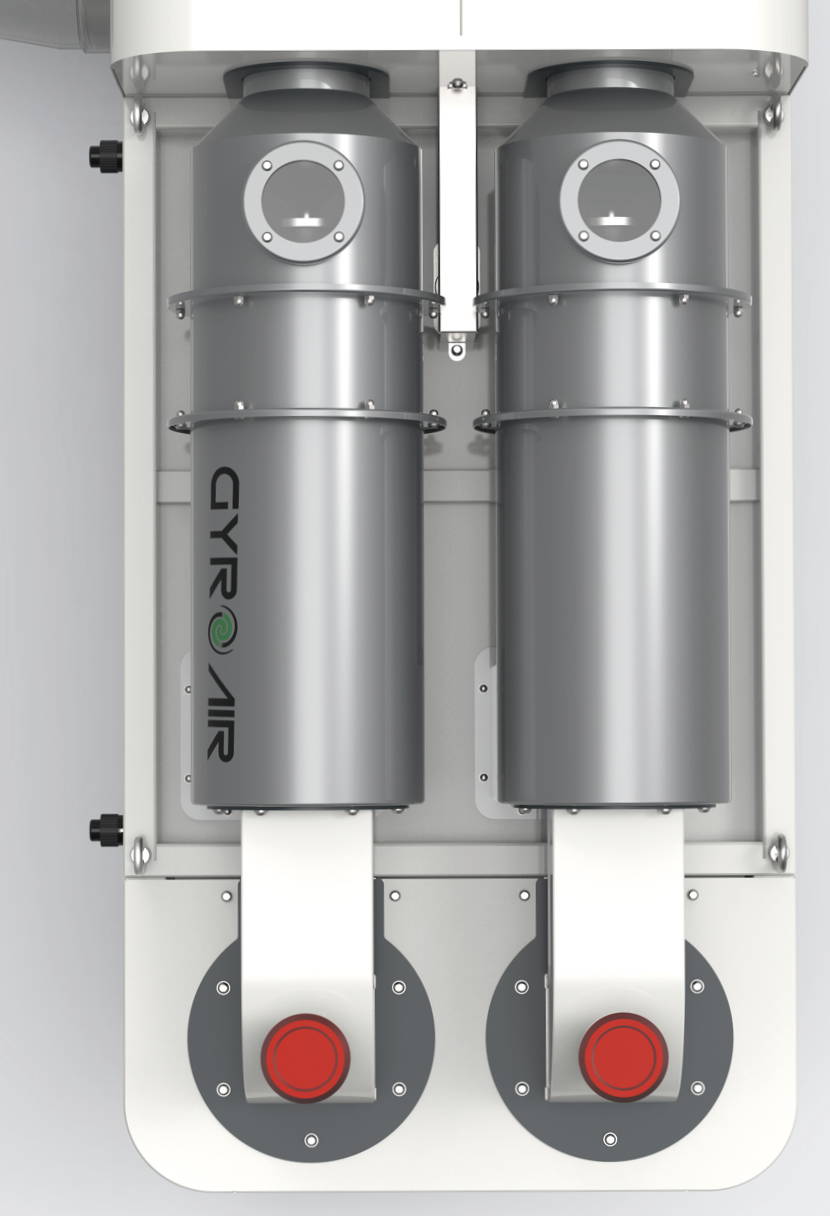 DID YOU BUY A G700? WE WANT TO HEAR FROM YOU! LET US KNOW HOW YOU LIKE THE DUST PROCESSOR, AND IF YOU NEED ANY ASSISTANCE WITH IT.