Turning Your Ideas into Reality

Turning Your Ideas into Reality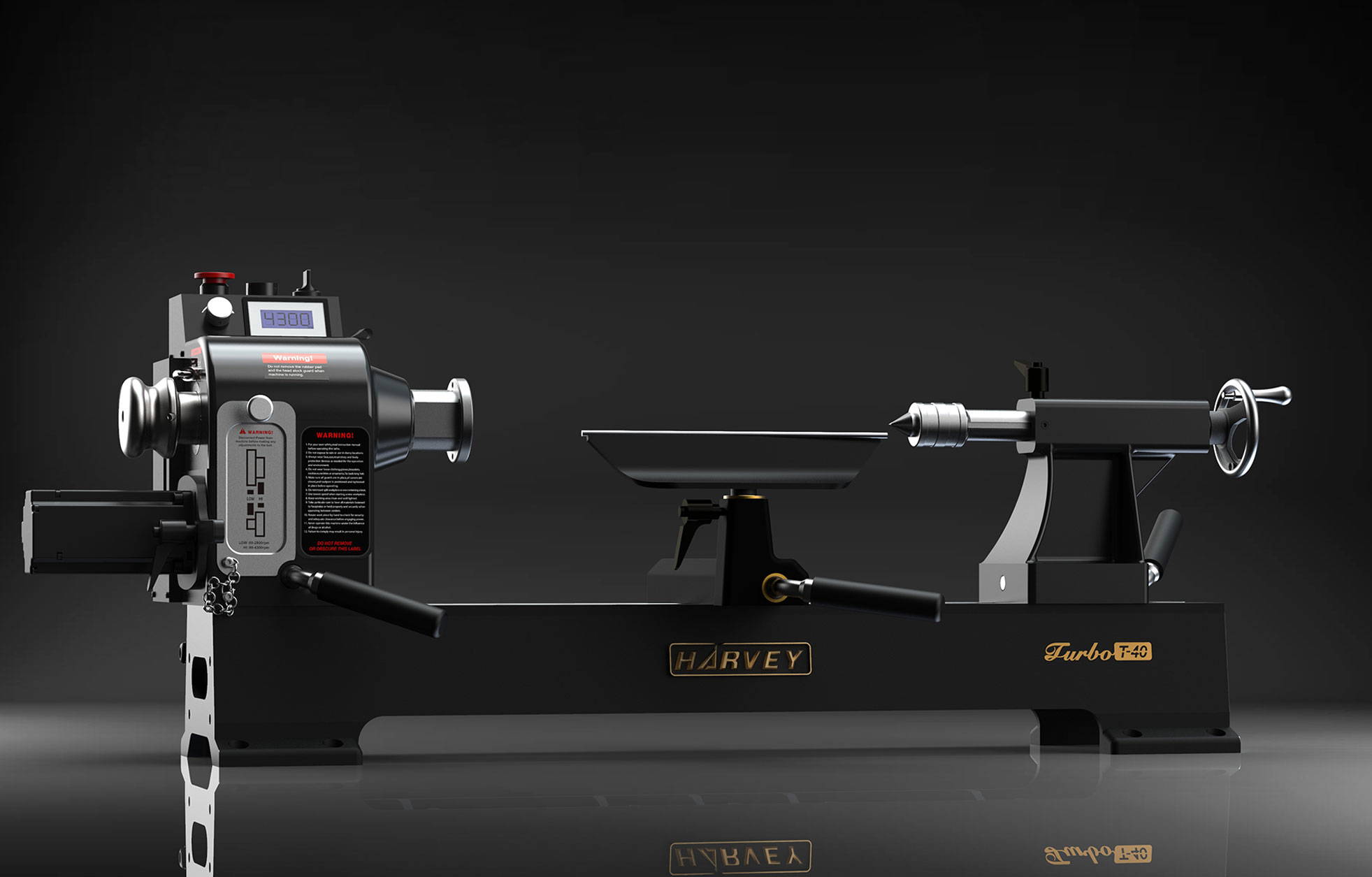 - The beauty of woodworking is experienced by those who work hard at it and who constantly look for inspiration to improve. Using a T-40 enhances the enjoyment and allows you to aspire to new levels.
- The Harvey T-40 Woodworking Lathe is unique in that it is considered at a 14" (360 mm) swing to be a smaller lathe. However, the T-40 has been designed on the scale of a large lathe in regards to casting size, power and controls. The T-40 incorporates an Industrial Servo Motor, commonly used on metal working lathes for its powerful torque, which allows the T-40 a greater torque and speed capacity. The raw materials of each part of the lathe are all select, premium materials for both aesthetics and practical functions.
- The body of the T-40 has been painted with a stoving varnish providing a durable, long-lasting finish that offers more resistance against scratches, chipping, wear and fading. Even the logos and nameplate have been upgraded.
- The fit and finish are engineered and crafted not only for a flawless operation but also for an unparalleled personal experience. The T-40 lets you experience the "fine" in fine woodworking.
One-of-a-kind Mini Monster
Spindle Drive with Servo Motor
- The 220V Industrial Servo Spindle Motor which is normally used on metalworking machining centers solves the issues of insufficient torque and drag found on most small lathes in the market.
- With a marvelous 300% overload capacity and an instant response to torque demands, the T-40 runs smoothly in operation.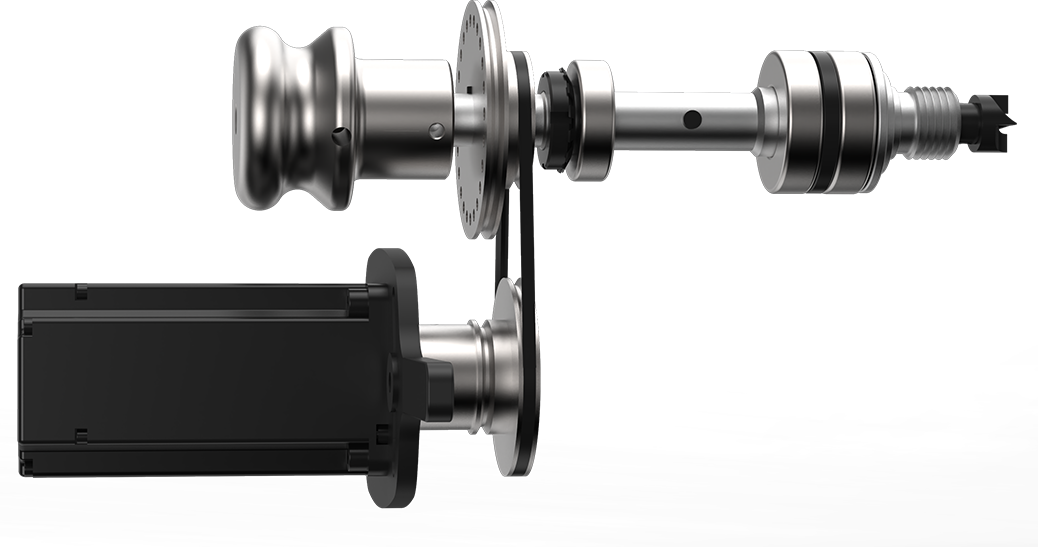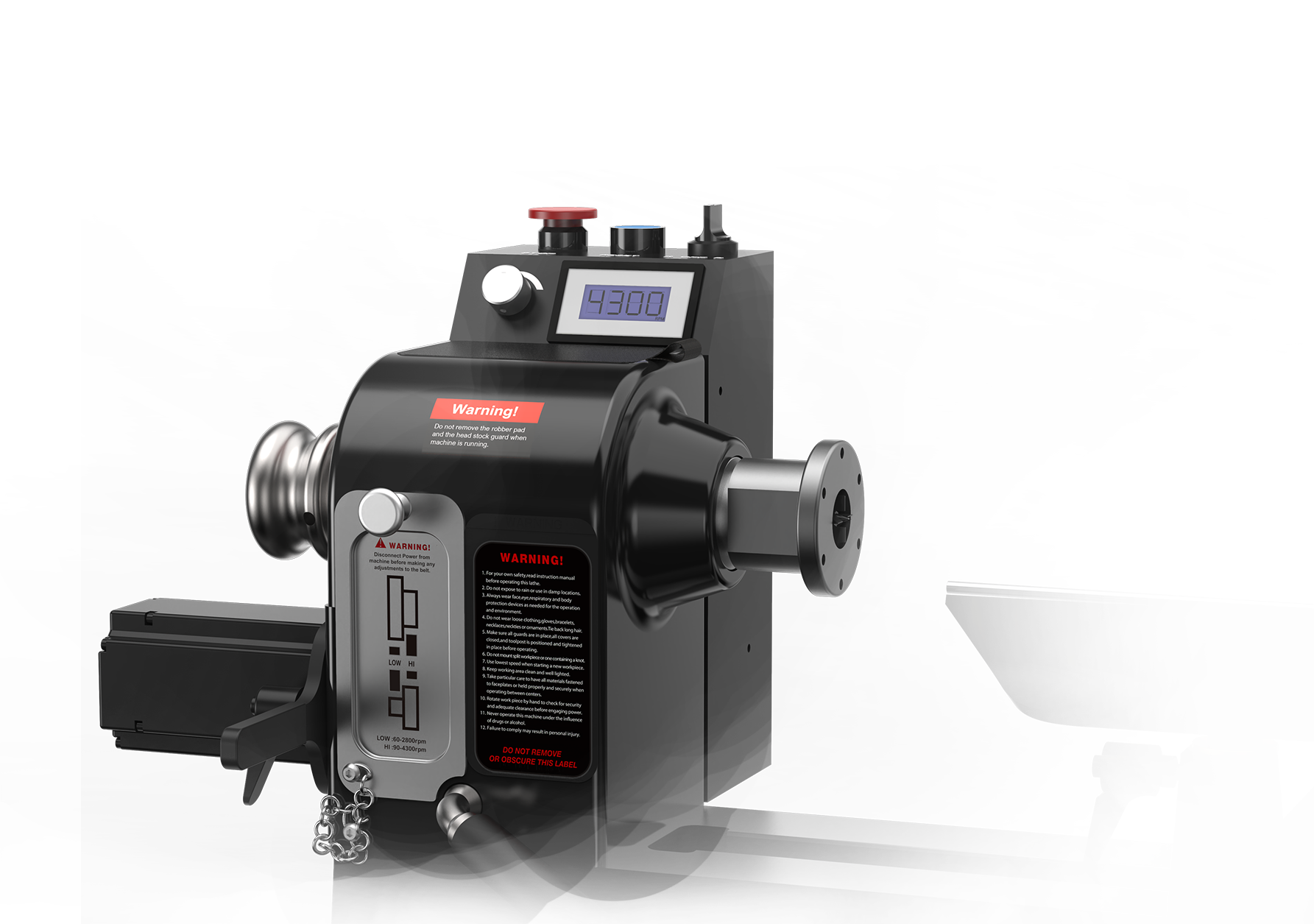 Consistent Turning Speed anywhere in the Range
-The design of the servo motor and drive system is not only strong, but strong along the entire range from 60-4300 RPM.
- Whether working near the top end or the low end, the system will continue to supply enough power to meet your demand without the surging that you get with some lathes.
- This is accomplished through the 2 micro second response time which is 100 quicker than many machines.
- So for truly smooth operating conditions, even at the lowest speeds, choose the T-40 lathe.
Power with an Instant Response
- The servo motor is managed by an instant response system within the drive computer which reacts to changes in the torque placed on it.
- When turning, the changing torque level is measured constantly and the servo motor will speed up or slow down in order to provide a smooth, consistent operating speed.
- The servo motor can provide up to 3HP at its peak, an incredible 12.54 Nm (Newton Meters). This means that the T-40 is capable of handling almost any kind of difficult cut.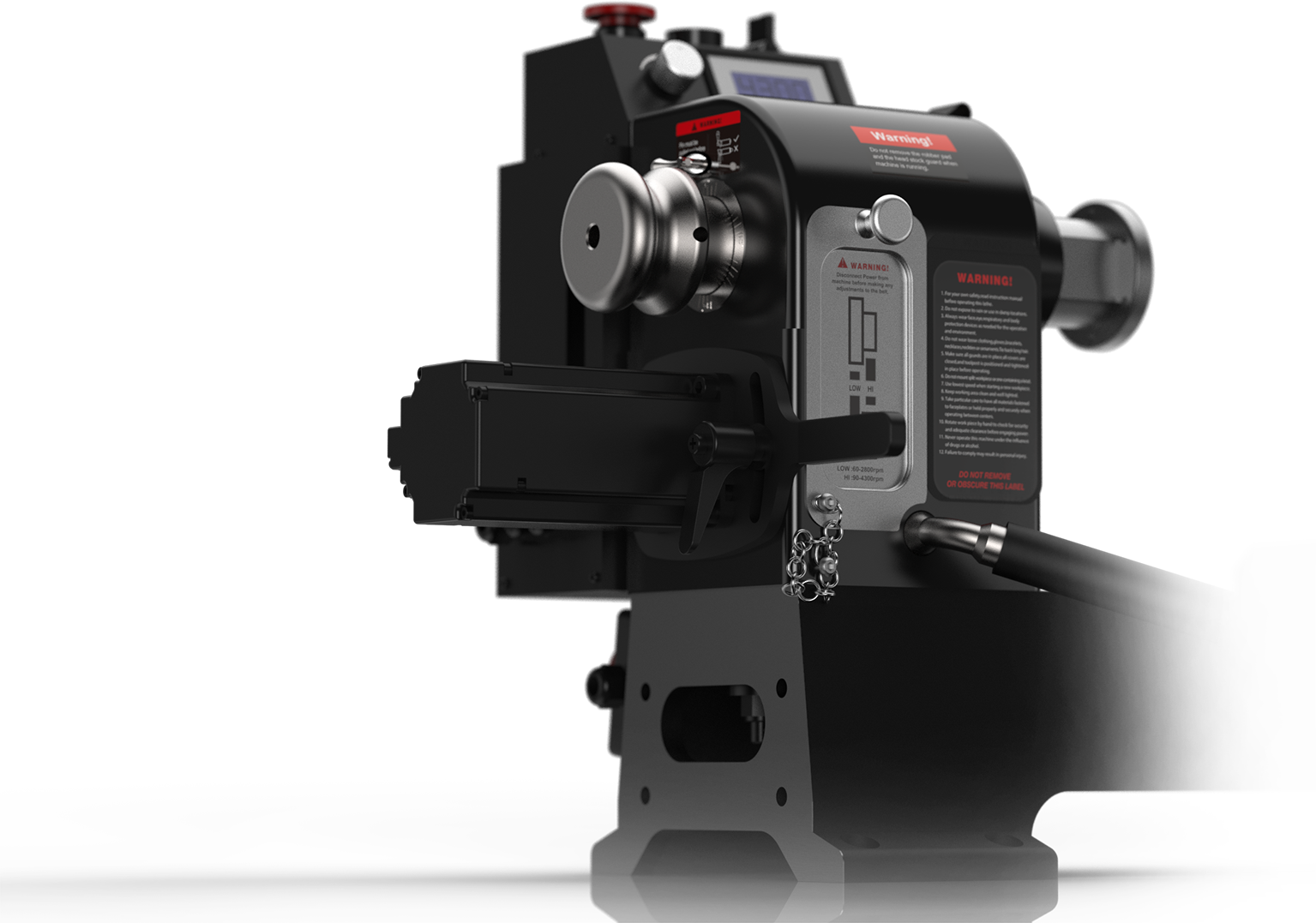 Stability and Versatility
- The T-40 has impressive capacities: 14" (360mm) over the bed; and 24" (610mm) between the centers.
- The head also swivels up to 90 degrees for larger diameter bowls.
- The T-40 is an awesome 178lbs. (80kg) providing it with the mass needed for stability and dampening
vibrations in almost any operation.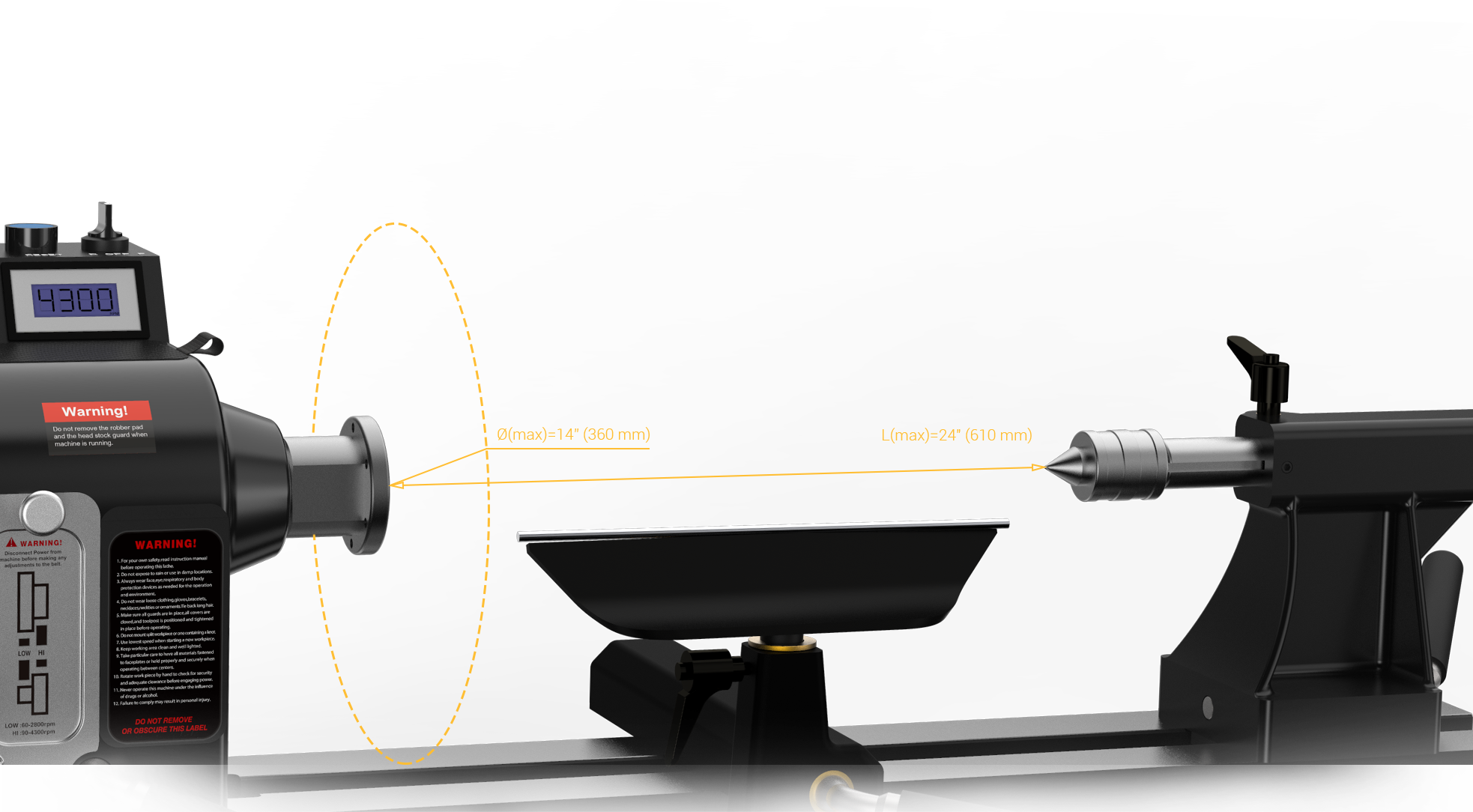 Attention to the Details Makes for A Unique Experience
Aesthetically Designed Tool Rest
- The shape of the tool rest has been redesigned for operator ease and comfort.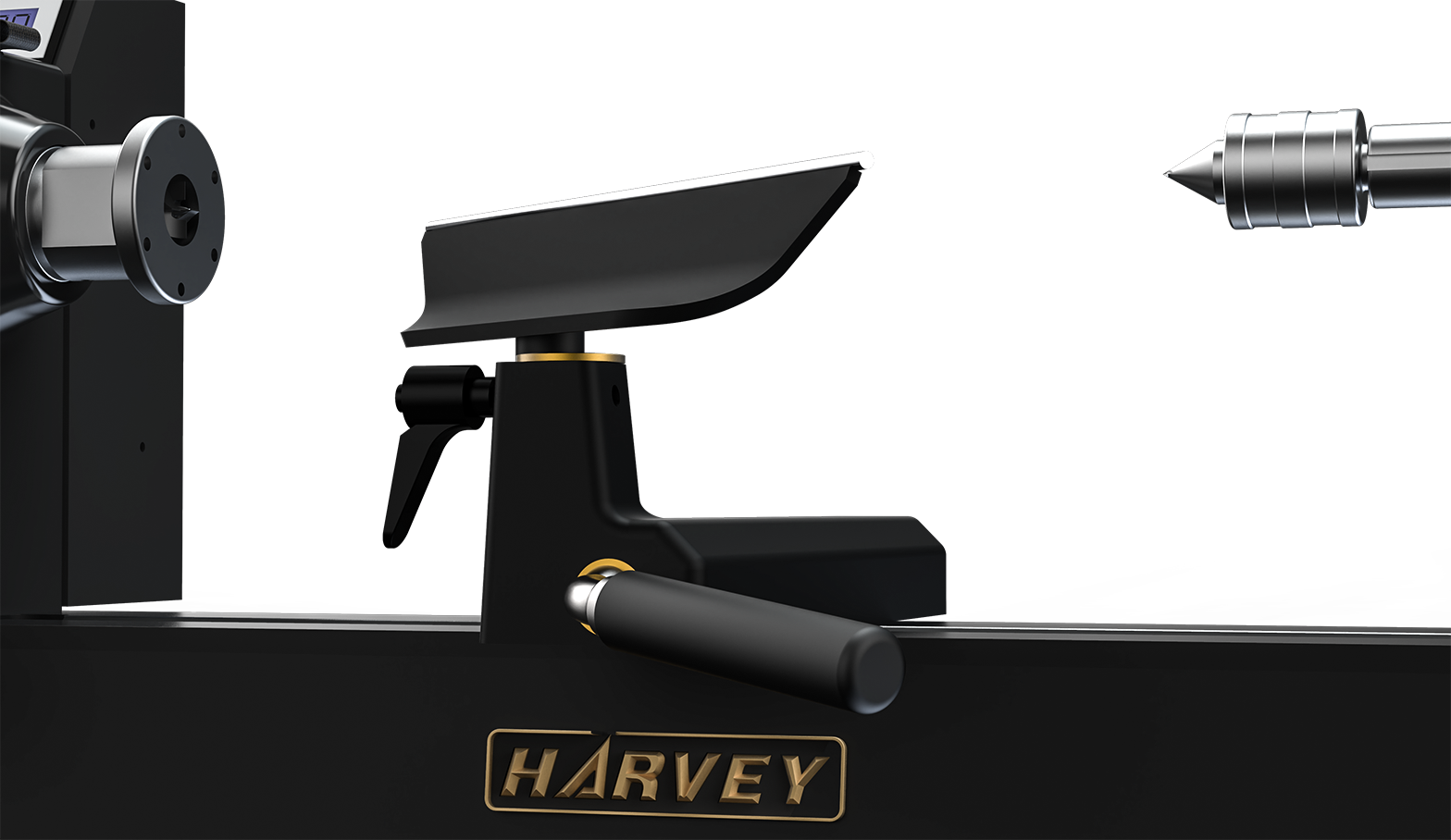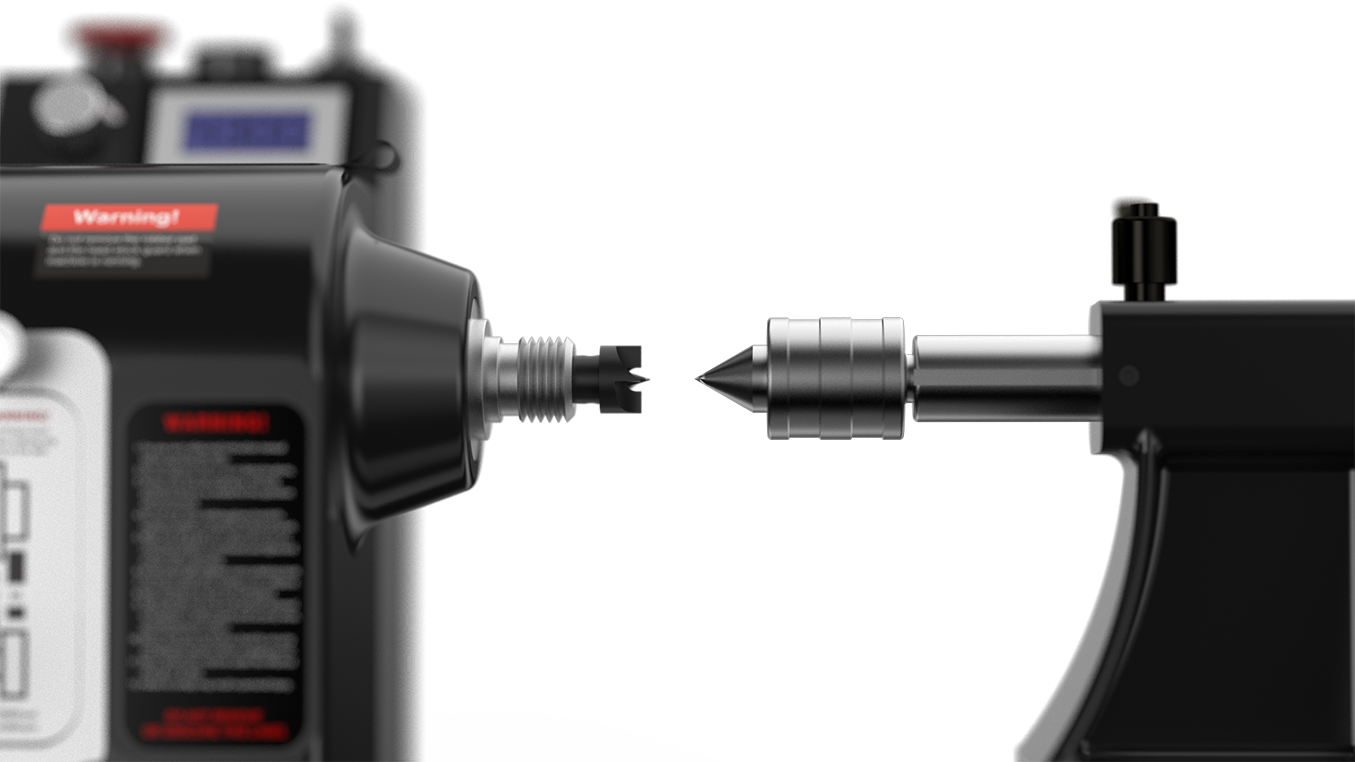 Upgraded Live Center for More Stability of Workpiece
- The live center is now made of carbon alloy tool steel.
- With its hardness, resistance to abrasion and ability to retain shape at increased temperatures, the live center now offers more stability and accuracy.
- The handwheel of the head stock has been enlarged both in size and length for operator ease and safety.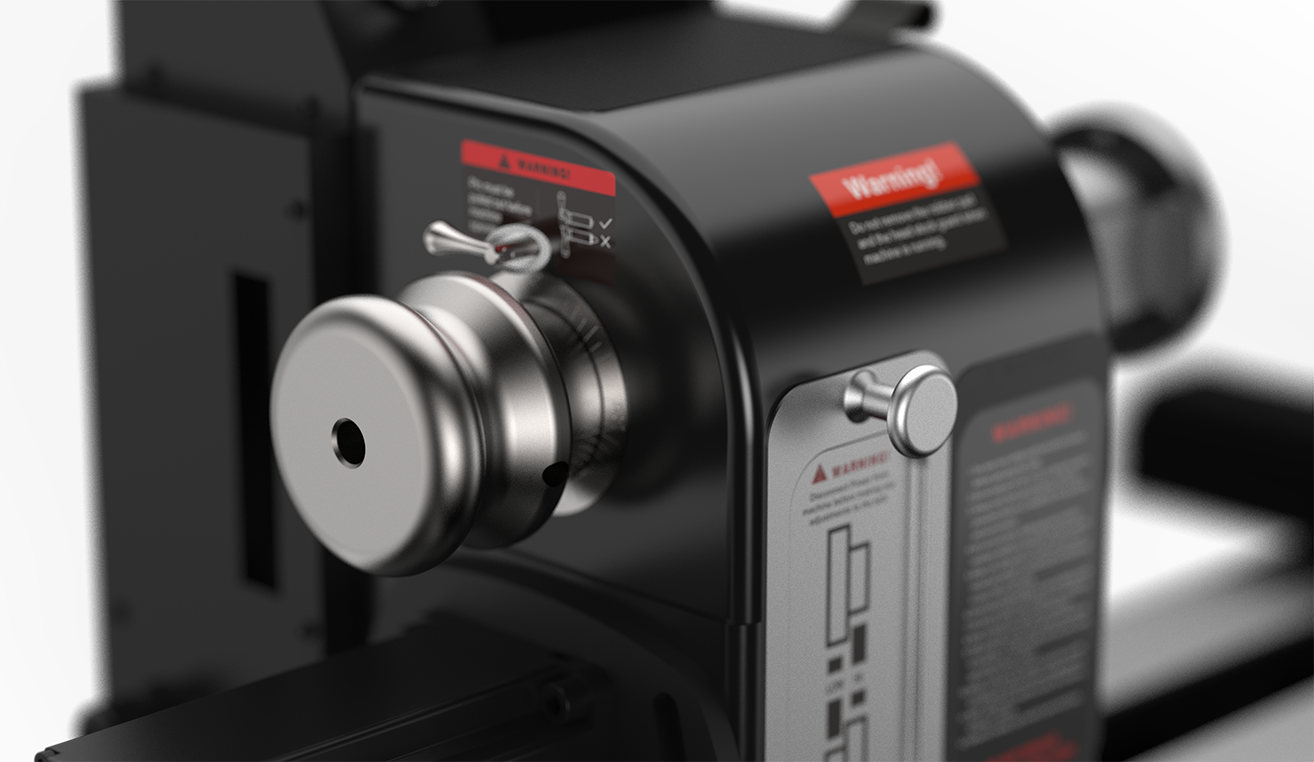 (1) OT-40 Outboard Turning Tool Rest For T-40
Solid steel construction provides stability while expanding your turning diameter to 18" with the head in the forward swivel position.
- Complete with all mounting hardware.
-Accepts the 1" tool rest post that comes with the T40 or any other rest with a 1" post.
-Mounts at the end of the bed on the headstock side of the lathe.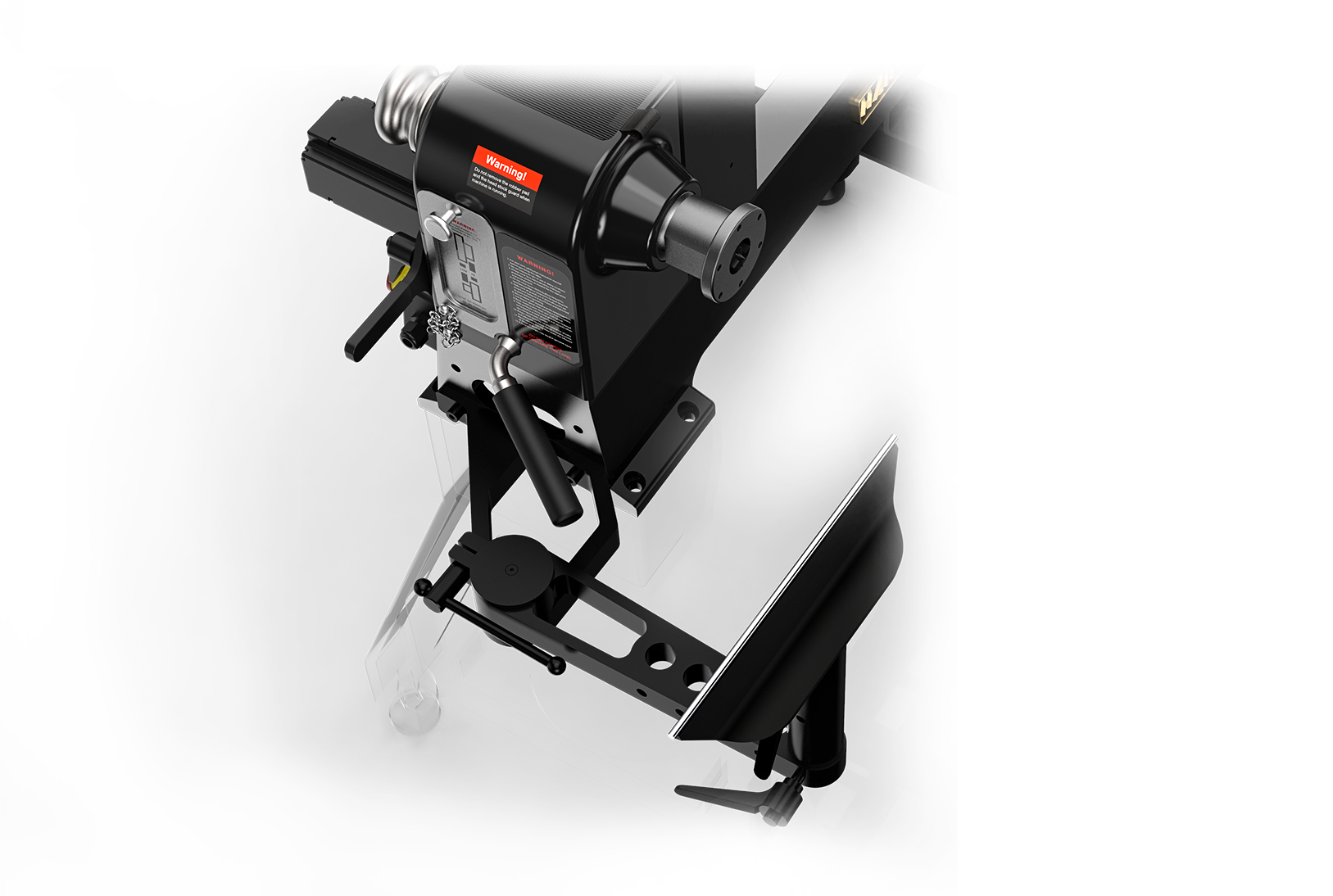 (2) EB-18 18" Extension Bed For T-40
This solid cast iron piece is machined and ground like the T40 bed itself. Allows the user to do precise spindle turning up to 42" versus the standard 24"
Complete with mounting hardware and adjustable feet for additional support.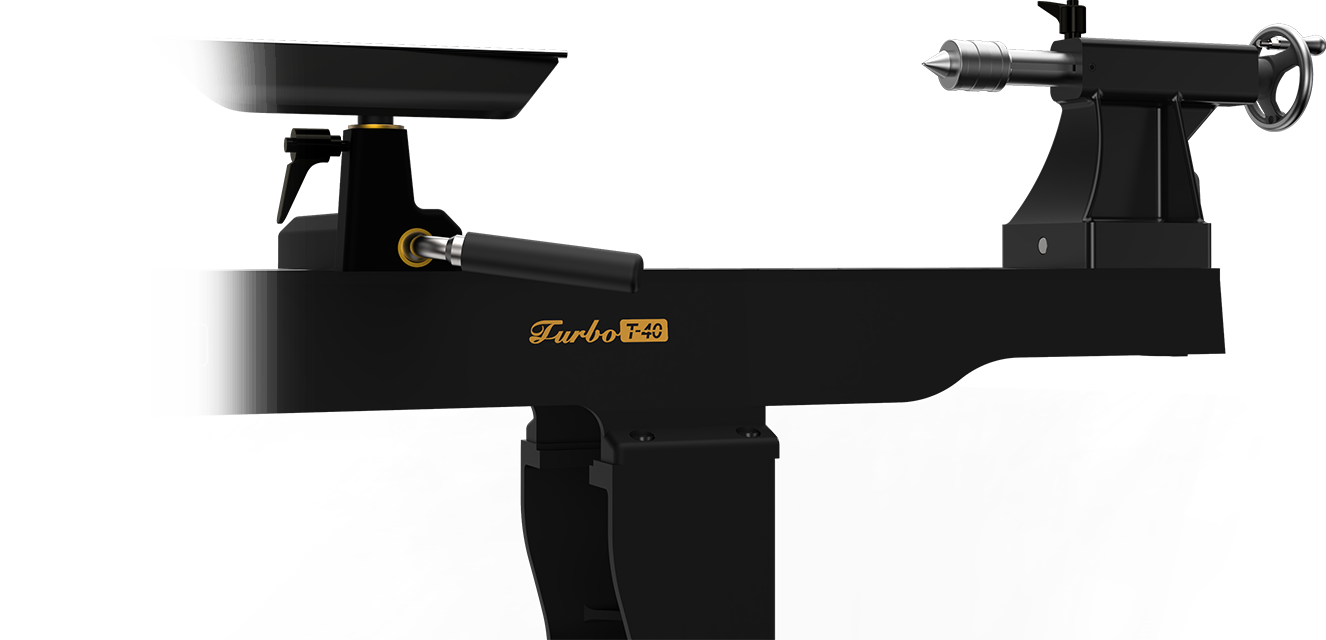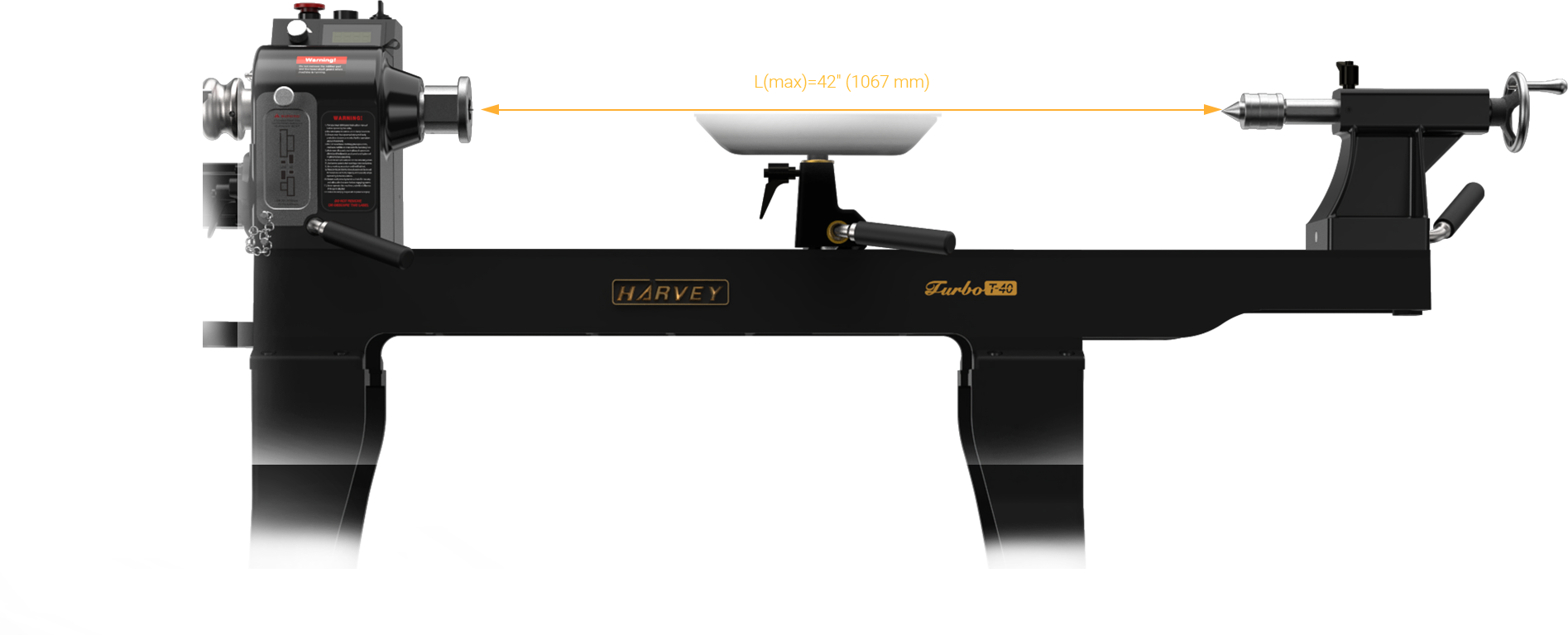 (3) CI-40 Cast Iron Legs Set For T-40
These heavy duty Cast-Iron legs are made perfectly for our T-40. It allows for easy and ergonomic turning and reduces vibration.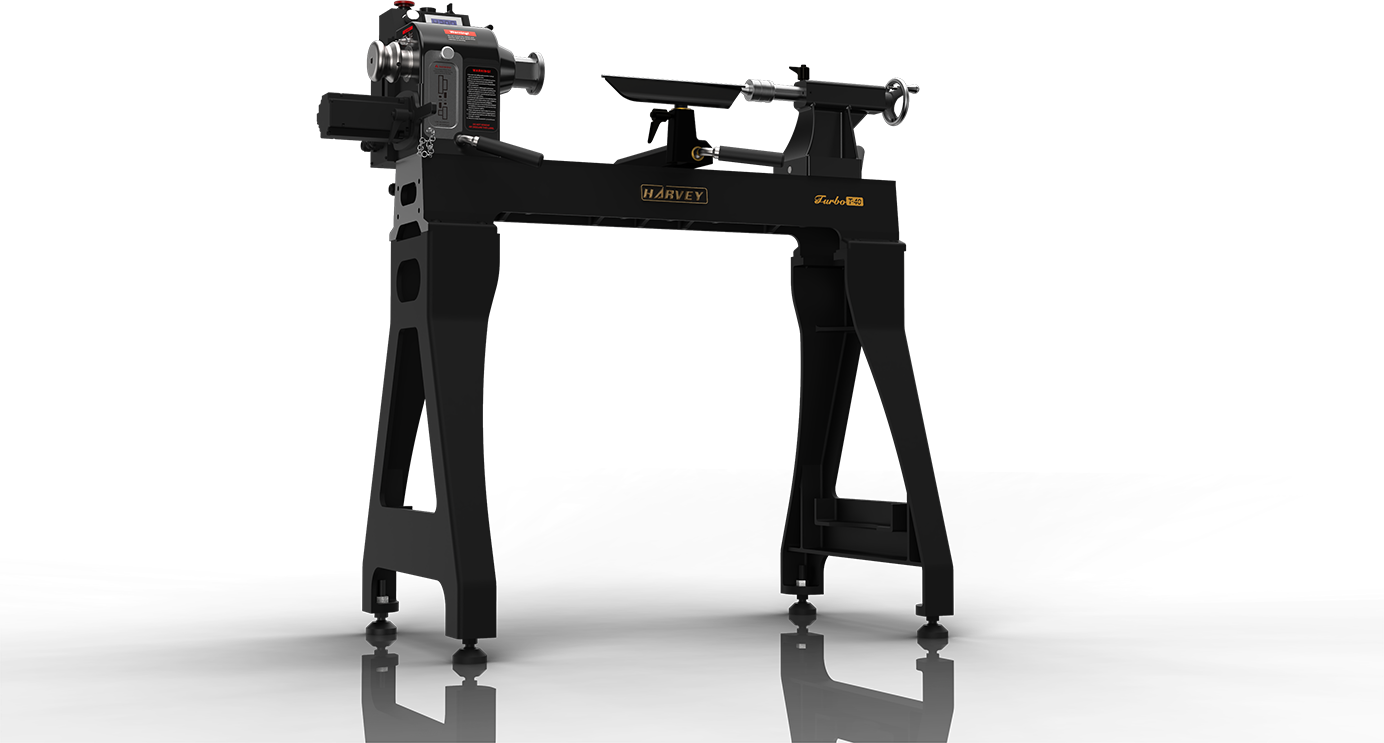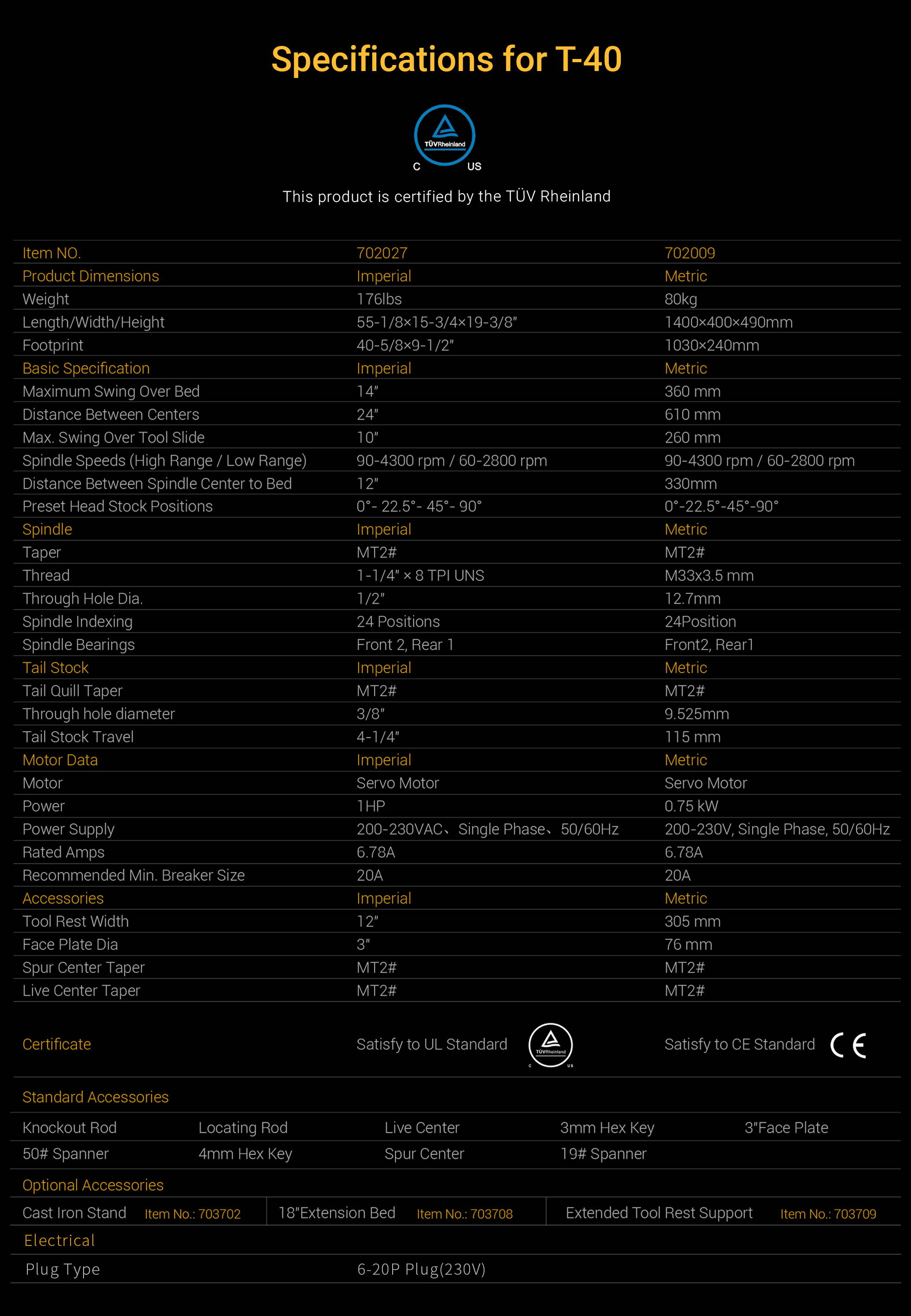 "Some images on this page are computer-generated representations of the product and may differ from the actual product. Colors, textures, and other details may not be accurately represented in the images. Please refer to the product description and specifications for more information."
Great Little Beast
Really impressed with the machine. Great torque, good weight and awesome looking!
T40
Haven't had a chance to use the lathe at this time. I am waiting to undergo hip surgery. I will be in touch after the 1st of August. Thanks
A rare find
Harvey Industries is an organization that sets itself apart by manufacturing supreme quality machinery and tools. I bought their Turbo T-40 wood lathe based on my experience with two previous purchases from Harvey: the Alpha HW110S-52P table saw, and the Gyro Air G-700 Dust Processor. Although I've been a woodworker for most of my adult life, I'm relatively new to wood turning. However, I'm very impressed with this lathe. The smoothness of the stepper motor and the sheer solid feel of this tool is making my transition a pleasurable one. For anyone looking to dive into wood turning, I highly recommend this machine.
Harvey Workhorse
I wanted a bigger lathe. They all say "buy the biggest you can afford". Well, I chose to buy what fit my shop and what would turn what I mostly turn. It only has a 14" swing but with the rotating head, there are ways to go bigger.
The headstock locks down tight and each time I rotate and return to normal, the center aligns perfectly with the tail stock. The banjo really stays when locked down. The tail stock is a little harder to keep in place. I'm going to remove it, check for grease and maybe loosen it a fraction to see if that helps.
It has a very small motor belt which can be a visual negative. But 1000 rpm is so quiet. On other lathes I would think I was only doing 400 rpm. The motor is really quiet and I think the belt helps that. On the low belt setting, slow is very slow which is nice when adding finish.
The speed control and reset button are right on. They function perfectly. I wish the forward/reverse switch was rotated 90 degrees so that I was pushing up for forward and down for reverse as I have accidently pushed it the wrong way and accidently backed a chuck off.
The tool rest is very good. It really fits the situation.
I had issues with the tool rest banjo/extension clamping down tight. Their service dept worked with me till we got it right. So I have tested service and they are responsive.
Very pleased with my purchase.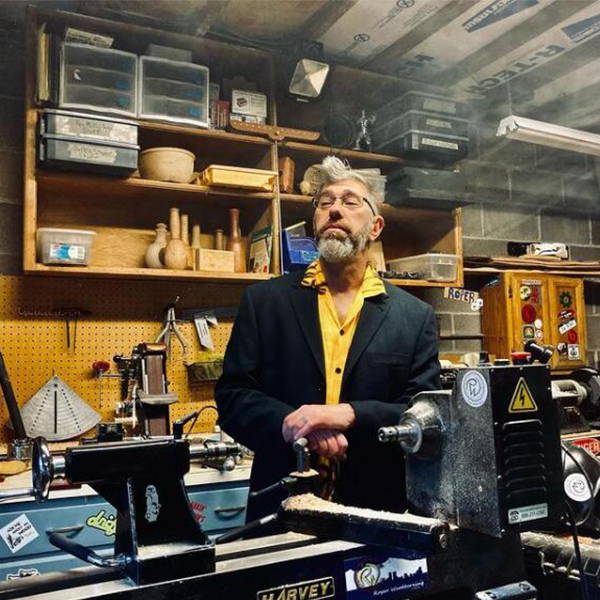 Bringing style and grace back to woodturning.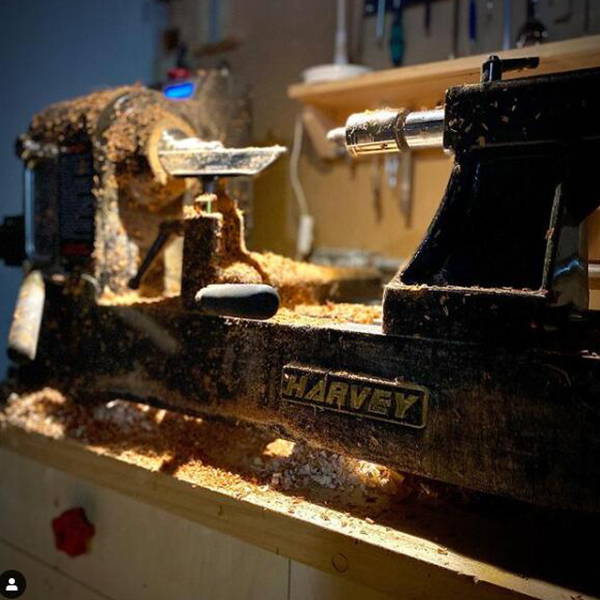 A little artsy farsty shot of my @harveywoodworking T40 lathe. Forgot to turn off the lathe light and this looked too good to pass up. I've been putting in 3-4 hours every night on this thing for the last 30+ days trying to keep up with Etsy orders. It's been reliable and fun to use! Anyone else burning the midnight oil this holiday season?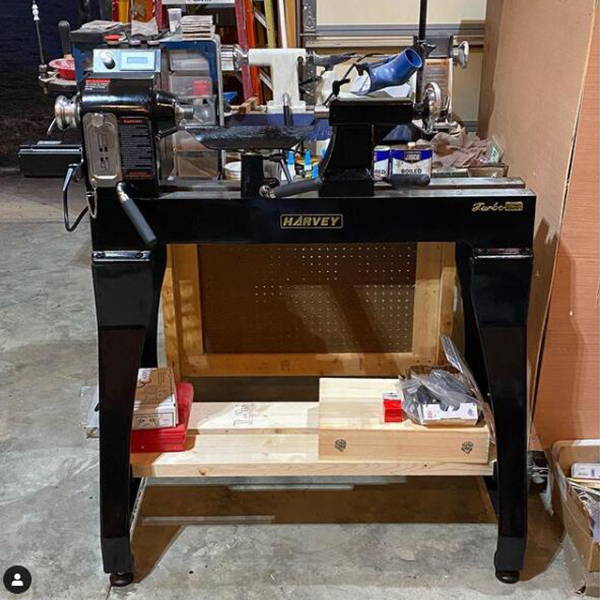 Very humbled by this surprise! Was not expecting anything for Christmas since I had taken advantage of a Black Friday Sale for something else. My wife handed me a card Christmas morning and at the very bottom she told me to go get the lathe I had been pining over for the last two years. Humbled does not even begin to describe the feeling! Cannot believe this @harveywoodworking T40 Turbo lathe is now in my shop!!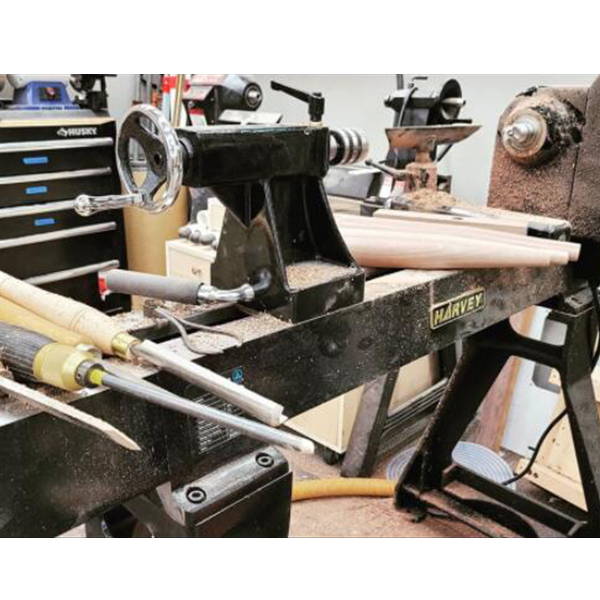 Wood turning is so much fun! I wish I had more time to do it! This week we're making a Windsor/Maloof-style hybrid rocking chair. The turnings are mostly simple tapers, but there are plenty to do!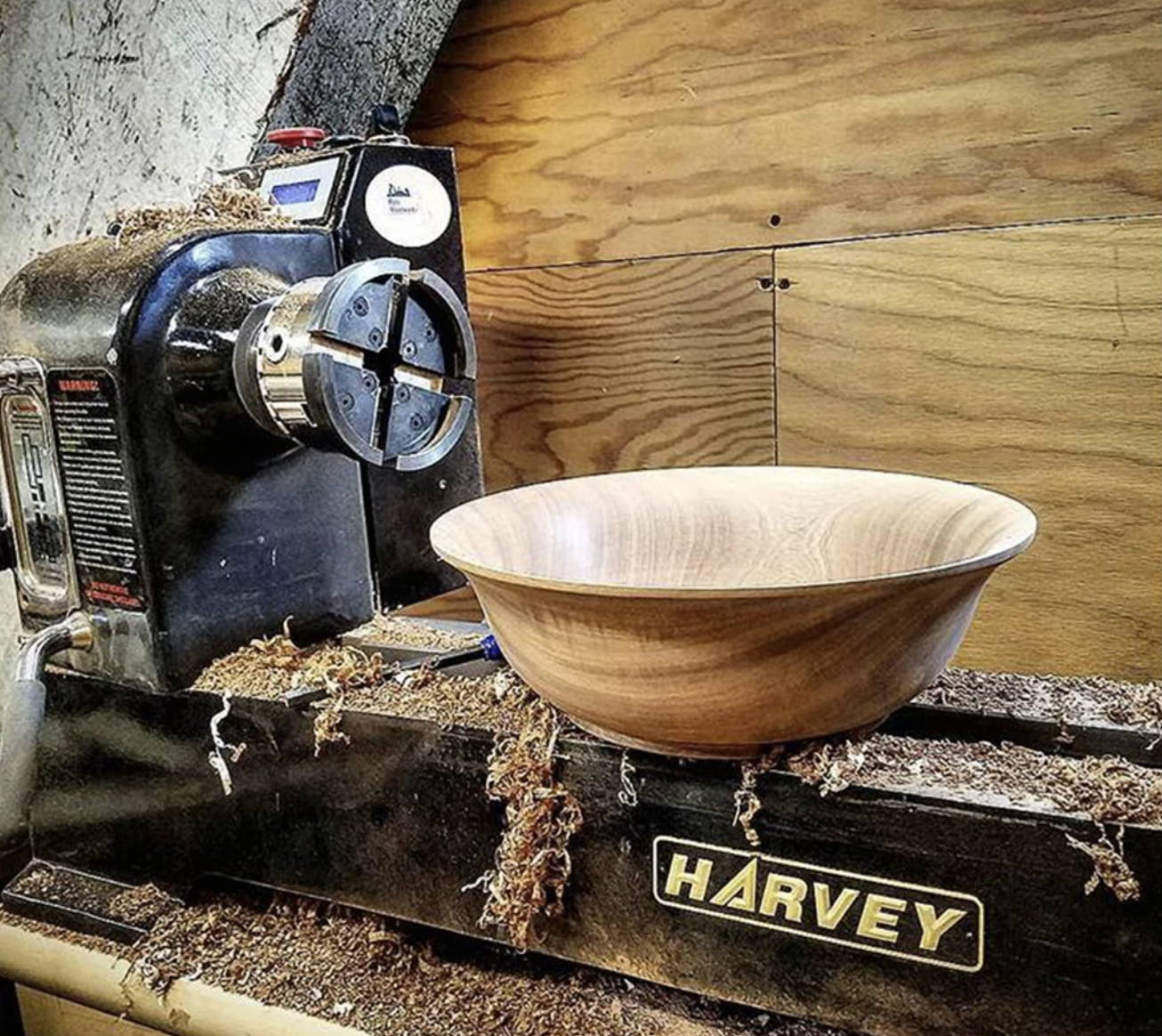 DID YOU BUY A T-40? WE WANT TO HEAR FROM YOU! LET US KNOW HOW YOU LIKE THE LATHE, AND IF YOU NEED ANY ASSISTANCE WITH IT.