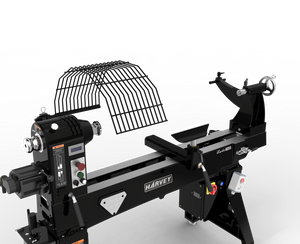 The Bigger, Bolder T-60S Wood Lathe
Harvey T-60S Turbo Wood Lathe
Ever since we introduced the T-40 Turbo Wood Lathe in the US, some of the top turners asked us if we could provide a larger capacity lathe with the same features and benefits of the T-40 but just scaled up.
The T-60S lathe does just that by combining the technological advances of the T-40's Industrial Servo Motor and control system with a 24" swing over the bed and 48" between centers. The T-60S motor has the same 300% overload capacity and the same 2 microsecond response time that provides the torque you need when working on larger pieces.
Other features include:
2HP Servo Motor, 230V single phase operation

Spindle speeds (High Range/Low Range) providing variable speeds between 200-3500 rpm/60-1000 rpm

Easy changing V-belt for fast set-ups

Secondary Start/Stop control with a magnetic back for mounting anywhere on the lathe.

The headstock slides along the entire length of the bed

Large headstock spindle with three heavy-duty bearings for greater stability and turning performance

A swing away tail bed extension that allows the tailstock to be moved without removing it from the bed

An optional extension bed that mounts to the end of the lathe for an additional 35" of swing.  The bed can also be mounted in the center of the lathe for larger outboard turning projects.

48 position indexing with an easy one-hand spindle locking mechanism

Comparator arms for easier duplicating

24" guard for increased operator protection

1-1/4", 8 TPI MT #2 spindle; 4-1/2" of tailstock travel with self-ejection

Premium cast iron construction

Heavy duty solid-locking handles
We will be showing the prototype units in Raleigh, NC at the AAW Symposium on July 11-14. Stuart Kent will be there doing demonstrations on our Harvey lathes and a few turner friends of Harvey will be dropping by to try it out.  Come and see what they think!
---