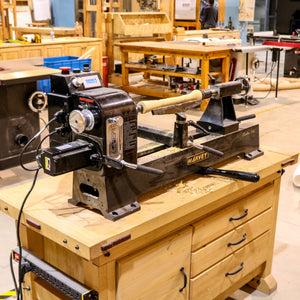 The T40 Lathe - A Deceptively Powerful Addition to the Workplace
The T40 Lathe – A Deceptively Powerful Addition to the Workplace 
Written by: Nikola Muckajev
Appearances can be deceptive. From across the shop, the T40 may strike the uninformed observer as nothing more than a standard bench-top lathe. But dare to look deeper, and a revolutionary and precision-crafted technology comes to life. Far from the standard shop lathe, the T40 Lathe by Harvey Industries sets itself far apart from the pack with impeccable construction quality and functionality all with a sleek design.
Boldly bringing the name of Harvey Woodworking to the forefront of every craftsman's mind, the T40 Lathe is feature-packed to not only make it an indispensable addition to your workshop, but to become the centerpiece of any passionate woodworker's arsenal. Spurring the T40 to life is an awesomely powerful state-of-the-art Industrial Servo Motor – the likes of which are fielded in CNC machines – so you will never compromise power for size.
From a 60 RPM starting speed to a peak of 4300 RPM, the T40 excels in handling even the most demanding projects. And when the chips start flying in the middle of your most intense projects, you'll always have the impervious build quality of the lathe to fall back on. True to its nature as a Harvey machine, the heart of the T40 rests atop a Premium Grade Cast Iron bed and features a headstock spindle that is supported by 3 oversized ball bearings. 
For every other major locking point, good old-fashioned Solid Steel has been employed in abundance to ensure that stability is never an issue. Speaking of locking points, Harvey Industries has employed every trick in the book to give users the most function with the least amount of hassle. Featuring a 90° Head stock swivel that allows for larger diameter pieces and a 24-position spindle indexing system with tool-less locking, the T40 Lathe is engineered to minimize the amount of time that it takes you to go from conceptualization to production by putting the workflow first.
And when it's time to hang up the cap and wonderful hours of turning reach their end, you can rest easy knowing that the incredibly powerful servo can halt to complete stop within mere seconds of the switch being flipped. 

With full-size lathe production in a mid-size package, it won't be long before you find yourself wondering why you hadn't thought to purchase a T40 sooner. It's okay. We don't blame you.  A bench-top lathe with full capabilities is something that many would have sworn against in the past. But no longer. With Harvey Industries leading the way in footprint-conscious equipment, the T40 Lathe is an absolute no-brainer to any serious woodworker's workshop. 
---