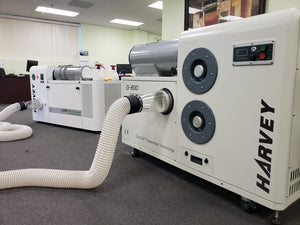 LATEST UPDATE ON HARVEY MACHINERY, BRIDGE CITY TOOLS AND THE IMPACT OF THE NEW TARIFFS ON OUR PRODUCTS
LATEST UPDATE ON HARVEY MACHINERY, BRIDGE CITY TOOLS AND THE IMPACT OF THE NEW TARIFFS ON OUR PRODUCTS
It is a pleasure to report to you that Harvey Machinery products are enjoying continued growth in awareness and acceptance in the US market and that we will be expanding into the Canadian market soon. The Gyro Air has been experiencing increased attention from a wider range of industries including prosthetics manufacturing, heavy metal grinding (molybdenum), and CNC router manufacturers. We will attend the Fabtech show this month to do further research and to make new contacts.
The T40 lathe is getting a lot more attention through demonstrations at numerous local and regional shows.
We are now looking at a number of additional Harvey products for the North American market and we will give you more details as we firm up the final specs.
The recently enacted tariffs will be impacting us by the end of the year as we need to order new inventory. These tariffs are affecting everyone in the machinery market substantially and we will be raising prices to offset them. We will provide more detail as soon as we have completed our analysis of the impact. We will keep the increases to the minimum required to offset the tariffs. Expect to hear the details around the first of December. If you have been considering making a purchase, now may be the best time ever.
On October 20th, Bridge City Tool Works hosted an open house at our new headquarters in Montclair, CA. In addition to John, Consuelo, and their families attending the event, there were around 50 people who came through and met the new owner, Jack Xu, myself, and the new Bridge City Tool Works team. Everyone had a chance to speak with all of us and see firsthand the products we have available and were on display in our new showroom. Jack also showcased Harvey's Gyro Air dust collector and introduced the latest model that was just released here in the US last month. We truly enjoyed meeting those who were able to attend the open house. If you missed the event, we hope you can visit our new headquarters in California soon.
We have been working hard in keeping up with the demand for the tools we have available and appreciate your patience as we make progress in getting some of these back in stock. We are extremely thankful for your support and are dedicated to our commitment in maintaining the legacy of Bridge City Tool Works.
Last month, John also met with the team to plan for the next batch of products to add to the roster. The upcoming tools will be a mix of planes and other essential woodworking items. We are looking forward to offering these fantastic additions soon and hope to have these in stock by mid-2019.
In other news, the recently enacted tariffs have impacted the cost of our Bridge City line. Based on what has been happening and forecasts from economists, there is strong evidence that the second round of implementation will be initiated as planned and will raise tariffs to 25%.
After meticulously taking every possible step to manage these costs, we unfortunately need to raise our prices beginning the 19th of November.  Between now and then, we will continue to honor the current rates for the In Stock items on our website.
Lastly, thanks again for your continued support as we work through the start-up of Bridge City and deal with the challenges presented by our economic policies. Let me be among the first to wish you a happy holiday season and I hope you have a great "season" in your shops this winter!  
Mark Strahler
President, BCTW
---