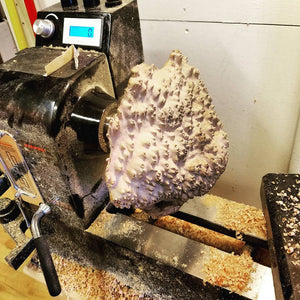 Say Hello to the T40 Lathe
Have you ever gotten the opportunity to drive a high end sports car, then you go back to your daily drive and notice how much nicer the sports car was? That's the feeling woodturners get when they try out the Harvey T40. It may just seem like another bench top lathe, but once someone who has any level of woodturning experience jumps on the T40 they can notice the incredible differences.
The T40 is nearly 180 pounds, which is a lot heavier than your normal bench top lathe, but it is still movable if needed. This extra weight comes from the solid cast iron design, and allows the woodturner to really dig in and not be afraid of the piece they're making. We wanted turners to focus on their designs and not have to wonder whether their machine can handle the capacity.
The biggest difference between the Harvey T40 and other lathe competitors is the motor used for our machine. The T40 uses a 1HP Industrial Servo Motor, which is the same motor used in many CNC routers. This state-of-the-art motor reads changes in torque demands and reacts in 2 milliseconds, that's .0002 seconds compared to the common industry level of .2 seconds. Now that might not seem like a big difference to some people but in the woodturning world, that reaction time can be the difference between creating a masterpiece and ruining a project you've spent hours on.
We didn't stop there when building this machine though. We added a bunch of awesome features that woodturners have been loving. From the Digital RPM readout to the easy turning of the headstock swivel up to 90 degrees, the T40 lathe is full of high end features that we know any woodturner will love.
---